July 26, 2018
SUNY Empire State College Marks 10-year Anniversary of its RN to Bachelor of Science in Nursing Program
Two Online Master's and a new Online Bachelor's Now Offered, College Poised to Lead as "BSN in 10" Takes Effect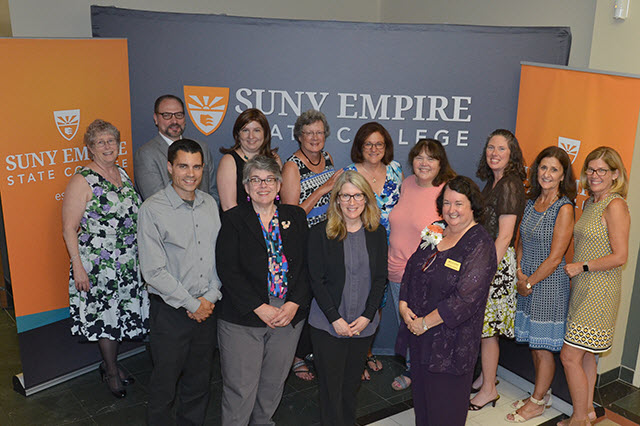 (SARATOGA SPRINGS, N.Y. – July 26, 2018) As SUNY Empire State College marks the 10th anniversary of its RN to Bachelor of Science in Nursing program, students, alumni, faculty, staff, friends and family celebrate the inaugural cohort's 10-year reunion in Saratoga Springs.
The inaugural nursing cohort comprised 42 students. Today, the college enrolls approximately 1,250 nursing students at the undergraduate and graduate levels.
Since the establishment of the RN to BSN program, the School of Nursing and Allied Health has added three online degree programs: the Master of Science in Nursing Administration, the Master of Science in Nursing Education and, in 2018, a Bachelor of Science in Allied Healthcare, to better meet the needs of New York's health care providers and the people they serve.
SUNY Empire has transfer pathway agreements with all 37 SUNY and CUNY community colleges and many private institutions. Pathways agreements with nearly half of the SUNY community colleges provide a seamless education for registered nurses seeking their bachelor's degree. Recently, the college also has developed enhanced partnerships with Corning, Rockland and Ulster community colleges, which enables nursing students to complete initial bachelor's coursework on their campus through a blend of face-to-face and online learning.
The college's nursing partnerships have taken on new importance because in December of 2017, Gov. Andrew M. Cuomo signed into law what is known as the "BSN in 10" legislation, which requires all future graduates of associate degree programs in nursing to complete a bachelor's within 10 years. A column by SUNY Empire Officer in Charge Mitchell S. Nesler, published by Gannett this week, details the college's leadership role as this legislation takes effect.
"Congratulations to SUNY Empire nursing students, alumni and the faculty and staff who educate and support them on a decade of success," said Nesler. "SUNY Empire nursing students and alumni play a critical role in patient care throughout New York state, and their accomplishments merit celebration. The college takes great pride in the challenging work nurses do to care for the sick and suffering every day."
"Celebrating our nursing students, alumni, faculty and staff is a joy," said Bridget Nettleton, dean of the School of Nursing and Allied Health. "Better-educated nurses means better health care for the people of the state. Continuing to provide nurses, and their employers, with the education they need to meet every increasing and complex health care is essential for success. Thanks to the hard work of our students, and the education and support they receive from our faculty and staff, SUNY Empire nursing graduates are professional health care providers of the highest quality."
In the spring of 2014, the School of Nursing and Allied Health became part of the at-large Tau Kappa chapter of Sigma Theta Tau International Honor Society of Nursing. STTI is the most prestigious nursing honor society, which recognizes academic excellence and achievement in its members.
The combined anniversary and reunion takes place in Saratoga Springs, N.Y., July 26-27, and begins at 4 p.m. the 26th with a tour of historic Congress Park. A reception honoring nursing alumni will begin at 5 p.m., followed by dinner and a short program. The reception and dinner take place at 2 Union Ave.
The 10th anniversary event speakers include:
• Jennifer Pettis '12, '17, a nurse researcher with Abt Associates Inc., and an adjunct member of the college's School of Nursing and Allied Health faculty.
• David Theobald '13, '17, president and CEO, Stat Staff Professionals Inc.
• Gertrude B. Hutchinson, director of history and education and archivist with The Center for Nursing and an adjunct member of the college's School of Nursing and Allied Health faculty.
Theobald and Stat Staff support student scholarships through the Empire State College Foundation.
"To all the current ESC nursing students and future applicants, I commend you for choosing to continue your educational journey at ESC and wish you the best in all of your future endeavors," said Theobald. "I know firsthand that you will find this program to be both rigorous and enjoyable as you learn to solve some of today's complex healthcare challenges. It is because of this program that I was able to become the nursing leader I am today."
"My relationship with ESC began when I transferred from another SUNY school in 2008 as I pursued my bachelor of science," said Pettis. While traveling extensively for my job, ESC's adult-friendly, online educational model served me well as I worked toward that degree. With a brick and mortar college, I could have never earned that degree while traveling."
About SUNY Empire State College
SUNY Empire State College educates nearly 18,000 adult students in person, online, and through a blend of both, at more than 30 locations in New York and worldwide at eight international sites. Together with one of the SUNY Empire's more than 1,300 faculty mentors, each undergraduate student designs his or her own customized pathway to a college degree that accommodates his or her schedule and awards credit for prior college-level learning. SUNY Empire awards more than 3,000 degrees annually and 94 percent of graduates stay in New York state. Today, more than 84,000 SUNY Empire alumni are entrepreneurs, veterans and active members of the military, professional athletes, teachers, medical professionals and leaders in their field, as well as in their communities. To learn more, visit www.esc.edu and follow the college on social media @SUNYEmpire.