August 30, 2018
Students Stand with Puerto Rico
Part of the "NY Stands with Puerto Rico Recovery and Rebuilding Initiative," Homes Destroyed by Hurricanes Irma and Maria, Rebuilt with Help from Student Volunteers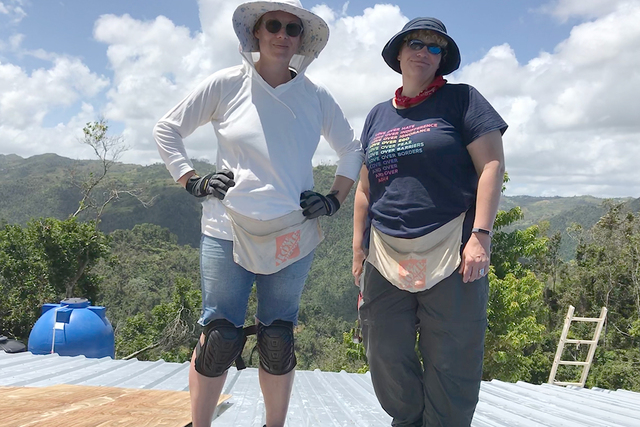 (SARATOGA SPRINGS, N.Y. – Aug. 30, 2018) SUNY Empire State College student volunteers deployed for two weeks to Orocovis, Puerto Rico, to rebuild homes destroyed by Hurricanes Irma and Maria.
SUNY Empire students woke up at 5:15 a.m., picked up supplies and tools and drove a pickup truck for half an hour up dirt roads to Orocovis jobsites, situated more than 2,000 feet above sea level in the rural central mountains near the geographic center of the island.
"We pounded thousands of nails in miles of plywood," said James McMahon, coordinator of student services with the college's Harry Van Arsdale Jr. Center for Labor Studies, who accompanied the students for their two-week deployment. "We worked long and hard on old houses and new construction. We removed and replaced damaged materials, built rafters for roofs and so much more. Our students really learned a great deal about disaster recovery, Puerto Rico and about construction and project management. I'm so proud of how well we worked as a team."
Students' efforts, experience and learning in Puerto Rico were combined to create an independent study and, as a result, they earned three credits each.
At the upcoming Fall Student Conference, students will make a presentation about their learning experience in Orocovis.
Gabrielle Carpenter, an MBA student from Glens Falls, N.Y., and a former industrial electrical contractor who performed maintenance on apartment houses for years, was better prepared and more experienced than most students.
She said she learned about the geology and culture of Puerto Rico and, "… the importance of planning and organization in a stressful environment."
"Some days, such as the one where we had to hike all the materials up a steep hill, were challenging," said Carpenter. "What made all the work more challenging was the weather: high humidity and very hot sun, definitely not what our team from New York was used to. The days when we were on top of metal roofs in the hot sun took a lot out of us."
Student Katharina Basta, of Carthage, N.Y., shared Carpenter's sentiments about the hard work and talked about why she volunteered and what she learned.
"I learned that I am capable of so much more than most people would expect," said Basta. "When given an opportunity and pushed outside of our comfort zone, women are just as capable, if not more capable, at construction work than men are.
"With so much going wrong in this world that we have no control over, Puerto Rico was an opportunity for action and a way to feel empowered and to help aid some of the people who had been struck by disaster."
Basta said that the support she received from her husband, Peter Basta, who encouraged her to go to Puerto Rico and "covered for me back home," made the difference. "Without his support and reassurance, I could not have gone."
Basta recently completed her bachelor's in Science, Math and Technology with a concentration in environmental science, and enrolled in the college's Master of Arts in Teaching program.
"I am proud and pleased that our students were able to contribute to the rebuilding and recovery of Puerto Rico," said SUNY Empire State College Officer in Charge Mitchell S. Nesler. "Compared to traditional students entering college immediately after graduating high school, SUNY Empire's nontraditional students have more responsibilities and constraints, in terms of job and family commitments, which limits their time and ability to travel."
Basta and Carpenter were joined by students Ineabelle Cruz, a resident of Rochester, N.Y., studying to complete a master's in public policy, Nicole Sayward of Ithaca, N.Y., a bachelor's candidate in Business, Management and Economics, and Randi Searles, from Norwich, N.Y., an undergraduate in Human Development, concentrating in anthropology.
Earlier this summer, Jodi Bergman, a nursing student in the college's, RN to BSN program, and Amanda Pulver, an undergraduate student concentrating in public administration, deployed to Puerto Rico with SUNY Potsdam's student volunteers.
Pulver deployed to San Juan and her group focused mainly on repairing and rebuilding roofs, completing minor repairs and conducting debris removal.
Bergman was deployed to Toa Baja. She lived with SUNY Potsdam students communally in a church.
During her first week, Bergman worked in a team of five students and a leader to "muck and gut," which means she removed the muck from flooded homes, and then gutted the damaged materials and sanitized the remainder.
Her second week, she worked demolition and roofing, which stopped massive leaks in people's homes.
One of the homes she worked on during her second week was still without electricity as of July 28.
"There are many people in Puerto Rico who are still overwhelmed from the devastation this storm created," said Bergman.
SUNY Empire students joined Chancellor Kristina M. Johnson, hundreds of students from across SUNY and The City University of New York, and many other volunteers from New York's construction industry and organized labor, under the supervision of several nonprofit organizations, with the financial support of philanthropic organizations.
The labor, nonprofit, philanthropic and academic partners formed the foundation for the "NY Stands with Puerto Rico Recovery and Rebuilding Initiative" established by Gov. Andrew M. Cuomo.
SUNY Empire's Bergman, together with SUNY Potsdam students, worked a two-week period, July 15-28, and were supervised by the non-profit, disaster relief organization All Hands and Hearts – Smart Response, which focuses on delivering a smart response to those reeling from disaster both domestically and internationally.
Pulver traveled with a second group of Potsdam students from July 29-Aug. 11. This group was supervised by NECHAMA – Jewish Response to Disaster, a nonprofit, volunteer organization providing natural disaster response, rebuild and preparedness training services nationwide.
SUNY Empire students and staff deployed from Aug. 12-26, and were supervised by Heart 9/11, (Healing Emergency Aid Response Team 9/11), a team of first responders comprising members of the Fire Department of the City of New York, the City of New York Police Department, the Port Authority Police Department and the Building Trades Council of Greater New York City, who bonded in the aftermath of 9/11.
Heart 9/11 ensured the college's students had the tools and supplies they needed and assigned them to specific jobs and projects.
Members of the Construction & General Building Laborers, Local 79, including now-retired John Delgado, were the on-site project managers for each job.
During the first week, SUNY Empire students worked alongside electricians and plumbers, who are members of the International Brotherhood of Electrical Workers, Local 3, and the United Association of Plumbers and Pipefitters, Local 1.
Both Local 3 and Local 1 are based in New York City and have partnerships with the college, where their apprentices complete a SUNY Empire degree as part of their training and education with their unions.
Justice Favor '18, a full-time union organizer with Local 79, and the married father of four, has volunteered in the past with Heart 9/11 and is a 2018 recipient of the Chancellor's Award for Student Excellence.
Favor completed his A.S. in Labor Studies, with a 3.83 GPA, through the college's labor center.
About SUNY Empire State College
SUNY Empire State College educates nearly 18,000 adult students in person, on-line, and through a blend of both, at more than 30 locations in New York and worldwide at eight international sites.
Together with one of the SUNY Empire's more than 1,300 faculty mentors, each student designs his or her own customized pathway to a college degree that accommodates his or her schedule and awards credit for prior college-level learning.
SUNY Empire awards more than 3,000 degrees annually and 94 percent of graduates stay in New York state.
Today, more than 84,000 SUNY Empire alumni are entrepreneurs, veterans and active members of the military, professional athletes, teachers, medical professionals and leaders in their field, as well as in their communities.
To learn more, visit www.esc.edu and follow the college on social media @SUNYEmpire.