February 27, 2019
Multi-year Plan for 1 Stop Student Services Culminates in Ribbon Cutting at 111 West Avenue, Saratoga Springs, NY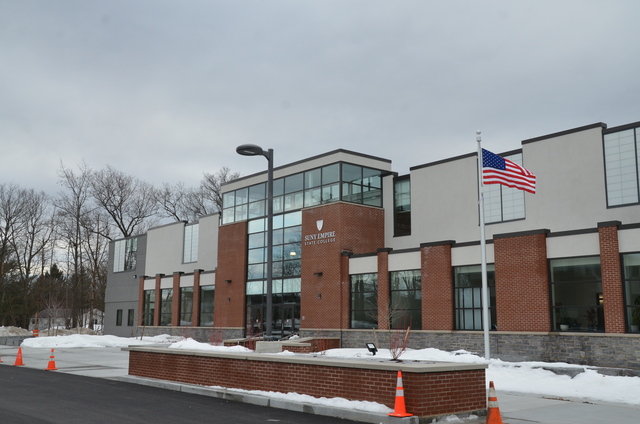 (SARATOGA SPRINGS, N.Y. – Feb. 27, 2019) All Saratoga Springs-based SUNY Empire State College 1-Stop Student Services staff now are located under one roof at newly renovated 111 West Ave.
"SUNY Empire's statewide footprint requires the college to provide the same level of service to students in real time during normal business hours, online, by telephone and in person, at the college's 34 locations across New York state," said SUNY Empire State College Officer in Charge Mitchell Nesler. "SUNY Empire's adult, nontraditional and part-time student population requires approaches distinct from the traditional campus-based model, which focuses on a younger, residential, full-time student population."
Previously, offices focused on student services were located at 2 and 3 Union Avenue, and across town at 111 and 113 West Ave.
"Online, real-time in-person and online resources are available 24/7 for working adults juggling many demands on their time," said Vice President for Enrollment Management Clayton Steen. The college's Office of Enrollment Management oversees the 1 Stop Student Service Center. "From an institutional perspective, the benefits of a one-stop model include the ability to streamline data, increase operational efficiency and improve the overall student experience, which, in turn, will lead to improved retention and graduation rates. A tailored one-stop center provides us with the model and 111 West provides us with the space to achieve our goals."
The relocation of 1 Stop staff represents the final phase of a multi-year initiative to improve student success statewide.
Planning to re-organize and improve student services began in 2015. 1 Stop resource pages for staff at the college's student information center were developed in early 2016 and information videos were posted June 26 of the same year.
The 1 Stop public-facing website launched on Oct. 16, 2016.
Additional customer-service training for 1 Stop staff plans began in 2017 and new statewide training started on Feb. 23, 2018.
111 West Ave.'s interior redesign includes a modern student center, where prospective and current students can walk in for face-to-face assistance and receive answers to commonly asked questions, such as how to enroll, pay bills, order textbooks and more.
1 Stop offices at 111 West Ave. include:
Admissions.
DANTES* and DSST National Testing Center.
Bookstore.
Financial aid.
Outreach.
Retention.
Registrar.
Student information center.
Student accounts.
*SUNY Empire was designated an official national testing center for the Defense Activity for Non-Traditional Education Support (DANTES) and DSST Standardized Exams.
Credit earned through the successful completion of DANTES and DSST exams transfers to SUNY Empire.
Saratoga-based 1 Stop staff also manages many online student-support resources, available at any time.
As with most of college's other 33 statewide locations, the 1 Stop Student Center at 111 West Ave. is open Monday through Friday, 8:30 a.m. to 5 p.m. The hours of operation, address and contact information for all the college's locations are available online.
About 111 West Ave. Renovation
111 West Ave. comprises 51,977 S.F., including the 1 Stop Student Services Center, the mezzanine and rear warehouse, which house the college's mailroom and print shop.
The renovation took nine months to complete, cost $4.2 million and addressed acoustic and heating, ventilation and air conditioning upgrades, as well as modifications required for the one-stop-student services.
Environmentally friendly features include geo-thermal heating, LED (light emitting diode) lighting, and low-VOC (volatile organic compound) products, such as paint and sealants.
The project was completed in compliance with waste management and recycling requirements.
SUNY's systemwide capital construction program funded the design and construction of the project, which was overseen by the State University Construction Fund.