April 8, 2019
47th Annual Commencement Dates Announced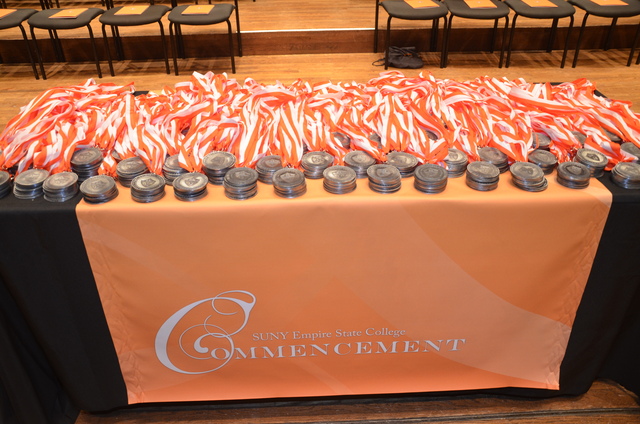 (SARATOGA SPRINGS, New York. – April 8, 2019) SUNY Empire State College's 47th annual commencement ceremonies begin in Albany, Sunday, June 2, and conclude Saturday, June 15, on Long Island.
As the SUNY system's only statewide college, commencement events take place throughout the state.
Again this year, all eight commencement events will be streamed live via the Internet.
SUNY Empire awards undergraduate and graduate certificates and diplomas, completed online, face-to-face and through a blend of both modes of learning, to a population of nontraditional students, primarily working adults.
In keeping with the college's long-standing tradition, graduate and undergraduate students will provide commencement remarks at each of the college's events across the state.
The time, day, date and location of each event are listed below.
Albany – Capital Region | Purchase – Hudson Valley | Rochester – Genesee Valley | Syracuse – Central New York | Buffalo – Western New York | Manhattan – New York City | Labor Studies – New York City | Brookville – Long Island
Commencement ceremonies for the college's international students begin on June 21, in Prague, the Czech Republic, and conclude in Tirana, Albania, July 5.
Internationals students' ceremonies take place at the college's partner locations abroad.
Information about the college's international events follows the statewide event list.
SUNY Empire State College Statewide Commencement Events
Albany
1 p.m., Sunday, June 2
Empire State Plaza
South Mall Arterial, Albany
The livestream of the Albany commencement event will be available shortly before the event begins.
The commencement speakers for Albany are:
About David Bruno
A resident of Tivoli, the father of two daughters and an award-winning chef, Bruno's professional life has been dedicated to the culinary arts.
He has served as the executive chef of Cripple Creek in Rhinebeck, Bing's Restaurant, also in Rhinebeck, the Ardsley Country Club, Ardsley-On-Hudson and in other high-level positions of top restaurants.
Two years after completing his associate with the Culinary Institute of America, Hyde Park, he joined the CIA faculty in 2000 and has earned certifications from the American Culinary Federation as a ProChef Level III, a certified executive chef, from CIA, and the American Hotel and Lodging Educational Institute's certified hospitality educator.
Today, as an associate professor in culinary arts/chef training at CIA, Bruno teaches and mentors young culinarians as they embark on their professional journey.
His desire to set a good example for his two daughters inspired him to persevere and overcome challenges as he completed his degree with SUNY Empire.
About Samvia Henry
A married mother of five, native of Yonkers and current resident of Jacksonville, Florida, Henry has a decade of experience in child welfare and education and is an educator, advocate and coach for women living in urban communities.
After becoming a 17-year-old single mother, Henry sought out education opportunities "… with hopes to break the generational curses that plagued my family."
While overcoming obstacles, she found faith in God and attended a local church, became familiar with resources in her community and built a support system.
She came to learn the ability to articulate one's needs plays a critical role in advocacy and, more importantly, self-advocacy, in accessing available resources.
Henry subsequently shared her knowledge on the importance of articulation of need and self-advocacy and coached those she worked with on how to inquire about available resources and obtain needed services.
She mentored single mothers, who were at risk of losing custody of their children.
Henry witnessed the positive transformation of people who purposefully decided to reset their lives and further their education.
In 2016, she completed a Bachelor of Science in Psychology from the College of St. Rose in Albany.
In 2017, as a SUNY Empire graduate student, Henry created an online support group for college students who needed academic support and provided one-to-one coaching to group members.
Today, she volunteers as a language arts teacher for a nonprofit that provides GED preparation and testing assistance for low-income, returning students.
She provides case management and advocacy services free of charge and emphasizes the importance of setting goals.
Her ultimate goal is to effect change in policies that impact women and children living in urban communities, reducing the cycle of generational dysfunction.
Purchase (Hudson Valley)
6:30 p.m., Monday, June 3
Recital Hall, The Performing Arts Center, Purchase College
735 Anderson Hill Road, Purchase
Rochester
7 p.m., Tuesday, June 11
Rochester Riverside Convention Center
123 East Main Street, Rochester
Buffalo
6:30 p.m., Wednesday, June 12
Performing Arts Center, Buffalo State College
1300 Elmwood Avenue, Buffalo
Syracuse
6:30 p.m., Thursday, June 13
The Oncenter - Crouse Hinds Theater
421 Montgomery Street, Syracuse
Manhattan
Noon, Friday, June 14
David Geffen Hall, Lincoln Center for the Performing Arts
10 Lincoln Center Plaza, New York City
The Harry Van Arsdale Jr. Center for Labor Studies
6:30 p.m., Friday, June 14
David Geffen Hall, Lincoln Center for the Performing Arts
10 Lincoln Center Plaza, New York City
Brookville, Long Island
1 p.m., Saturday, June 15
Tilles Center for the Performing Arts, Long Island University Post Campus
720 Northern Boulevard, Brookville
SUNY Empire State College International Ceremonies
University of New York in Prague
Prague, Czech Republic
Friday, June 21
Athens, Greece
Wednesday, July 3
Tirana, Albania
http://unyt.edu.al/
Friday, July 5
American University of Technology and American University of Science and Technology
Beirut, Lebanon
Thursday, July 11
About SUNY Empire State College
SUNY Empire State College educates more than 17,000 students in person, online and through a blend of both, at more than 30 locations in New York and at eight international sites worldwide. Together with one of SUNY Empire's more than 1,300 faculty mentors, each student designs his or her own individualized pathway to a college degree that accommodates his or her schedule and awards credit for prior college-level learning. SUNY Empire awards more than 3,000 degrees annually and 94 percent of graduates stay in New York state. Today, more than 84,000 SUNY Empire alumni are entrepreneurs, veterans and active members of the military, professional athletes, teachers, medical professionals and leaders in their field, as well as in their communities. To learn more, visit www.esc.edu and follow the college on social media @SUNYEmpire.