November 25, 2019
SUNY Empire State College and Camelot of Staten Island Partner to Help Camelot's Employees Earn Degrees in Addiction Studies
SUNY Empire Launched New Bachelor of Science Degree in Addiction Studies to Address Opioid Crisis and Camelot of Staten Island Provides Counseling Services for Individuals Affected by Drug or Alcohol Use

Staten Island Saw 53 Percent Increase in Overdose Deaths in 2015-16, among Highest in New York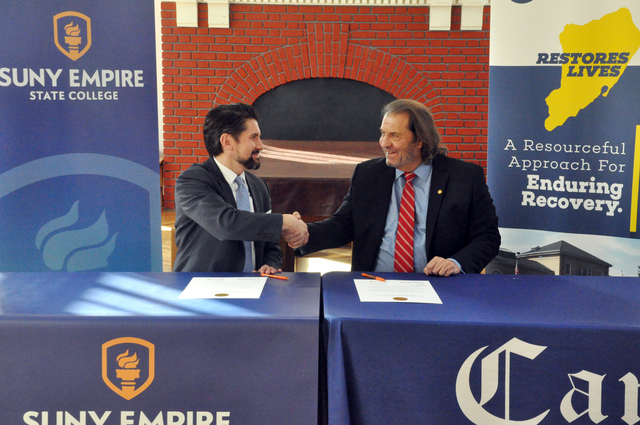 (STATEN ISLAND, New York – Nov. 25, 2019) SUNY Empire State College President Jim Malatras and Camelot of Staten Island CEO Luke Nasta today announced an agreement to help Camelot employees earn degrees in the field of addiction studies. Family members of Camelot employees can also take advantage of this agreement.
SUNY Empire's first-of-its-kind Bachelor of Science in Addiction Studies program is designed to prepare students to become skilled addiction treatment specialists while helping them advance toward becoming a Credentialed Alcoholism and Substance Abuse Counselor (CASAC) in New York state. Enrollment opens in the spring of 2020.
The new agreement helps lower the cost and time needed to complete a degree by awarding college credit for employees' prior professional learning, especially their work at Camelot. SUNY Empire also will waive the orientation fee and award a $100 presidential scholarship to employees and household family members.
SUNY Empire degrees can be earned 100 percent online, in person at a local SUNY Empire campus or learning hub, or through a blend of both to build a schedule that works around a student's busy life. Camelot currently employs 83 individuals in Staten Island working in multiple outpatient, rehabilitation and clinical service centers.
"The critical need for skilled workers combating opioid and other substance misuse disorders is at an all-time high, especially on Staten Island," said SUNY Empire President Jim Malatras. "We are proud to help Camelot employees and their families earn specialized Addiction Studies degrees, and do it all around their busy schedules. I applaud CEO Luke Nasta and his team at Camelot for their hard work and dedication to help combat this crisis through educational partnerships like this one. They are literally saving lives and SUNY Empire is happy to help in any way we can."
"Camelot is excited and proud to be part of the SUNY Empire's first-of-its-kind Bachelor of Science in Addiction Studies. The drug misuse pandemic has worn away the direct services workforce. Counselors are not part of a career track due to inadequate governmental funding or an acceptable billable credential for reimbursement," said CEO of Camelot Luke Nasta. "This degree program will directly effect those drawbacks and further professionalize Substance Use Disorder (SUD) frontline staff. Staff now functioning without a higher education specialized degree will be able to work full-time while being enrolled in a career enhancing accredited education program. On a personal note, I am a SUNY Empire alumnus as is Camelot's Clinical Services Director. Camelot is no stranger to first-of-its-kind initiatives as we have opened Staten Island's first two SUD Residential Treatment Programs for men, first Youth Club House Prevention Project, first Residential Reintegration Program, and first Women and Children's Residence. We applaud President Jim Malatras for addressing the single most critical public health problem of our time through his position. Collaboration is the cure."
The opioid crisis has hit Staten Island hard. Over one year alone, 2015-16, overdose deaths increased 53 percent on Staten Island – among the highest in New York State.
Data from the 2016 National Survey on Drug Use and Health (NSDUH) revealed a significant gap between the 21 million Americans in need of substance misuse treatment and the 3.8 million who actually received it. This means that only 18 percent of those who needed help were receiving it.
According to recent estimates by the U.S. Department of Labor, employment in the addictions field is expected to increase by 20 percent over the next 10 years. Further, various organizations report that the need for professionals with bachelor's degrees and Credentialed Alcoholism Substance Abuse Counselor (CASAC) certifications is on the rise.
The Addiction Studies degree at SUNY Empire is structured around courses that address fundamental aspects of how addiction affects individuals, families, and communities, while examining the assessment, treatment, and prevention of substance misuse.
The program provides students an opportunity to address the educational components to become a Credentialed Alcoholism Substance Abuse Counselor (CASAC) in New York state. Obtaining a bachelor's degree in an approved Human Services field from an accredited institution may be substituted for 2,000 hours of work experience, thus allowing individuals with a CASAC-Trainee to obtain their CASAC in a shorter period of time.
More information about the addiction studies degree is available online.
Click to view photos from today's signing event.
About Camelot of Staten Island, Inc.
Founded in 1971 by the North Shore Kiwanis Club (now North Central Kiwanis) in response to a heroin crisis affecting Staten Island's residents, Camelot has expanded its role and mission and now provides comprehensive services to residents of Staten Island, the Bronx, and Queens. It is a not-for-profit, community-based human services agency incorporated in 1971, licensed by the NYS Office of Alcoholism and Substance Abuse Services.
About SUNY Empire State College
SUNY Empire State College educates students at any stage of life with a personalized learning experience delivered online, in person, or a blend of both. Since 1971, SUNY Empire has empowered students to earn an accredited degree around the demands of a busy lifestyle to advance their personal and professional goals. With world-class faculty, more than 1,300 dedicated mentors to help students tailor their degree programs, and cutting-edge distance learning technology, SUNY Empire delivers a trusted and flexible online college experience grounded in more than 30 New York state locations and seven international sites where students can learn and collaborate in person. Our nearly 50 years as a leader in awarding credit for prior learning and life experience helps students earn a degree faster and at lower cost. To learn more, visit www.esc.edu and follow @SUNYEmpire.