November 13, 2019
SUNY Empire State College Celebrates Grand Opening of Long Island Campus in Selden
6.6-Acre Campus Features Public Hiking Trails, State-of-the-Art Learning Facilities, Sustainable Construction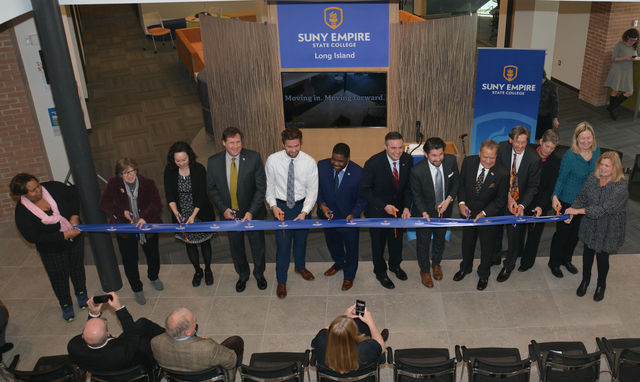 (SELDEN, New York – Nov. 13, 2019) SUNY Empire State College cut the ribbon on its new $14-million Long Island campus in Selden today, joined by state and local leaders. The campus offers modern learning, meeting, and working facilities for students and the community.
The campus, at 407 College Road, is built to high standards for environmental sustainability, features public nature trails that will connect to Suffolk County's comprehensive hiking and biking trail network, and provides students with cutting-edge learning facilities for both in-person and distance learning. It will also be equipped with performing arts spaces for programming under the college's Arts Empower initiative.
"We're proud to offer this incredible new learning facility and beautiful campus to our students on Long Island as well as the broader community," said SUNY Empire State College President Jim Malatras. "I'm grateful to Governor Andrew Cuomo, the State Legislature, including the effort of Senator Kenneth LaValle, and the leaders in Suffolk County who helped make this happen. We look forward to making this campus a hub for both our students and the community, so stay tuned for upcoming events."
"This new state-of-the-art campus will connect thousands of Long Island students with world-class learning opportunities for decades to come," said NY State Governor Andrew M. Cuomo. "When we provide New Yorkers with 21st century learning facilities like the SUNY Empire State College Long Island campus, we are helping them reach their full potential and preparing them for the jobs of tomorrow, today."
"With cutting edge technology and instructional methods, SUNY Empire under the leadership of President Malatras are committed to providing educational opportunities for working professionals across Long Island," said SUNY Chancellor Kristina M. Johnson. "Our new Long Island hub will expand those opportunities, foster innovation, and build community partnerships, all of which advance SUNY's broad mission of connecting students to an affordable, high-quality education that meets their specific needs. Thank you, Governor Cuomo, and everyone involved in making today a reality."
"SUNY Empire's new, state-of-the-art campus will ensure that non-traditional learners from various professional backgrounds on Long Island have access to the best and most affordable educational opportunities available that can advance their lives and careers," said Chair of the SUNY Board of Trustees Dr. Merryl H. Tisch. "I want to thank the Governor, our partners in the legislature and SUNY Empire President Jim Malatras for their leadership, support and commitment to SUNY and higher education."
Senator Ken LaValle, Ranking Minority Member of the NY State Senate Higher Education Committee, said, "This Grand Opening is a culmination of hard work of many people over a number of years. I'm excited that the Long Island Campus will bring leading-edge technology here for SUNY Empire students. The state-of-the-art Immersive Cloud learning will enable real time interaction between students and faculty between campuses and expand learning opportunities. This facility will meet critical needs for SUNY Empire students across Long Island. I am pleased to be a part of the process."
"With the grand opening of the SUNY Empire State College Selden Campus, students of all ages and background across Suffolk will now have the opportunity to study and learn at one of New York's premier educational institutions right in their backyard," said County Executive Bellone. "We have already begun to partner with Empire State College and I look forward to continuing our work to ensure Suffolk remains a hub of innovation and higher learning."
"Having SUNY Empire State College here in Suffolk County, and more specifically in my legislative district, is a very welcomed addition to our community," stated Suffolk County Legislator Tom Muratore. "Changes in lifestyle and technology have made education more accessible to non-traditional students, and I am grateful for the collaborative efforts of all involved with bringing this state of the art facility to Selden."
SUNY Empire currently serves more than 1,300 students in Suffolk County through both online and in-person instruction. In total, the college serves more than 17,000 students online and at more than 30 locations across New York state and beyond.
Click to see photos of the grand opening.
Click to see video from the grand opening.
About the Long Island Campus in Selden
The two-story, 26,668-square-foot structure was constructed to the U.S. Green Building Council's Leadership in Energy and Environmental Design Gold Standard for sustainability.
The building includes state-of-the-art technology, such as Immersive Cloud Learning (ICL) source and destination rooms, technologically enhanced active learning spaces, and more. With ICL technology, students can collaborate, share files, make presentations, and learn from instructors and peers across the state and beyond in real time in a rich learning environment. Technology Enhanced Active Learning (TEAL) spaces enable students to share content from their own devices or college-provided loaner laptops for easy collaboration.
The 6.6-acre campus includes a trail system marked and maintained by the Nature Conservancy and the Long Island Greenbelt Trail Conference. The trails will be used for academic enrichment as well as general public use, and will form part of Suffolk County's comprehensive, countywide plan for hiking and biking trails.
About SUNY Empire State College
SUNY Empire State College educates students at any stage of life with a personalized learning experience delivered online, in person, or a blend of both. Since 1971, SUNY Empire has empowered students to earn an accredited degree around the demands of a busy lifestyle to advance their personal and professional goals. With world-class faculty, more than 1,300 dedicated mentors to help students tailor their degree programs, and cutting-edge distance learning technology, SUNY Empire delivers a trusted and flexible online college experience grounded in more than 30 New York state locations and seven international sites where students can learn and collaborate in person. Our nearly 50 years as a leader in awarding credit for prior learning and life experience helps students earn a degree faster and at lower cost. To learn more, visit www.esc.edu and follow @SUNYEmpire.