November 18, 2019
SUNY Empire State College and CVS Health Work Together to Create New Continuing Education Pilot Program for CVS' Store Managers Across New York State
Eligible Employees Can Complete Degrees 100% Online or at Nearby SUNY Empire Campuses or Learning Hubs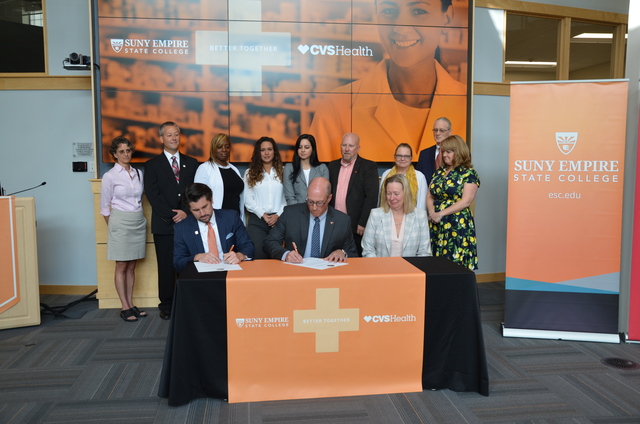 (SARATOGA SPRINGS, New York – Nov. 18, 2019) CVS Health and SUNY Empire State College signed an agreement that makes CVS Health's more than 490 store managers across New York state eligible to complete a bachelor's degree built around their busy schedules at a reduced cost.
Provisions of the pilot program include:
CVS Health store managers can be awarded 32 college credits – the equivalent of more than a year of full-time study – for rigorous store manager training provided and paid for by CVS Health and thoroughly reviewed by SUNY Empire.
Managers will be eligible for tuition assistance through CVS Health's Education Assistance Program.
SUNY Empire will waive the application and orientation fees, as well as provide a $100 presidential scholarship for the store managers' first term.
SUNY Empire's affordable, high-quality undergraduate programs are offered entirely online, face-to-face at one of the college's more than 30 locations, or through a blend of both. Areas of study include Management and other business areas; Science, Math and Technology, with a concentration in information technology; and others.
At the same time, CVS Health seeks to provide a new, time-efficient, and affordable path to degree completion as one way to diversify the pool of candidates seeking to move to upper management.
Veteran and active-duty military CVS Health employees will be able to access all of the services provided by the college's Office of Veteran and Military Education.
SUNY Empire also pairs each undergraduate student with a member of the college's faculty, who mentors the student throughout their learning journey and to degree completion in any of the college's areas of study and degree programs.
"Saving two full semesters of study, combined with SUNY Empire's world-class faculty and undergraduate programs, adds up to an unbeatable benefit for CVS Health store managers as they work to advance their careers," said SUNY Empire State College President Jim Malatras. "SUNY Empire was founded to educate students like CVS Health store managers who want to advance their careers while working full-time, raising families, and living busy lives. This partnership is a win-win-win, for SUNY Empire, for CVS Health, and most of all for CVS Health employees. I want to thank Greg Schmidt and his team at CVS Health, and the SUNY Empire faculty and staff, for their hard work and success in making our collaboration possible."
"Completion of a SUNY Empire bachelor's degree means enhanced career opportunities for our valued employees," says Gregory J. Schmidt, CVS Health Senior Manager, Workforce Initiatives. "The CVS Health-SUNY Empire collaboration represents an exciting opportunity for both organizations. I am proud and grateful for the hard work of so many people at CVS Health and SUNY Empire in making this exciting new pilot program possible."
"CVS Health management training blends well with the Empire State College model of education which integrates experiential learning from prior experience and ties it together with new courses for the degree," Provost and Executive Vice President for Academic Affairs Meg Benke said.
Participants may be able to further reduce time to graduation with transfer credits from traditional colleges and universities, as well as credits earned through SUNY Empire's one-on-one individualized Prior Learning Assessment process.
Click here to view photos from the signing event.
About Professional Learning Evaluation
The evaluation of CVS store manager training for college credit was determined through the college's process of Professional Learning Evaluation (PLE), which identifies college-level learning acquired through workplace learning, licenses and certifications.
A PLE assessment team comprises SUNY Empire faculty, and an independent external expert, working with staff of an organization, to determine the depth and breadth of learning outcomes.
SUNY Empire conducts PLEs on a regular basis in many areas, including:
Professional licenses and certificates.
Training activities.
Apprenticeships.
Professional learning.
About CVS Store Manager In Training Program
The length of the Store Manager In Training program varies between 12 to 24 months, depending on each trainee's circumstances, and provides store managers with a foundation of management skills, as well as an understanding of inventory, staff development and the understanding of what it means to work with purpose.
Specific SMIT skills and knowledge areas include:
Focusing on excellent customer service.
Store management, supervision and policy implementation.
Sales and inventory management.
Employee staffing, training and development.
Financial management.
Customer service leadership.
About CVS Health
CVS Health is the nation's premier health innovation company helping people on their path to better health. Whether in one of its pharmacies or through its health services and plans, CVS Health is pioneering a bold new approach to total health by making quality care more affordable, accessible, simple and seamless. CVS Health is community-based and locally focused, engaging consumers with the care they need when and where they need it. The Company has approximately 9,900 retail locations, approximately 1,100 walk-in medical clinics, a leading pharmacy benefits manager with more than 102 million plan members, a dedicated senior pharmacy care business serving more than one million patients per year and expanding specialty pharmacy services. CVS Health also serves an estimated 38 million people through traditional, voluntary and consumer-directed health insurance products and related services, including rapidly expanding Medicare Advantage offerings and a leading standalone Medicare Part D prescription drug plan. The Company believes its innovative health care model increases access to quality care, delivers better health outcomes and lowers overall health care costs. Find more information about how CVS Health is shaping the future of health at https://www.cvshealth.com.
About SUNY Empire State College
SUNY Empire State College educates students at any stage of life with a personalized learning experience delivered online, in person, or a blend of both. Since 1971, SUNY Empire has empowered students to earn an accredited degree around the demands of a busy lifestyle to advance their personal and professional goals. With world-class faculty, more than 1,300 dedicated mentors to help students tailor their degree programs, and cutting-edge distance learning technology, SUNY Empire delivers a trusted and flexible online college experience grounded in more than 30 New York state locations and seven international sites where students can learn and collaborate in person. Our nearly 50 years as a leader in awarding credit for prior learning and life experience helps students earn a degree faster and at lower cost. To learn more, visit www.esc.edu and follow @SUNYEmpire.