August 28, 2019
SUNY Empire State College Begins New Online Master of Science in Information Technology to Meet Workforce Demand in One of the Fastest Growing Industries
Employment for Computer and Information Systems Projected to Grow 12 Percent – Faster Than the Average for All Occupations

Cyber Security and Web Technology Tracks Available for Online MSIT Students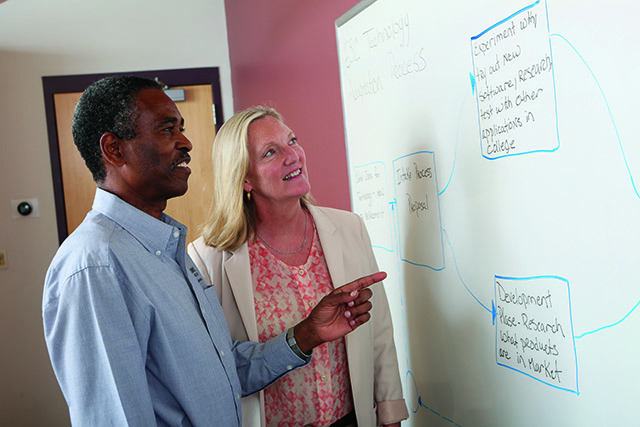 (SARATOGA SPRINGS, New York – Aug. 28, 2019) New for the fall of 2019, SUNY Empire State College's School for Graduate Studies now offers the online Master of Science in Information Technology (MSIT).
Online MSIT students will choose one of two tracks: Cyber Security or Web Technology.
According to the U.S. Bureau of Labor Statistics there will be a 12 percent growth from 2016-2026 in employment opportunities for computer and information systems managers. This is the fastest growth than the average for all occupations. Not only is it among the fastest growing section, it is well-paying with the median annual wage for computer and information systems managers of $142,530 in May 2018. Moreover, the New York State Department of Labor reports that long-term occupational employment projections for computer systems analysts and information security analysts are "very favorable," the department's highest ranking, and that experienced information security analysts earn nearly $150,000 per year.
"SUNY Empire State College is helping meet the growing workforce demand in exciting sectors, like IT, computer science, and cyber security," said Jim Malatras, president of SUNY Empire State College. "SUNY Empire State College provides IT professionals of today and tomorrow with the education they need to lead New York's workforce. At the same time, organizations of all types can look to SUNY Empire's alumni to help meet the increasing complex challenges and opportunities represented by information technology."
"The opportunities for workers with the specialized IT skills that will be taught through this program are growing by leaps and bounds, and the demand is only going to rise since IT is a big growth sector across our state," said New York State Commissioner of Labor Roberta Reardon. "I commend the Empire State College for helping New Yorkers prepare for the future by being proactive in ensuring that the students of today are ready to meet the business needs of tomorrow."
"The online MSIT curriculum provides students with practical, workforce-driven coursework, and hands-on experience, which prepares them to be IT leaders in the demanding cyber security web technology fields," said School for Graduate Studies Associate Professor of Business, Management, and Leadership Ruifang Hope Sun, who led the program development team. "SUNY Empire's IT advisory board members – all experts in the field – strongly endorsed the online MSIT cyber security and web technology tracks. Already, we have attracted a pool of high-quality applicants and all of us on the program development team are excited to meet our first cohort of graduate students."
"The School for Graduate Studies has long strived to provide top quality programs in high demand fields through flexible delivery formats so that every New Yorker can access the education they need to prepare for the jobs of today and tomorrow," said Nathan Gonyea, dean of the college's School for Graduate Studies. "The online MS in IT continues this tradition by providing students located anywhere in New York state, or the world, the knowledge and skills they need to help organizations of all sizes develop, manage, and secure information technology systems that are resistant to the growing threat of cyberattacks."
About the Online MSIT
The online MSIT degree is intended for IT professionals in the Science, Technology, Engineering, and Mathematics (STEM) fields who wish to advance their career opportunities in information technology industries.
The online MSIT program equips students with the advanced knowledge, skills, and IT competencies required to be effective leaders in diverse, multi-disciplinary IT enterprises. The program offers an in-depth understanding of information technology and security, as well as social, legal, and, managerial issues in the field.
Specifically, the online MSIT is designed for those working or planning to work in the following areas:
Information security.
Web technology.
Digital forensics.
Web programming.
Client and server site technology.
Cyber security.
About SUNY Empire State College
SUNY Empire State College educates more than 17,000 students in person, online, and through a blend of both, at more than 30 locations in New York and at eight international sites worldwide. Together with one of SUNY Empire's more than 1,300 faculty mentors, each student designs their own individualized pathway to a college degree that accommodates their schedule and awards credit for prior college-level learning. SUNY Empire awards more than 3,000 degrees annually and 94 percent of graduates stay in New York state. Today, more than 87,000 SUNY Empire alumni are entrepreneurs, veterans, and active members of the military, professional athletes, teachers, medical professionals, and leaders in their field, as well as in their communities. To learn more, visit www.esc.edu and follow the college on social media @SUNYEmpire.