November 22, 2019
SUNY Empire State College and New York State Division of Homeland Security and Emergency Services Partner to Help Lower Barriers to College Degrees
Continuing Education Vital in Fields of Emergency Management, Cybersecurity, and Counterterrorism

Degrees Can Be Completed 100% Online or at Nearby SUNY Empire Campuses or Learning Hubs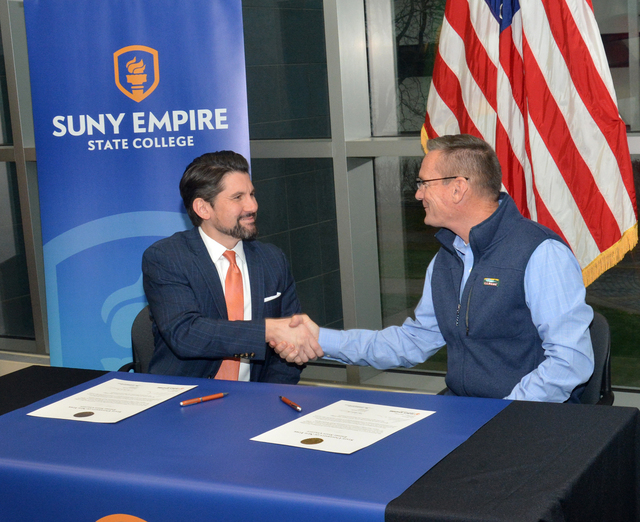 (SARATOGA SPRINGS, New York – Nov. 22, 2019) SUNY Empire State College and the New York State Division of Homeland Security and Emergency Services (DHSES) today have announced a partnership to help employees of DHSES advance their education to help keep pace with rapid changes in emergency management, cybersecurity, counterterrorism, and related fields.
By awarding college credit for previous learning, experience, and professional training, SUNY Empire helps DHSES employees minimize the cost and time needed to complete a degree. SUNY Empire also will waive the orientation fee and award a $100 Presidential Scholarship to DHSES employees.
DHSES currently employs approximately 700 people across New York state. Employees can earn their degrees 100 percent online, in person at any of SUNY Empire's campuses throughout the state, or through a blend of both to build a schedule that works around their busy lives.
Demand for qualified professionals in cybersecurity, emergency management, and counterterrorism professions is projected to grow steadily over the next decade, with job growth ranging from 10 to 30 percent both nationally and within New York state, according to the New York State Department of Labor.
"SUNY Empire is excited to offer this excellent opportunity to the hardworking employees of Homeland Security," said SUNY Empire President Jim Malatras. "We are excited to award credit for work and life experience, making it that much more attainable to earn a college degree around the busy schedules of working professionals. I'd like to thank Commissioner Murphy, Deputy Chief and alumna Joann Tierney-Daniels '17 and staff, as well as Sue Epstein and Sarah Wilson-Sparrow '17 in the office of partnership development, for making this partnership possible."
New York State Homeland Security and Emergency Services Commissioner Patrick A. Murphy said, "Every day, the men and women who make up our division are faced with distinct real-world challenges which are critical to keeping New Yorkers safe. As disaster and emergency situations continue to increase in frequency, the experiences of division employees have become all the more important. Thanks to this partnership with SUNY Empire, our employees will be able to use their unique experiences and institutional knowledge to further their own professional development."
Click here to view photos of today's signing.
To learn more, visit https://www.esc.edu/partnership-programs/government-partnerships/.
About DHSES
The New York State Division of Homeland Security and Emergency Services comprises four offices: Counter Terrorism, Emergency Management, Fire Prevention and Control, and Interoperable and Emergency Communications. Together, they provide leadership, coordination, and support for efforts to prevent, protect against, prepare for, respond to, and recover from terrorism and other man-made and natural disasters, threats, fires, and other emergencies.
About SUNY Empire State College
SUNY Empire State College educates students at any stage of life with a personalized learning experience delivered online, in person, or a blend of both. Since 1971, SUNY Empire has empowered students to earn an accredited degree around the demands of a busy lifestyle to advance their personal and professional goals. With world-class faculty, more than 1,300 dedicated mentors to help students tailor their degree programs, and cutting-edge distance learning technology, SUNY Empire delivers a trusted and flexible online college experience grounded in more than 30 New York state locations and seven international sites, where students can learn and collaborate in person. The college's nearly 50 years as a leader in awarding credit for prior learning and life experience helps students earn a degree faster and at lower cost. To learn more, visit www.esc.edu and follow @SUNYEmpire.