September 30, 2019
SUNY Empire State College Names Desiree Drindak Permanent Director of the Office of Veteran and Military Education
Drindak Will Help Expand Education Access and Completion Initiatives for Military Students and Their Families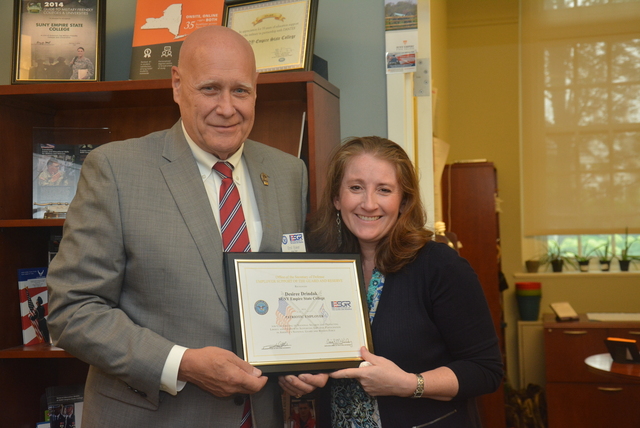 (SARATOGA SPRINGS, New York – Sept. 30, 2019) Desiree Drindak has been named the permanent director of the Office of Veteran and Military Education (OVME) at SUNY Empire State College after serving as interim director.
Drindak has been at SUNY Empire since 2007. Prior to being interim director, she held positions as military academic development coordinator, military academic advisor, and military programs coordinator.
"Desiree Drindak is deeply committed to ensuring that our nation's service members and their family members have access to a high-quality education, as well as the supports they need to succeed," said SUNY Empire State College President Jim Malatras. "Desiree has been instrumental in developing relationships with military partners at SUNY Empire State College. I am proud to name her permanent director of the Office of Veteran and Military Education."
"My goal is to provide strategic vision and leadership for a quality military education program, ensuring academic success for students through effective recruitment, retention, and student engagement initiatives," said Drindak. "I am acutely aware of the needs of veterans transitioning to civilian life, the effects of war, and the importance of providing community support and resources for student veterans and their family members. I have dedicated my career to supporting service members as they return to college."
The college recently launched a $1 million fundraising campaign to enhance financial aid and degree completion support for students serving on active duty with the U.S. Armed Forces, veterans, their families and dependents. The campaign kicked off with a successful One Million Steps Relay at Albany's Empire State Plaza in observance of National Gold Star Mother's and Family's Day on Sunday, September 29.
Drindak is an appointee to the SUNY Veteran Advisory Board (2015-present), received the Patriot Award from the U.S. Department of Defense for support and flexibility on behalf of military reserve employees (2018); and is a past president of the New York State Advisory Council on Military Education (2015-2017).
In the past, she also held roles at Thomas Edison State University as a military programs coordinator and regional military base counselor.
She has a Master of Education, with a concentration in psychology and student personnel administration, from Springfield College, and a Bachelor of Arts in Sociology, with a concentration in management from Western New England University.
Drindak, who has been married to a Navy reserve pilot for the past 20 years, knows firsthand the challenges and rewards of the military community.
About the Office of Veteran and Military Education
More than 1,300 active-duty military and veteran students, and their family members, are currently enrolled at SUNY Empire State College. The college supports veterans, Guard, Reserve, and active-duty military with special tuition rates and by waiving most fees, an overall culture supportive of veterans and members of the military through military advising, as well as education partnerships with military and veteran organizations and the SALUTE National Honor Society. The college also grants academic credit for college-level military training recommended by the American Council on Education.
About SUNY Empire State College
SUNY Empire State College educates more than 17,000 students in person, online, and through a blend of both, at more than 30 locations in New York and at eight international sites worldwide. Together with one of SUNY Empire's more than 1,300 faculty mentors, each student designs their own individualized pathway to a college degree that accommodates their schedule and awards credit for prior college-level learning. SUNY Empire awards more than 3,000 degrees annually and 94 percent of graduates stay in New York state. Today, more than 87,000 SUNY Empire alumni are entrepreneurs, veterans, and active members of the military, professional athletes, teachers, medical professionals, and leaders in their field, as well as in their communities. To learn more, visit www.esc.edu and follow the college on social media @SUNYEmpire.