September 13, 2019
SUNY Empire State College to Host Public Discussions About Free Speech, Privacy, and Security in the Digital Era for Constitution Day
Special Event Will Be Hosted at Six Campuses Across New York State on Sept. 17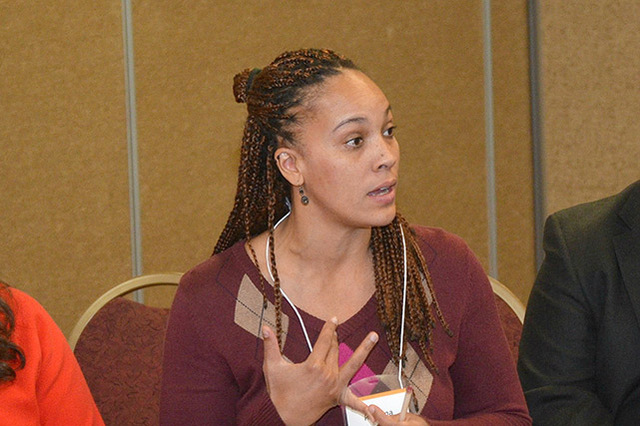 (SARATOGA SPRINGS, New York – Sept. 13, 2019) In observance of Constitution and Citizenship Day, SUNY Empire State College is hosting "What Should Go on the Internet? Privacy, Freedom & Security Online," from 5:30-7:30 p.m., Tuesday, Sept. 17, at six of its campuses around the state.
It is open to the public free of charge and the option to participate online also is available.
Part of SUNY Empire's Commitment to Community campaign, which includes SUNY Empire serving as an early voting site, and helping people in communities across the state to complete the upcoming census, the Constitution Day event will explore a pressing issue that impacts our democracy: how to protect individual privacy; promote free speech and commerce, and ensure personal data security in the internet age.
"The foundation of a democracy is informed and thoughtful conversation and debate over serious policy topics," said Jim Malatras, president of SUNY Empire State College. "I applaud Professor Rhianna Rogers and Anita Brown, the college's career development coordinator, for organizing conversations about some of the most pressing issues confronting modern society. We don't have all the answers, but I am encouraged that we are asking the right questions and convening a thoughtful conversation about how we can best move forward together."
Associate Professor of Anthropology and History Rhianna C. Rogers, a 2018-19 recipient of SUNY's Office of Diversity, Equity, and Inclusion's Explorations in Diversity and Academic Excellence Award, said, "During times of political and cultural unrest, it is important that we create spaces for our students and the broader community to engage in respectful dialogues around timely topics. The Deliberative Conversations series is one such way to engage in these important conversations."
Rogers is a 2019 recipient of a SUNY Empire Provost/Associate Dean Innovation Program Reassignment, which supports this work.
The Constitution Day conversations will be held at the following SUNY Empire campuses:
AppleTree Business Park
2875 Union Rd. — Suite 34
Cheektowaga, NY 14227
325 Hudson Street, 5th Floor
(Corner of Hudson and Vandam)
New York, NY 10013-1005
680 Westfall Road
Rochester, NY 14620
Student Center, 111 West Avenue
Saratoga Springs, NY 12866-6048
407 College Road
Selden, NY 11784
6333 Rte. 298, 3rd Floor
East Syracuse, NY 13057
Registration is required in order to participate at one of the college's campuses, or online. Once registered, participants will receive reading materials from the National Issues Forums Institute, which should be read in advance of the discussions. All six SUNY Empire campuses will convene online for the opening. Then each location will break away to discuss the topics and readings separately. All locations will reconnect online for a closing discussion among all groups.
About "What Should Go on the Internet? Privacy, Freedom & Security Online"
The same internet that has given us new ways to socialize, learn, and engage in civic life has also given criminals new avenues to steal and scam, often using information gleaned from public documents now posted online. And because no one's in charge, there's no single authority to call to complain.
When does our personal information become public? What data collection is acceptable? Should there be limits on what we can do online? It's time to find a way to balance our needs to safeguard privacy, preserve free speech, and ensure security for all our citizens, young and old.
It's time to answer the question: What should go on the internet? We will discuss three options: protect individual privacy; promote freedom of speech and commerce, and security from online threats.
About Constitution Day and Citizenship Day
From the Library of Congress: "Constitution Day and Citizenship Day is observed each year on September 17 to commemorate the signing of the Constitution on September 17, 1787, and 'recognize all who, by coming of age or by naturalization, have become citizens.'"
About SUNY Empire State College
SUNY Empire State College educates more than 17,000 students in person, online, and through a blend of both, at more than 30 locations in New York and at eight international sites worldwide. Together with one of SUNY Empire's more than 1,300 faculty mentors, each student designs their own individualized pathway to a college degree that accommodates their schedule and awards credit for prior college-level learning. SUNY Empire awards more than 3,000 degrees annually and 94 percent of graduates stay in New York state. Today, more than 87,000 SUNY Empire alumni are entrepreneurs, veterans, and active members of the military, professional athletes, teachers, medical professionals, and leaders in their field, as well as in their communities. To learn more, visit www.esc.edu and follow the college on social media @SUNYEmpire.