September 24, 2019
SUNY Empire State College to Hold "One Million Steps Relay" in Recognition of National Gold Star Mother's and Family's Day
Relay Kicks Off $1 Million Campaign to Enhance Financial Aid and Degree Completion Initiatives for Active-Duty Service Members, Veterans, their Families and Dependents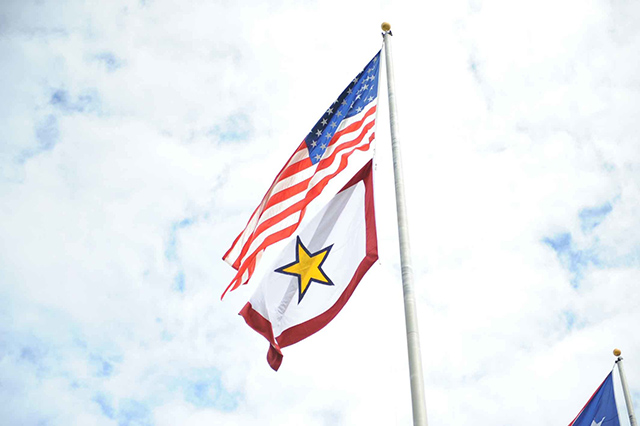 (SARATOGA SPRINGS, New York – Sept. 24, 2019) The SUNY Empire State College Office of Veteran and Military Education will hold a "One Million Steps Relay" at the Empire State Plaza in Albany in observance of National Gold Star Mother's and Family's Day on Sunday, Sept. 29, from 1-5 p.m. The relay will culminate with the New York State Division of Veterans' Services observance at Lafayette Park beginning at 6 p.m.
Participants from the college community and beyond aim to walk a million steps around the plaza's reflecting pool to kick off a $1 million fundraising campaign to enhance financial aid and degree completion support for the college's students serving on active duty with the U.S. Armed Forces, veterans, their families and dependents.
"Gold Star families' loved ones died in military service defending the safety, freedom, and liberty enjoyed by each and every one of us," said Jim Malatras, president of SUNY Empire. "Some of our active-duty students have completed their degrees while serving in combat zones, a remarkable demonstration of persistence and determination. I am proud to join in the state's observance of Gold Star Mother's and Family's Day and kick off this important campaign to enhance the support we provide to our military students and their families as they advance their goals with a college degree."
"We are grateful to SUNY Empire State College for their continued support of these Gold Star Families who have sacrificed so much," said retired Army Lt. Col. Jim McDonough, director of the state Division of Veterans' Services. "We are honored to have them as our partners in this Gold Star Families Luminary event recognizing the fortitude and strength of Gold Star Families whom we owe more to than we could ever repay."
"Few know the cost of war more than the families left behind," said Aaron Gladd, SUNY Empire's chief of staff and an Army platoon leader and veteran of Operation Enduring Freedom. "We owe more than we could ever give them – but the best way to begin that repayment is through action. Today we reaffirm our commitment and I'm proud to be part of the team announcing the largest ever scholarship goal for veterans and their families in the history of the college."
"SUNY Empire is proud to partner with the state Division of Veterans' Services in this year's Gold Star Families event," said Joseph Garcia, SUNY Empire's executive vice president for administration and a retired Air Force lieutenant colonel. "In addition to taking time to recognize those who lost their lives, SUNY Empire is taking steps to strengthen access, opportunity and support for our Gold Star Families as they complete a college degree. Remembering those who have perished in service of our country, reminds us of the Gold Star Families with us today, and inspires us to do even more to help support them in all areas of life, and not only in higher education."
"We're excited to launch this important effort to support our veterans and their families, especially those whose loved ones have made the ultimate sacrifice for our country," said Walter Williams, SUNY Empire's vice president for advancement. "While we can never repay the debt that we owe our veterans, this campaign to raise $1 million – and our other efforts around supporting our veterans and military programs – will go a long way to ensure that they have access to a quality education back at home."
"As we observe Gold Star Mother's and Family's Day, we honor our heroes that were lost in service and the families that stood by them," said Desiree Drindak, interim director of SUNY Empire's Office of Veteran and Military Education. "We are humbled by their sacrifices and admire their strength and fortitude. Building awareness of this important day, demonstrates our steadfast commitment to military families. Supporting veterans and their family members has always been an important part of SUNY Empire's mission. I am proud so many members and friends of the college community have volunteered to participate in this year's observance of Gold Star Family's Day."
After the relay, members of the college community will walk to nearby Lafayette Park to join the division's observance of Gold Star Mother's and Family's Day.
Following the observance, members of the college community will join with other participants, and return to the plaza reflecting pool, where they will light 62 luminaries, representing each county of the state.
A moment of silence at the pool concludes the day's events.
For members of the general public who wish to join SUNY Empire's One Million Step Relay, additional event details, contact information, and sign-up form are available online.
About Gold Star Mother's and Family's Day
Although the exact origins of Gold Star Mother's and Family's Day are unknown, the day traces its roots to World War I, when gold star flags would appear in a window of a home to signify a family member had died on duty.
In 1936, the 74th Congress declared, "the last Sunday in September shall hereafter be designated and known as 'Gold Star Mother's Day,' and it shall be the duty of the President to request its observance as provided for in this resolution."
In 2016, President Barack Obama proclaimed that Sept. 25, 2016 was to be known as Gold Star Mother's and Family's Day, a continuation of the long-standing recognition for those that lost a loved one in the line of duty.
About SUNY Empire State College
SUNY Empire State College educates more than 17,000 students in person, online, and through a blend of both, at more than 30 locations in New York and at eight international sites worldwide. Together with one of SUNY Empire's more than 1,300 faculty mentors, each student designs their own individualized pathway to a college degree that accommodates their schedule and awards credit for prior college-level learning. SUNY Empire awards more than 3,000 degrees annually and 94 percent of graduates stay in New York state. Today, more than 87,000 SUNY Empire alumni are entrepreneurs, veterans, and active members of the military, professional athletes, teachers, medical professionals, and leaders in their field, as well as in their communities. To learn more, visit www.esc.edu and follow the college on social media @SUNYEmpire.