September 12, 2019
New York State Department of Labor and SUNY Empire State College Announce Partnership to Help Prepare Job-Seekers for Emerging Careers
Empire State Career Connector Will Bridge Emerging Job Opportunities and SUNY Empire Programs to Help Workers Adapt to Evolving Workforce Demands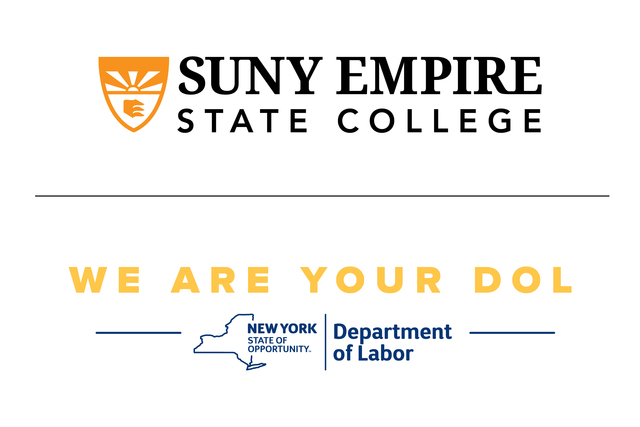 (ALBANY, New York – Sept. 12, 2019) The New York State Department of Labor (NYSDOL) and SUNY Empire State College (SUNY Empire) signed an agreement today to create the Empire State Career Connector, a program to connect individuals to growing jobs sectors and the education they'll need to take advantage of emerging opportunities.
Technological innovations, demographic shifts, and globalization are rapidly changing our world of work. At the same time many New York businesses are facing a shortage of qualified workers, often because of skills gaps that require some form of additional education or training. These changes and shortages create new career opportunities for New York's workforce right now and in the future. The Empire State Career Connector will help prepare workers for the future and address workforce gaps today.
"The types of work we do and the way we do them are constantly changing. That's why this innovative partnership with SUNY Empire State College is so important in preparing New York's workforce with the skills they need to thrive and excel in this ever-evolving landscape," said New York State Labor Department Commissioner Roberta Reardon.
"The demands of the workforce are changing rapidly, and we need to think differently about how we educate people in this new world," said SUNY Empire State College President Jim Malatras. "The changing workforce requires continuous education through upskilling and our partnership with the Department of Labor will help people identify job opportunities near them and connect with the education they'll need to advance their careers. I commend Commissioner Roberta Reardon and her team, and those at SUNY Empire who have worked so well in creating this innovative program."
The Empire State Career Connector program will work with individuals throughout the process to identify jobs, provide the training and education needed, and then help connect individuals to a job upon completion. The program will align training and education needs to job demand identified by the local workforce boards and the Regional Economic Development Councils, then connect people to these jobs by co-locating NYSDOL job counselors alongside SUNY Empire College staff to work directly with individuals to determine what additional education or training will be needed to qualify for the job.
In order to minimize the cost and time spent earning a degree, SUNY Empire will evaluate the person's previous education, training, and life experience to award college credit for those experiences. SUNY Empire, working with NYSDOL, will provide a free resume writing tool which will be sent to NYSDOL Jobs Bank to help connect these graduate to jobs upon completion. If the match at SUNY Empire is not optimal, staff will help connect job-seekers with programs at other SUNY institutions.
The program will be statewide across SUNY Empire and NYSDOL locations, but will start as a pilot in Albany. The first Empire State Career Connector Hub will be physically located at the SUNY Empire location in downtown Albany. Work on the facility should be completed for a formal ribbon cutting by January 2020.
The program will include a special veteran's connection with dedicated SUNY Empire Office of Veteran and Military Education staff that will collaborate with NYSDOL veteran representatives to support military-aligned individuals through program completion.
PHOTOS of the signing are available.
B-ROLL of the signing and the SUNY Empire State College facilities.
About the New York State Department of Labor
We Are Your DOL, Transforming New York's World of Work by helping grow the state's economy through innovative programs that connect job seekers with careers they love, assist the unemployed, protect all workers and partner with businesses to help them find and develop the workforce they need to grow and thrive.
About SUNY Empire State College
SUNY Empire State College educates more than 17,000 students in person, online, and through a blend of both, at more than 30 locations in New York and at eight international sites worldwide. Together with one of SUNY Empire's more than 1,300 faculty mentors, each student designs their own individualized pathway to a college degree that accommodates their schedule and awards credit for prior college-level learning. SUNY Empire awards more than 3,000 degrees annually and 94 percent of graduates stay in New York state. Today, more than 87,000 SUNY Empire alumni are entrepreneurs, veterans, and active members of the military, professional athletes, teachers, medical professionals, and leaders in their field, as well as in their communities. To learn more, visit www.esc.edu and follow the college on social media @SUNYEmpire.