September 6, 2019
Lexie Riley Bonitatibus Named SUNY Empire State College Director of Budget and Risk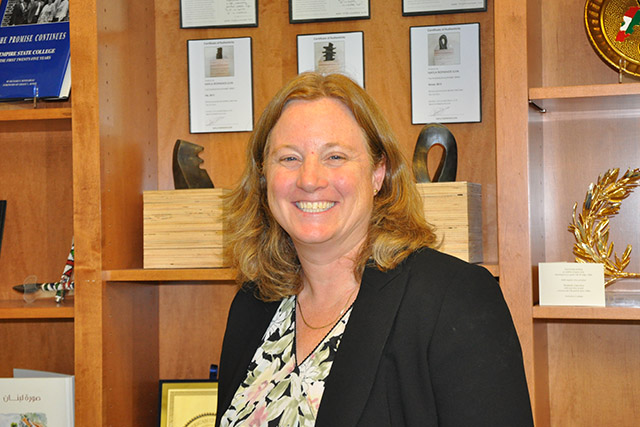 (SARATOGA SPRINGS, New York – Sept. 6, 2019) Lexie Riley Bonitatibus has been named the director of budget and risk for SUNY Empire State College.
Bonitatibus (bona-TAT-ebus) is a finance administrator and risk director, with more than 25 years of experience. She comes to SUNY Empire from Union College, where she was the director of budgets and risk management.
Immediately prior to Union, Bonitatibus worked at General Electric Company for 13 years in a variety of roles, including as a commercial finance manager, senior risk manager, global cost control leader, finance manager and analyst.
She also served as an investment banker in San Francisco, and as a project finance manager and head of retail operations for the Olympic and Paralympic Winter Games of 2002 in Salt Lake. In addition, Bonitatibus was a cast member in the 2002 Winter Olympic Opening Ceremonies, which won seven Emmy awards, and was seen live by more than 1 billion people.
As a 12-year-old competitor, Saratoga Springs native Lexie Riley was the 1985 national champion in long track speed skating in her age group, and held the national record for 500 meters. From 1985-1994, she trained at the U.S. Olympic Training Center in Lake Placid and, in 1987, she made the U.S. Speed Skating Team in short track.
From 1989-90, she competed in cycling at the highest levels of national competition, and trained at the U.S. Olympic and Paralympic Training Center in Colorado Springs.
"Lexie Bonitatibus brings a world-class set of analytical and financial skills, developed through years of experience, to SUNY Empire State College and I am delighted she has joined our team," said Jim Malatras, president of SUNY Empire State College. "Lexie's success in managing complex sets of budgets, financial statements, and revenue and expense projections and reports will help to ensure SUNY Empire continues to focus every possible resource on providing a high-quality, affordable education for students at every stage of life."
"Growing up in Saratoga Springs, and as an athlete, I knew about SUNY Empire State College because many of my teammates living at the U.S. Olympic Training Center in Lake Placid took courses at SUNY Empire," said Bonitatibus. "A college is a business. Top professors, interesting courses, mentoring students, all these great things come at a cost. We need to ensure every possible resource is directed to continuing to provide and improve education and services for SUNY Empire's students. So, there is a challenge and a purpose here at SUNY Empire. The purpose for SUNY Empire is to provide greater opportunity for the state's population, and not just students coming directly from high school. Like members of a national or Olympic team, the SUNY Empire faculty and staff take on the challenge and work to a higher purpose. With flexibility in how and when to study, and faculty mentoring students, SUNY Empire is perfectly positioned to be the college of the future. I am very excited to start working with all my new colleagues and to be in this role."
Among many other responsibilities at SUNY Empire, Bonitatibus will ensure accurate revenue estimates as part of the college's financial plan, manage essential financial management functions on a day-to-day basis, and oversee accounting procedures and practices.
About Lexie Bonitatibus
Bonitatibus has earned awards, not only for her accomplishments, but even more so for her integrity, including:
The Order of Excellence Award, presented in 2002 by then chief executive of the Salt Lake City Olympic Organizing Committee, Mitt Romney, for her work during the Winter Olympic Games.
The 1990 U.S. Olympic Committee's Jack Kelly Fair Play Award in Sports, which is awarded annually to an athlete, team, coach, or official in recognition of an outstanding act of fair play and sportsmanship displayed during the past year (Four-time Olympian Jackie Joyner-Kersee also is a past recipient).
The Comité International pour le Fair Play (International Fair Play Committee) Diploma for Action award, also in 1990, for her sportsmanship in a national cycling competition.
In order to promote diversity in leadership, Bonitatibus was selected by GE's human resources department to lead 1,200 women in the Capital Region in various initiatives and networking events. Bonitatibus was in the process of starting a women's network at Union College at the time of her departure to SUNY Empire.
Bonitatibus and her husband, Peter J. Bonitatibus Jr., a professor, practice of chemistry, in the department of Chemistry and Chemical Biology at RPI's School of Science, live in Saratoga Springs with their four children, Lira, 11, Pisa, 10, Cesidio, 7, and Giovanni, 5.
She holds a Master of Arts in International Economics and Finance from Brandeis International Business School and a Bachelor of Arts in International Government and Geography from Dartmouth College.
About SUNY Empire State College
SUNY Empire State College educates more than 17,000 students in person, online, and through a blend of both, at more than 30 locations in New York and at eight international sites worldwide. Together with one of SUNY Empire's more than 1,300 faculty mentors, each student designs their own individualized pathway to a college degree that accommodates their schedule and awards credit for prior college-level learning. SUNY Empire awards more than 3,000 degrees annually and 94 percent of graduates stay in New York state. Today, more than 87,000 SUNY Empire alumni are entrepreneurs, veterans, and active members of the military, professional athletes, teachers, medical professionals, and leaders in their field, as well as in their communities. To learn more, visit www.esc.edu and follow the college on social media @SUNYEmpire.