August 1, 2019
SUNY Empire State College and Nassau Community College Launch First-of-its-Kind Unified Nursing Program
96 Students Enrolled in First Semester of Innovative New Partnership Program Helps Address Urgent Need for Nurses in Long Island Clinics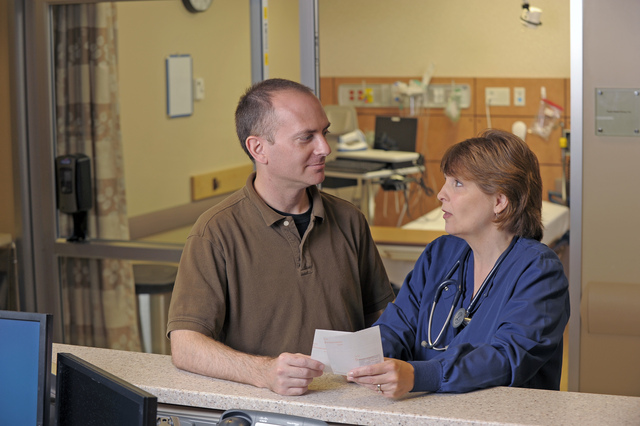 (UNIONDALE, New York – Aug. 1, 2019) Starting this fall, 96 students will begin working toward a bachelor's degree in nursing in an innovative new unified program by SUNY Empire State College and Nassau Community College that eliminates the need to transfer credits from one institution to another.
By offering seamless transfer from Nassau's associate degree program to SUNY Empire's RN to Bachelor of Science in Nursing program, the first-of-its-kind partnership helps fulfill an urgent need for nurses in clinical placements on Long Island, which requires nursing students to be enrolled in a nursing bachelor's program to work in a clinical setting.
Upon completion of the program, nursing students will satisfy the state's requirement for registered nurses to complete a bachelor's degree in nursing.
The program addresses a growing need for registered nurses on Long Island and around the country. According to the U.S. Bureau of Labor Statistics, 11 million new RNs will be needed nationally by 2022 to avoid a nursing shortage. In Nassau County, where the average salary for nurses is $89,600, approximately 8,000 new RNs will be needed over the next 7 years to avoid a shortage.
"With a looming nursing shortage on Long Island and around the country, educational institutions need to step up," said SUNY Empire State College President Jim Malatras. "Removing transfer barriers means better educated nurses, more of them sooner and, best of all, better care for the people of Nassau County. The unified Nassau-SUNY Empire nursing program is a reality thanks to years of hard work by nursing faculty and staff, registrar's offices, student accounts, IT, and many others at both colleges. Their efforts will improve health care for Nassau County residents for years to come. This program demonstrates that SUNY is stronger when working together."
"The College is dedicated to providing students with educationally purposeful opportunities to earn degrees of economic value that simultaneously respond to the labor demands of Nassau County," said Nassau Community College President Dr. Jermaine F. Williams. "This innovative initiative provides a new and advanced opportunity to impact student access, completion, and post-completion success, while also illustrating the College's deep commitment to help build an infrastructure that will improve health care for Nassau County residents. Truly, this was a collaborative effort that involved many at each institution, and all are to be applauded for their insight, innovation, and implementation."
"The real winners in this groundbreaking partnership between Nassau Community College and SUNY Empire State College are the people of Nassau County," said Nassau County Executive Laura Curran. "We need our educational institutions to recognize and respond to the needs of our communities, and this innovative program does just that. A stronger pipeline for new nurses means better health care for our residents."
The new program combines Nassau Community College's Associate in Science Degree with SUNY Empire State College's RN to BSN programs.
Nassau's Associate in Science nursing program is accredited by the Accreditation Commission for Education in Nursing (ACEN*), leading to eligibility for the National Council Licensure Examination (NCLEX) required to become licensed as RN.
SUNY Empire's RN to BSN degree is accredited by the Commission on Collegiate Nursing Education (CCNE), and open to individuals who hold a registered nurse (RN) license.
The goal of the unified program is to prepare pre-licensure and post-licensure nursing students to practice safe and competent patient-centered nursing care in a variety of health settings, and to optimize human health and wellness potential across a patient's life span, within a rapidly changing health care system.
These programs are designed to empower students with the knowledge and skills that are essential in meeting the health care needs of a diverse population within the community, and to inspire in the nursing student a sense of integrity, commitment, and competence.
Throughout these programs, students' competencies will grow incrementally in the attainment and utilization of nursing knowledge, critical thinking, clinical reasoning, communication, leadership and technology skills essential to their role within the profession and the health care team.
About Nassau Community College
Nassau Community College is an institution where more than 20,000 full-time, part-time, Workforce Development and continuing education students start and continue their successful journey through higher education. More than 80 fields of study are offered on a 225-acre campus located in the center of Long Island. As one of the largest single-campus two-year college in New York State, Nassau Community College maintains a national reputation for excellence. For more information, visit www.ncc.edu.
About SUNY Empire State College
SUNY Empire State College educates more than 17,000 students in person, online and through a blend of both, at more than 30 locations in New York and at eight international sites worldwide. Together with one of SUNY Empire's more than 1,300 faculty mentors, each student designs his or her own individualized pathway to a college degree that accommodates his or her schedule and awards credit for prior college-level learning. SUNY Empire awards more than 3,000 degrees annually and 94 percent of graduates stay in New York state. Today, 87,000 SUNY Empire alumni are entrepreneurs, veterans and active members of the military, professional athletes, teachers, medical professionals and leaders in their field, as well as in their communities. To learn more, visit www.esc.edu and follow the college on social media @SUNYEmpire.