December 31, 2019
SUNY Empire and Niagara County Community College Sign Agreement Allowing Niagara Students Accelerated Pathway into SUNY Empire's Teacher Preparation Program
Program Allows Niagara County Community College (NCCC) Students to Earn a Bachelor's and Master's Degree from SUNY Empire Faster and at Lower Cost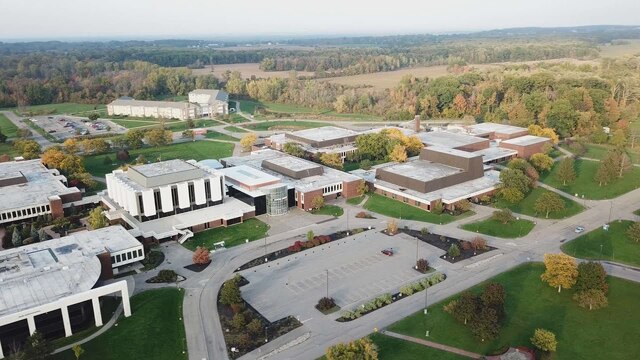 Agreement Builds on SUNY Empire and NCCC Partnership Where SUNY Empire Co-Locates on NCCC's Campus as a Degree Completer for NCCC Students
(SARATOGA SPRINGS, NY – Dec. 31, 2019) SUNY Empire State College and Niagara County Community College signed an agreement that allows eligible NCCC students an accelerated pathway into SUNY Empire's Teacher Preparation (grades 7-12) program, empowering NCCC students to earn a bachelor's and master's degree faster at lower cost through SUNY Empire.
The newly created partnership allows eligible full-time students enrolled at NCCC to transfer to SUNY Empire after two years. They will then spend the next two years pursuing their undergraduate degree, and following its completion, will spend another three semesters, or 1.5 years, completing their Master of Arts in teaching degree.
Students enrolled in this combined BA/BS to Masters of Arts in Teaching program will save a full term in earning their master's degree, as well as saving money by taking up to 12 graduate-level credits during their bachelor's degree program at the undergraduate tuition rate.
Across New York State and the nation, there is a growing need for teachers in many subject matter areas and in particular districts, especially districts in communities of color. This need is being exacerbated because fewer students are enrolling in teacher educator programs. According to the Rockefeller Institute of Government, between 2010-11 and 2015-16, there was nearly a 40 percent decline in the number of graduates from teacher preparation programs. The agreement today will help fill the emerging workforce need.
SUNY Empire offers flexible online and on-site learning at more than 30 campuses and learning hubs across New York state, including at the NCCC campus in Sanborn.
"SUNY Empire students enjoy the flexibility of being co-located on the Niagara County Community College campus, and this partnership will allow even more NCCC students to seamlessly transition into SUNY Empire programs, especially teacher education where there is a growing need," said SUNY Empire State College President Jim Malatras. "The value of the program is extensive, from the cost and time savings, to the ability to pursue their degree online and on a campus they're familiar with. It's unique and created with our students in mind. Thank you to NCCC President Murabito and his hardworking faculty and staff for making pathways such as this possible."
SUNY Empire and NCCC also renewed their guaranteed admission program, allowing NCCC students to transfer up to 79 lower-division credits to SUNY Empire, more than half the 124 total credits required to complete a bachelor's degree, meaning students can earn a bachelor's degree in as little as one year after their associate degree. The partnership also waives the orientation fee and provides a $100 presidential transfer scholarship.
SUNY Empire State College offers a wide range of bachelor's degree programs that align with many of the associate degree programs at NCCC.
About Niagara County Community College
Niagara County Community College is centrally located in Niagara County on a beautiful 287-acre rural campus, just minutes from Buffalo, Niagara Falls, and the Canadian border.
About SUNY Empire State College
SUNY Empire State College educates students at any stage of life with a personalized learning experience delivered online, in person, or a blend of both. Since 1971, SUNY Empire has empowered students to earn an accredited degree around the demands of a busy lifestyle to advance their personal and professional goals. With world-class faculty, more than 1,300 dedicated mentors to help students tailor their degree programs, and cutting-edge distance learning technology, SUNY Empire delivers a trusted and flexible online college experience grounded in more than 30 New York state locations and seven international sites where students can learn and collaborate in person. Our nearly 50 years as a leader in awarding credit for prior learning and life experience helps students earn a degree faster and at lower cost. To learn more, visit www.esc.edu and follow @SUNYEmpire.