February 20, 2019
SUNY Corning Community College and SUNY Empire State College Sign Nursing Transfer Agreement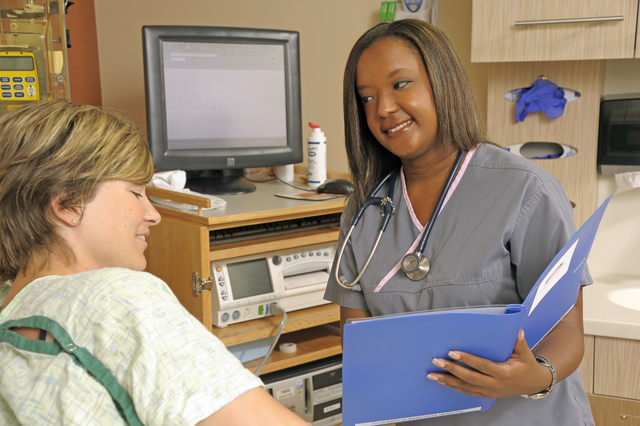 (SARATOGA SPRINGS, N.Y. – Feb. 20, 2019) SUNY Corning Community College and SUNY Empire State College have implemented a Pathways Transfer Agreement in Nursing. Students who receive their associate degree in nursing at SUNY CCC, and meet the appropriate academic requirements, will be accepted into the RN to Bachelor of Science in Nursing program at SUNY Empire State College.
"SUNY CCC has made a decision to proactively advocate for our students' next step," said L. Dean Fisher, provost of SUNY CCC. "More and more positions require advanced degrees. SUNY CCC has more than a dozen pathways to partner institutions that ease the transition and ensure that the resources – time and money – that students invest in their education are spent wisely."
"Better-educated nurses means better health care for the people of the state," said Bridget Nettleton, dean of SUNY Empire's School of Nursing and Allied Health. "In addition to higher-quality health care, the pathways partnership opens new online learning avenues to successful careers for SUNY CCC graduates. SUNY CCC nursing graduates are very well-prepared to succeed at SUNY Empire and we look forward to educating them at the bachelor's and master's levels."
According to the U.S. Bureau of Labor Statistics, the employment rate of registered nurses is expected to increase by 15 percent through 2026. The estimated growth is due to the emphasis on preventative care and the growing rate of chronic conditions. This partnership comes at a time when New York State's "BSN in 10" law requires all registered nurses to complete their bachelor's degrees within 10 years of receiving their initial RN license.
SUNY Empire will ease the transition process for SUNY CCC graduates changing from classroom- and clinical-based learning to an educational model comprised significantly of online work. This agreement provides an affordable and convenient baccalaureate degree option for SUNY CCC graduates who want to remain close to home.
SUNY CCC media contact: Stephanie Specchio, director of communications, marketing and public relations
Email: sspecchi@corning-cc.edu
Phone: 607-962-9109
Address: A110, 1 Academic Drive, Corning, NY 14830
About SUNY Empire State College
SUNY Empire State College educates more than 17,000 students in person, online and through a blend of both, at more than 30 locations in New York and at eight international sites worldwide. Together with one of SUNY Empire's more than 1,300 faculty mentors, each student designs his or her own individualized pathway to a college degree that accommodates his or her schedule and awards credit for prior college-level learning. SUNY Empire awards more than 3,000 degrees annually and 94 percent of graduates stay in New York state. Today, more than 84,000 SUNY Empire alumni are entrepreneurs, veterans and active members of the military, professional athletes, teachers, medical professionals and leaders in their field, as well as in their communities. To learn more, visit www.esc.edu and follow the college on social media @SUNYEmpire.