September 16, 2019
SUNY Empire State College and the New York Police Department Partner to Offer College Credits for Training and Experience for NYPD Employees, Retirees
Program Allows Officers Faster Graduation at Lower Cost; Degrees Can be Completed Entirely Online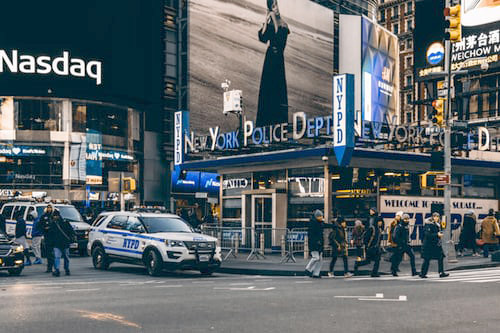 (SARATOGA SPRINGS, New York – Sept. 16, 2019) SUNY Empire State College and the New York Police Department have established a partnership to turn training and experience into transfer credits to allow NYPD employees and retirees to earn a degree faster at lower cost through SUNY Empire.
NYPD and other law-enforcement training has been professionally evaluated by SUNY Empire and other evaluating organizations for undergraduate credit. After completing training and enrolling with the college, a student's training credits will be applied to their degree as transfer credit.
For example, successful completers of the New York State Municipal Police Training Council Basic Course for Police Officers would count as 39 credits toward the officers' college degree – the equivalent of more than a year of full-time study.
"NYPD employees already have a wealth of knowledge thanks to their world-class training," said SUNY Empire State College President Jim Malatras. "Thanks to our partnership, members of the NYPD will save time and money and get a real jumpstart on their degree. And SUNY Empire's flexible online learning platform means they can earn a degree without missing any time on the job. I commend the NYPD for providing their employees and retirees with this convenient opportunity to advance their education and their careers."
"The level of education within a work force serves as an indication of professionalism for an organization," said NYPD Office of Professional Development Executive Director Fred W. Tanner. "We're grateful for this partnership with SUNY Empire, and their recognition of the unique training and knowledge our members of the service have. It's a win-win relationship as I'm certain our people bring a unique perspective to the classroom."
Once enrolled with SUNY Empire, NYPD employees and retirees may complete their degree entirely online, face-to-face, or a combination of both.
Additional transfer credits and credits earned through Prior Learning Assessment (PLA) also may significantly reduce college costs and time to degree completion.
SUNY Empire also accepts credit for other training courses that have been professionally evaluated by other organizations, such as the American Council on Education and the National College Credit Recommendation Service.
About the NYPD
The NYPD is the largest and one of the oldest municipal police departments in the United States. Established in 1845, it is responsible for policing an 8.5 million-person city, by performing a wide variety of public safety, law enforcement, traffic management, counterterror, and emergency response roles. In the past 25 years, the department has achieved spectacular declines in both violent and property crime, ensuring that New York City has the lowest overall rate of major crimes in the 25 largest cities in the country. The NYPD has 77 patrol precincts with patrol officers and detectives covering the entire city. The department also has 12 transit districts to police the subway system and its nearly six-million daily riders, and nine police service areas (PSAs) to patrol the city's public housing developments, which are home to more than 400,000 residents. Additionally, uniformed civilians serve as traffic safety agents on the city's busy streets and highways, and as school safety agents, protecting public schools and the over-a-million students who attend them. The NYPD employs approximately 36,000 officers and 19,000 civilian employees.
About SUNY Empire State College
SUNY Empire State College educates more than 17,000 students in person, online, and through a blend of both, at more than 30 locations in New York and at eight international sites worldwide. Together with one of SUNY Empire's more than 1,300 faculty mentors, each student designs their own individualized pathway to a college degree that accommodates their schedule and awards credit for prior college-level learning. SUNY Empire awards more than 3,000 degrees annually and 94 percent of graduates stay in New York state. Today, more than 87,000 SUNY Empire alumni are entrepreneurs, veterans, and active members of the military, professional athletes, teachers, medical professionals, and leaders in their field, as well as in their communities. To learn more, visit www.esc.edu and follow the college on social media @SUNYEmpire.