December 13, 2019
SUNY Empire and NYS Department of Financial Services Announce New Partnership to Expand Research and Educational Opportunities
New Paid Internship Program will be Created for SUNY Empire students to Research Student Loan Debt at the Department of Financial Services

SUNY Empire will Help Lower Barriers to College Degrees for the Nearly 1,400 Employees of DFS for Continuing Education in Vital Fields of Financial Services and Cybersecurity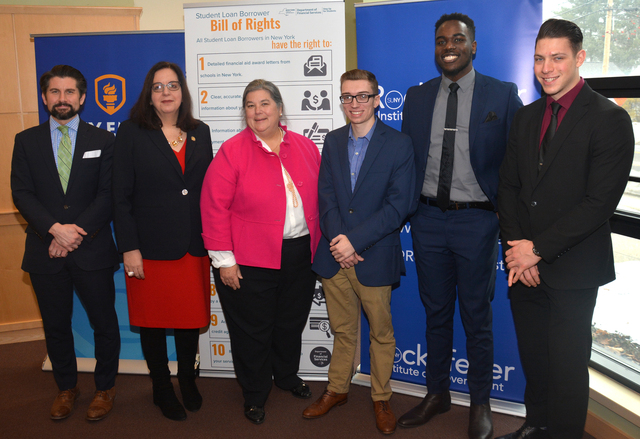 (SARATOGA SPRINGS, New York – Dec. 13, 2019) SUNY Empire State College, the New York State Department of Financial Services (DFS), and the Rockefeller Institute of Government today held a forum focused on greater protection from abusive lenders for the 2.8 million student loan borrowers in New York State. The informational session highlighted the protections and resources available to anyone burdened by student loan debt.
Several new academic partnerships were also announced between SUNY Empire State and the Department of Financial Services.
SUNY Empire and DFS agreed to a new paid internship program to provide DFS with access to the workforce of tomorrow, bringing the best and brightest from SUNY Empire State College into the DFS Student Protection Unit - the State's leading advocate for college students and families - and other specialized divisions as examiners, analysts, and researchers. This collaboration will also leverage the Rockefeller Institute's applied research expertise to collect and compile data into accessible tools and guides, as well as develop and refine policy proposals on emerging needs in the financial sector.
Furthermore, through this new partnership, SUNY Empire will work to award college credit for any of the nearly 1,400 DFS employees' prior learning, training, and life experience to reduce the time and cost needed to complete an associate, bachelor's, or master's degree, especially focused in vital sectors such as financial services and cybersecurity. As part of the agreement SUNY Empire will waive orientation fees and providing a $100 Presidential Scholarship to DFS employees. This partnership supports SUNY Empire's mission to remove barriers to learning and DFS' mission to keep pace with the rapid and dynamic evolution of financial services in New York.
"Today's forum reiterated that we need strong evidence-based research to tackle that student debt crisis and find ways to lower the overall cost of higher education," said Jim Malatras, president of SUNY Empire State College. "That is why today's new research internship with DFS and our joint partnership providing lower-cost educational opportunities to DFS' nearly 1,400 employees could serve as a model for other states around the country. Thank you to Superintendent Linda Lacewell for her tenacity and vision to tackle this crisis."
"While the federal government continues to strip away protections amid a $1.5 trillion student debt crisis, DFS is stepping up for students," said Superintendent of Financial Services Linda A. Lacewell. "DFS will continue to take action against unfair, predatory practices in the student loan industry and protect borrowers by ensuring they receive clear and accurate information to make the best financial decisions for their futures."
"Too many families in the 113th Assembly District, and throughout Upstate New York, struggle with the costs of higher education," said Assemblywoman Carrie Woerner. "In our State, the student loan debt totals $90 billion, with an average of more than $38,000 per borrower. Too often, students looking to further their education become victimized by deceptive consumer practices. The new rules issued by the Department of Financial Services are an important effort to save student loan borrowers from these predatory practices. I am pleased to participate in this workshop with Financial Services and ensure that students are made aware of the new consumer loan protections that aim to protect them from unfair practices."
The forum also featured a presentation of findings from the fall research interns at the Rockefeller Institute of Government's Center for Law & Policy Solutions, who have spent the past semester studying the effects of student loan debt and financial literacy.
DFS launched the Student Loan Borrower Bill of Rights last month with a kick-off event in Rochester. The 10-point Bill of Rights establishes new rules to not only help protect student borrowers from abusive practices, but hold lenders accountable. Protections and resources are available, and DFS is working to inform all prospective and current students, and their families.
DFS will be continuing its Student Loan Borrower Bill of Rights with additional informational gatherings in 2020. All events are free and open to the public. These sessions are beneficial to anyone about to enter college, or students who are about to graduate and begin repaying their loan. Information about upcoming events can be found @NYDFS.
For those having difficulty with a student-related financial product or service, you may file a complaint with DFS by going to www.dfs.ny.gov/students or contact DFS's Consumer Hotline at (800) 342-3736.
Images from the forum are available here.
About the Department of Financial Services
The Department of Financial Services supervises and regulates the activities of approximately 1,500 banking and other financial institutions with assets totaling more than $2.6 trillion and more than 1,400 insurance companies with assets of more than $4.7 trillion. They include more than 130 life insurance companies, 1,300 property/casualty insurance companies, about 100 health insurers and managed care organizations, and 300,000 individual insurance licensees, 122 state-chartered banks, 80 foreign branches, 10 foreign agencies, 14 credit unions, 13 credit rating agencies, nearly 400 licensed financial services companies, and more than 9,600 mortgage loan originators and servicers.
About the Rockefeller Institute of Government
The Rockefeller Institute of Government is the public policy research arm of the State University of New York. The Institute conducts cutting-edge research and analysis to inform lasting solutions to the problems facing New York State and the nation.
About SUNY Empire State College
SUNY Empire State College educates students at any stage of life with a personalized learning experience delivered online, in person, or a blend of both. Since 1971, SUNY Empire has empowered students to earn an accredited degree around the demands of a busy lifestyle to advance their personal and professional goals. With world-class faculty, more than 1,300 dedicated mentors to help students tailor their degree programs, and cutting-edge distance learning technology, SUNY Empire delivers a trusted and flexible online college experience grounded in more than 30 New York state locations and seven international sites where students can learn and collaborate in person. Our nearly 50 years as a leader in awarding credit for prior learning and life experience helps students earn a degree faster and at lower cost. To learn more, visit www.esc.edu and follow @SUNYEmpire.