April 29, 2019
New Program for the Fall: Online Master of Science in Information
Students Choose One of Two Tracks: Cyber Security or Web Technology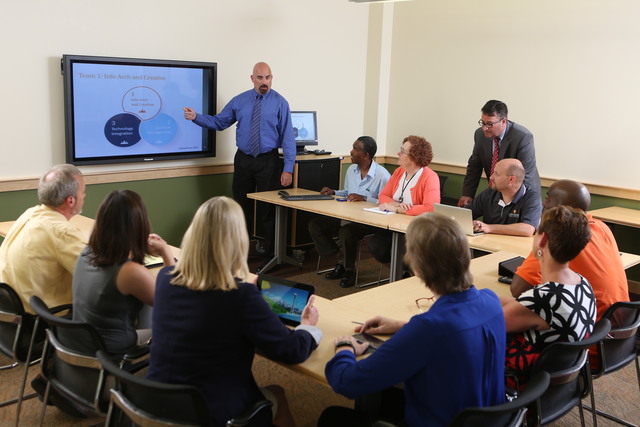 (SARATOGA SPRINGS, New York – April 30, 2019) New for the fall of 2019, SUNY Empire State College's School for Graduate Studies now offers the online Master of Science in Information Technology (MSIT).
"Today, cyber security is our country's first line of defense and we must meet the increasing demand for skilled professionals from our nation's Armed Forces, the private sector, as well as from federal, state and even local government," said Officer in Charge Mitchell S. Nesler. "At the same time, web technology represents an ever-larger component of our economy, another critical need SUNY Empire can meet through our online master's programs."
Master's students will choose one of two tracks: Cyber Security or Web Technology.
"Our online MSIT is the most recent example in SUNY Empire's decades-long record of success and innovation in online teaching, learning and degree completion," said Nathan Gonyea, the college's newly appointed dean of the School for Graduate Studies. "SUNY Empire's graduate faculty, in collaboration with their select undergraduate colleagues, have done an outstanding job in creating a rigorous, comprehensive program, which will provide our graduates with the education they need to compete in the modern job market of today's global economy."
The online MSIT is designed for those working or planning to work in the following areas:
Information security.
Web technology.
Digital forensics.
Web programming.
Client and server site technology.
Cyber security.
The online MSIT degree is a 33 credit* program designed to attract IT professionals in the Science, Technology, Engineering, and Mathematics (STEM) fields who wish to advance their career opportunities in information technology industries.
The mission of the online MSIT program is to equip students with the advanced knowledge, skills and IT competencies required to be effective leaders in diverse, multi-disciplinary IT enterprises. The program offers an in-depth understanding of information technology and security as well as social, legal and managerial issues in the field.
Those interested in enrolling in the online MSIT must complete an application by Sunday, June 30, 2019.
*The online MSIT degree will require 33 to 36 credits based on whether the student can demonstrate competencies in the foundation areas.
Along with general requirements for a graduate degree, applicants must demonstrate foundation knowledge in computer programming and computer networks.
Students who are lacking these prerequisites will take one online MSIT foundation course as a part of their degree program.
About SUNY Empire State College
SUNY Empire State College educates more than 17,000 students in person, online and through a blend of both, at more than 30 locations in New York and at eight international sites worldwide. Together with one of SUNY Empire's more than 1,300 faculty mentors, each student designs his or her own individualized pathway to a college degree that accommodates his or her schedule and awards credit for prior college-level learning. SUNY Empire awards more than 3,000 degrees annually and 94 percent of graduates stay in New York state. Today, more than 84,000 SUNY Empire alumni are entrepreneurs, veterans and active members of the military, professional athletes, teachers, medical professionals and leaders in their field, as well as in their communities. To learn more, visit www.esc.edu and follow the college on social media @SUNYEmpire.