November 8, 2019
SUNY Empire State College and Greater Rochester Chamber of Commerce Partner to Help Employees of Member Organizations Earn Business Degrees
Degrees Can Be Completed 100% Online, at Nearby SUNY Empire Campuses, or Learning Hubs

College Credit for Work and Life Experience Helps Lower Cost and Time to Degree Completion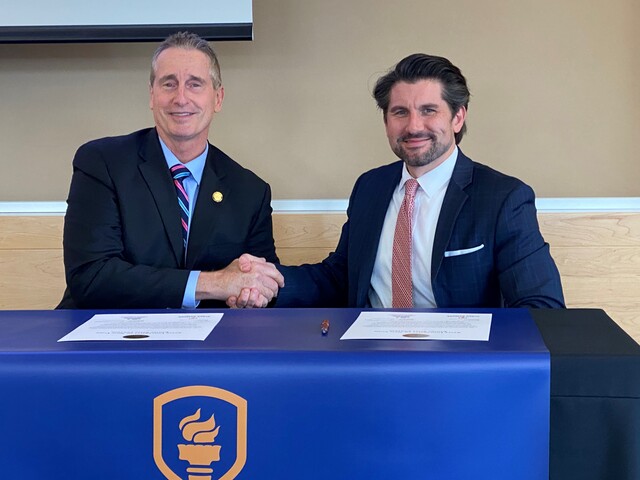 (ROCHESTER, New York – Nov. 08, 2019) SUNY Empire State College President Jim Malatras and Greater Rochester Chamber of Commerce President and CEO Robert Duffy today signed an agreement to help employees of member organizations earn business degrees through targeted partnerships.
The agreement helps lower the cost and time needed to complete a business degree by awarding college credit for employees' prior professional learning. SUNY Empire also will waive the application fee and award a $100 presidential scholarship to employees of partner organizations.
Employees can earn their degrees 100 percent online, in person at SUNY Empire's Rochester campus or other locations, or through a blend of both to build a schedule that works around their busy lives. The Greater Rochester Chamber of Commerce currently has 1,300 members representing nine counties.
"This is an incredible opportunity for countless hardworking people in the Rochester area to earn a business degree on their terms while saving money and time," said SUNY Empire State College President Jim Malatras. "SUNY Empire excels at awarding credit for work and life experience to put a college degree within reach, as well as empowering students to succeed around their busy schedules. I'd like to thank President and CEO Robert Duffy and his staff, as well as the faculty and staff at SUNY Empire, for making this partnership happen."
Greater Rochester Chamber of Commerce President and CEO Bob Duffy said, "This new partnership with SUNY Empire State College aligns perfectly with Rochester Chamber's renewed focus on workforce development and talent strategy. Giving our members and their employees more access to educational opportunities will serve to improve the potential of the Rochester and Finger Lakes economy. We hope that this is the first of many partnerships with our region's excellent colleges and universities to help workers improve their skills and connect with employers."
"This exciting new partnership is a perfect example of how cross-sector collaboration can help create opportunity and strengthen our business community," said Congressman Joe Morelle. "It marks yet another step forward in our efforts to bolster workforce development initiatives and ensure students have the tools and resources they need to succeed in today's economic environment. I am grateful to SUNY Empire State College and the Greater Rochester Chamber of Commerce for their dedication to supporting working families and helping to grow our local economy."
As part of the agreement, SUNY Empire will also continue to work with the Chamber to identify opportunities to customize and expand curriculum to help meet the needs of Rochester-area businesses.
SUNY Empire's business programs include:
MBA in Healthcare Leadership
MBA in Business Management, with concentrations in:

Management
International Business
Human Resource Management

MS in Finance
Advance Graduate Certificates in:

Healthcare Management
Human Resource Management
Information Technology Management
Innovation Management and Entrepreneurship
Project Management

BS in Business Management and Economics
BS in Accounting
BS in Management
BS in Human Resource Management
BS in Business Administration
About the Greater Rochester Chamber of Commerce
Greater Rochester Chamber of Commerce passionately serves, promotes, and advocates for it members in order to secure economic prosperity for the Finger Lakes region.
About SUNY Empire State College
SUNY Empire State College educates students at any stage of life with a personalized learning experience delivered online, in person, or a blend of both. Since 1971, SUNY Empire has empowered students to earn an accredited degree around the demands of a busy lifestyle to advance their personal and professional goals. With world-class faculty, more than 1,300 dedicated mentors to help students tailor their degree programs, and cutting-edge distance learning technology, SUNY Empire delivers a trusted and flexible online college experience grounded in more than 30 New York state locations and seven international sites where students can learn and collaborate in person. Our nearly 50 years as a leader in awarding credit for prior learning and life experience helps students earn a degree faster and at lower cost. To learn more, visit www.esc.edu and follow @SUNYEmpire.