November 4, 2019
SUNY Empire State College and SUNY Cobleskill Partner to Streamline Graduate School Opportunities for Students
Participants Could Earn a Master's Degree in One Year After Earning a Bachelor's Degree

Degrees Can Be Completed 100% Online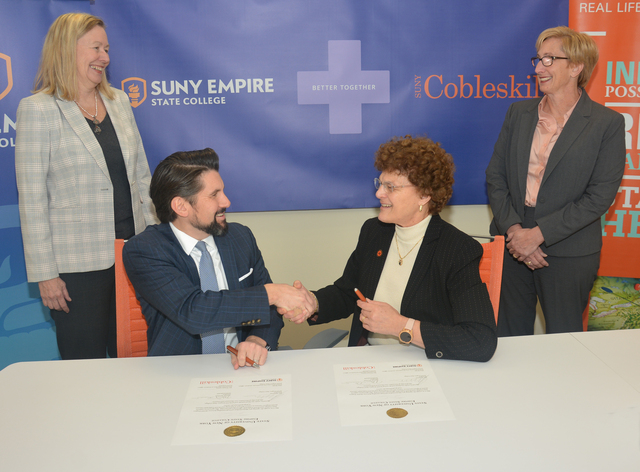 (SCHENECTADY, New York – Nov. 4, 2019) SUNY Empire State College President Jim Malatras and SUNY Cobleskill President Marion Terenzio today signed an agreement to create five pathways to lower barriers for SUNY Cobleskill students to earn a graduate degree through SUNY Empire.
The partnership allows eligible bachelor's degree students at SUNY Cobleskill to earn their master's degree online through SUNY Empire in as little as one year with accelerated pathways and cross-registration. The agreement also waives the application fee and certain application requirements for eligible students.
SUNY Empire's flexible online learning model allows students to complete their master's degree around the demands of a busy lifestyle. On average, those who earn a master's degree in New York State earn roughly $17,000 more per year than those with bachelor's degrees.
The five pathways are:
Bachelor of Business Administration to Master of Business Administration (MBA) in Business Management
Bachelor of Business Administration Financial Services to Master of Science in Finance
Bachelor of Technology in Information Technology to Master of Science in Information Technology
Bachelor of Science in Applied Psychology to Master of Arts in Work and Labor Policy
Bachelor of Science in Applied Psychology to MBA in Business Management with a concentration in Human Resources
"This is an excellent opportunity for SUNY Cobleskill students to advance their learning by earning a graduate degree in as little as one year after earning a bachelor's degree," said SUNY Empire State College President Jim Malatras. "And with SUNY Empire's online learning model, they won't have to choose between studying and working — it's designed for both. I'd like to thank President Marion Terenzio and the hardworking faculty and staff at both colleges for helping to make higher education more accessible for everyone."
"This agreement represents our shared commitment to providing outstanding educational opportunities for learners to become more socially mobile," said SUNY Cobleskill President Marion A. Terenzio. "As always, we are eager to provide the pathway for our students to become emerging professionals. We look forward to partnering with SUNY Empire State College, as we together cultivate the next generation of effective leaders and trendsetters in business and finance, policy and management."
"We are constantly looking to build academic pathways helping our students advance their careers and earn degrees for that next opportunity," said Meg Benke, provost and executive vice president for Academic Affairs at SUNY Empire. "These five pathways will allow students a flexible seamless progression to earn their master's degrees while saving costs and reducing time to graduation."
Susan J. Zimmermann, SUNY Cobleskill provost and vice president for Academic Affairs, adds: "Our exceptional faculty have years of experience in business and industry – as entrepreneurs and business owners – and enhance our students' education and career-readiness by providing them with opportunities to interact with their networks of industry professionals."
The agreement takes effect immediately. Find more information about the pathway programs here.
Click to view photos of the signing.
Click to view video of the signing.
About SUNY Cobleskill
With an emphasis on applied learning and experiential, interdisciplinary education, SUNY Cobleskill prepares students for successful careers, advanced studies, and engaged citizenship. An accredited, baccalaureate, residential college, SUNY Cobleskill fosters a rich academic tradition that spans more than 100 years. Today, students are enrolled in 58 baccalaureate and associate degree programs offered through two schools – The School of Agriculture and Natural Resources, and The School of Business and Liberal Arts and Sciences. A contiguous farm, with an equestrian center and 200-cow dairy facility is housed on the modern, 902-acre campus, that features outstanding educational facilities including cold and warm water fish hatcheries, specialized classrooms and laboratories, two state-of-the-art culinary arts teaching kitchens, a student-run restaurant, child development and child care centers, and an art gallery and graphic design center. More information about SUNY Cobleskill can be found at Cobleskill.edu.
About SUNY Empire State College
SUNY Empire State College educates students at any stage of life with a personalized learning experience delivered online, in person, or a blend of both. Since 1971, SUNY Empire has empowered students to earn an accredited degree around the demands of a busy lifestyle to advance their personal and professional goals. With world-class faculty, more than 1,300 dedicated mentors to help students tailor their degree programs, and cutting-edge distance learning technology, SUNY Empire delivers a trusted and flexible online college experience grounded in more than 30 New York state locations and seven international sites where students can learn and collaborate in person. Our nearly 50 years as a leader in awarding credit for prior learning and life experience helps students earn a degree faster and at lower cost. To learn more, visit www.esc.edu and follow @SUNYEmpire.