October 13, 2019
Former New York State Governor David Paterson to Address Students at SUNY Empire State College Commencement
SUNY Empire to Hold First-Ever Winter Commencement this Sunday in Albany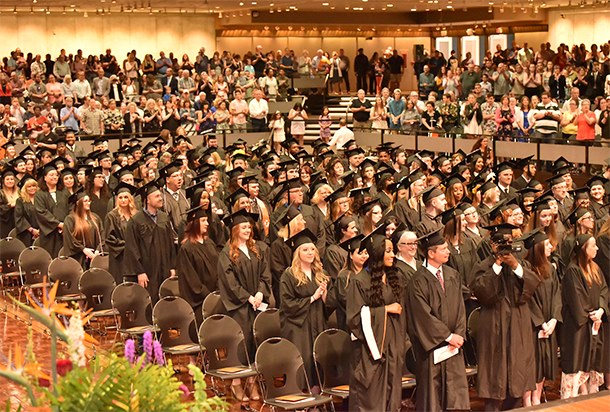 (ALBANY, New York – Oct. 13, 2019) Former New York State Governor David Paterson will deliver the Commencement Address at SUNY Empire State College's 2019 Winter Commencement, to be held Sunday, December 15, at 1 p.m. in the Empire State Plaza Convention Center.
Paterson served as governor of New York from 2008 until 2010. His personal story of resilience is a testament to the power of perseverance and education, a theme that will likely resonate with SUNY Empire students, many of whom must overcome substantial adversity to complete their degrees.
SUNY Empire will award two undergraduate certificates, 251 associate degrees, 1,257 bachelor's degrees, 65 graduate certificates and 14 masster's degrees to 1,720 graduates. This will be SUNY Empire's first collegewide commencement held in winter, organized in response to students' desire to have more flexible commencement options. It follows a series of commencements held in the summer at multiple SUNY Empire campuses across New York State and around the world.
"Governor Paterson has powerful lessons to share about overcoming adversity to achieve remarkable things," said SUNY Empire State College President Jim Malatras. "I'm honored to welcome him as Commencement Speaker at SUNY Empire's 2019 Winter Commencement. I know our students, who have risen above so many challenges of their own, will find wisdom, humor, and inspiration in his story."
"It is a privilege to share this moment with students who have successfully earned their degrees from one of the nation's premiere institutions, the State University of New York," said Paterson. "If I can apply myself in my Keynote address nearly as well as the graduates have in their courses then my remarks will meet with their approval. Clearly, I have a lot of studying to do."
David Alexander Paterson became the 55th Governor of the State of New York on March 17, 2008. During his term in office, the state reduced its deficit by $2 billion and mitigated further devastating financial upheaval, allowing it to maintain its credit rating for the duration of his term. He enacted legislation attaching severe criminal penalties to predatory lending and reduced New York's fiscal deficit by nearly $40 billion. One of his greatest achievements was establishing a new budget process that has yielded on-time budgets since he left office.
Prior to becoming New York State's 55th governor in March 2008, Paterson began his political career when he was elected to represent Harlem in 1985 at the age of 31, making him the third youngest state senator in New York's history. In 2002, he was elected as Minority Leader of the New York State Senate, becoming the first African-American and blind legislative leader in the state's history. Among his many other accomplishments and distinctions, he was honored to address the 2004 Democratic National Convention. In 2014, David was appointed as Chairman of the New York State Democratic Party and served on the Board of the Metropolitan Transportation Authority. He was previously an adjunct professor of government at New York University and later joined the faculty at Touro College. He consulted for three years for the Durst Corporation and the National Federation of the Blind and currently chairs the Board of the Achilles Track Club.
Paterson is currently senior vice president and senior advisor to the president and COO at Sands Las Vegas. He earned his B.A in History from Columbia University and his J.D. from Hofstra Law School.
The event will be live streamed on ESC-TV for students and active military who are unable to attend.
For additional information, please visit: esc.edu/commencement.
About SUNY Empire State College
SUNY Empire State College educates more than 17,000 students in person, online, and through a blend of both, at more than 30 locations in New York and at eight international sites worldwide. Together with one of SUNY Empire's more than 1,300 faculty mentors, each student designs their own individualized pathway to a college degree that accommodates their schedule and awards credit for prior college-level learning. SUNY Empire awards more than 3,000 degrees annually and 94 percent of graduates stay in New York state. Today, more than 87,000 SUNY Empire alumni are entrepreneurs, veterans, and active members of the military, professional athletes, teachers, medical professionals, and leaders in their field, as well as in their communities. To learn more, visit www.esc.edu and follow the college on social media @SUNYEmpire.