October 3, 2019
SUNY Empire State College Launches New Advanced Degree Programs to Prepare Tomorrow's Public Servants
Online Graduate Certificate in Public Administration and Public Administration Concentration in Master's in Social and Public Policy Help Address High Levels of Expected Turnover in the Public Sector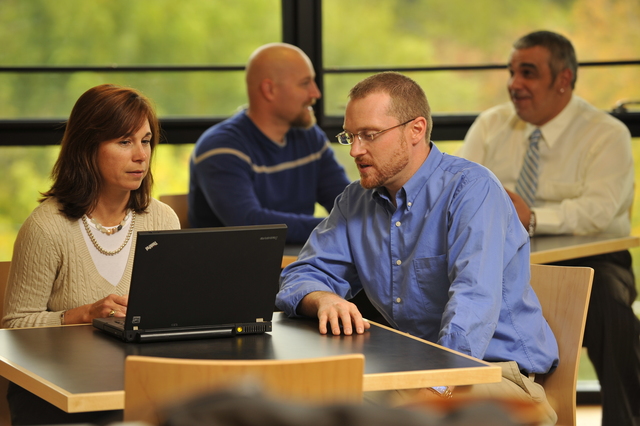 (SARATOGA SPRINGS, New York – Oct. 3, 2019) SUNY Empire State College has launched a new online Graduate Certificate in Public Administration, as well as a new Public Administration concentration in the Master's in Social and Public Policy program, to help prepare future public servants in the face of a pending wave of retirements.
The certificate prepares students and future administrators in public and nonprofit organizations to succeed in mid-level and upper-level management and supervisory positions. It focuses on skills that can be applied to high-growth areas of public administration, such as human services, public and social policy, emergency management, criminal justice, fire science, homeland security and public safety.
"It takes trained, skilled public servants at every level of government to deliver timely, responsive services to their communities," said SUNY Empire State College President Jim Malatras. "With unprecedented turnover expected in the coming years, SUNY Empire is responding by introducing new programs to educate more of the people who make government work. I applaud the faculty and staff of SUNY Empire who made these new programs possible."
New York Secretary of State, Rossana Rosado said, "I applaud SUNY Empire for addressing the need to educate those seeking advancement within the public sector. In conjunction with the Empire State Fellows Program and Excelsior Service Fellowship Program, New York State and SUNY Empire are committed to educating and up-skilling the state's workforce within the public and nonprofit organizations."
"Expanded educational programming for public administration is a critical piece to the revitalization in Buffalo," said Honorable Byron W. Brown, Mayor of Buffalo, New York. "New and ongoing economic development efforts in the City of Buffalo will continue to create competitive, 21st century jobs. SUNY Empire's new programs will help prepare future administrators in a wide range of high-growth areas within Western New York and beyond."
"With more than 1.5 million residents in Suffolk County, we have an obligation to offer educational programs preparing students and future administrators," said Suffolk County Executive Steven Bellone. "SUNY Empire's state-of-the-art facility in Selden gives Suffolk County residents, and those studying at a distance, the opportunity to engage in these new course offerings right here in our backyard."
"At SUNY Empire, we're constantly evaluating the needs of the workforce and society to provide a relevant education to our students and play a constructive role in our communities," said Meg Benke, provost and executive vice president for Academic Affairs at SUNY Empire. "Our new programs in public administration provide a step up for public servants looking to advance their careers and help address a looming need in state and local government. We're proud to answer this call."
"With historic turnover expected among public sector employees in the coming years, the new Advanced Certificate in Public Administration and Public Administration concentration in the MA in Social and Public Policy will help meet a critical need for the next generation of leaders within New York State and its local governments," said Nathan Gonyea, dean of the SUNY Empire School for Graduate Studies. "This is a great example of how Empire State College's School for Graduate Studies is evolving its curriculum to meet the needs of workers and employers."
"The Advanced Certificate and Concentration in Public Administration represent the ongoing efforts of SUNY Empire State College to fulfill the promise of our mission to students and the communities they serve," said Ed Warzala, mentor and associate professor, social and public policy. "There is no higher calling than public service and the faculty of the School of Graduate Studies take great pride in providing learning opportunities in service to the public good."
Courses are taught in a flexible online format, allowing students to fit an education into the demands of a busy lifestyle. Registration is currently open for spring 2020.
About SUNY Empire State College
SUNY Empire State College educates more than 17,000 students in person, online, and through a blend of both, at more than 30 locations in New York and at eight international sites worldwide. Together with one of SUNY Empire's more than 1,300 faculty mentors, each student designs their own individualized pathway to a college degree that accommodates their schedule and awards credit for prior college-level learning. SUNY Empire awards more than 3,000 degrees annually and 94 percent of graduates stay in New York state. Today, more than 87,000 SUNY Empire alumni are entrepreneurs, veterans, and active members of the military, professional athletes, teachers, medical professionals, and leaders in their field, as well as in their communities. To learn more, visit www.esc.edu and follow the college on social media @SUNYEmpire.