October 21, 2019
SUNY Empire State College Recognizes Four with Alumni Awards
Inaugural Veteran Service Award Presented to Retired US Air Force Master Sergeant Raul Rodriguez '17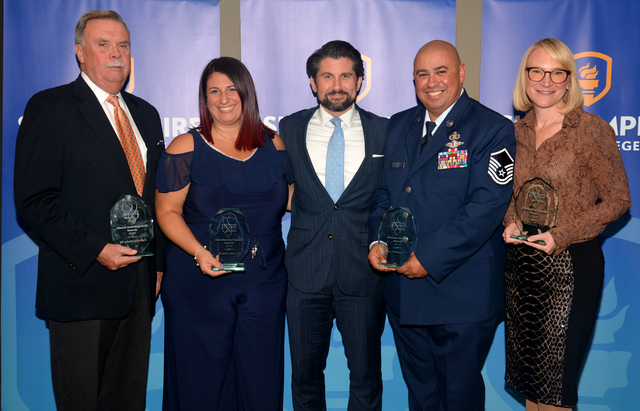 (SARATOGA SPRINGS, N.Y. – Oct. 21, 2019) The SUNY Empire State College Alumni Student Federation Board of Governors recognized four of the college's exemplary alumni on Thursday, Oct. 17. Pamela Say, Danielle Asher, Raul Rodriguez, and Christopher Feeley were spotlighted for their lasting impact on society and the college through their outstanding professional, military, philanthropic, and volunteer accomplishments.
"With 87,000 alumni touching all 50 states and 96 countries, there never can be too many occasions to shine a spotlight on the powerful work our alumni do as leaders in their fields and communities," said SUNY Empire President Jim Malatras. "I congratulate Pamela, Danielle, Raul, and Chris on all that they have accomplished personally and professionally, paving the way for future generations of SUNY Empire students."
"Our mission is to identify and reward alumni who have put their experience with the college into solutions for the real world," said incoming president of the Federation Board Kelly DiCarmine '18, who is currently enrolled in the MBA program. "As adult learners, we know, more than most, how hard we have worked to earn a SUNY Empire degree and it is important we highlight the successes of our fellow alumni."
"Seeing the wonderful and extraordinary work being done by all the nominees has made me extremely proud to be part of this institution," said Ada Martinez '14, chair of the Alumni Awards committee. "I hope that the examples set by the winners will significantly influence our current students and fellow alumni, as they have for me."
The Emerging Leader Award recognizes significant career achievements and civic involvement of a recent graduate within the last five years. This year's recipient is  Pamela Say '17 of Buffalo. Say, who earned her MBA from SUNY Empire, is vice president of institutional advancement at D'Youville College. In her first vice presidency role, at Trocaire College, she was the youngest executive on the college's leadership team. "SUNY Empire State College was the perfect choice in 2012 when I decided to pursue a master's degree," said Say during her acceptance speech. "But how would I get a degree while working full time, raising my daughter, managing a consulting business, and writing my third book on a deadline? Empire State College was the way." She continued, "My MBA took me four years to complete. I landed my first college vice presidency when I was only halfway through. To say I earned a good return on investment is an understatement."
The Community Impact Award recognizes alumni who inspire the world around them through service to the community.  Danielle Asher '18,  a tireless advocate for policies that affect children and families, is this year's recipient. Asher, a resident of North Merrick and director of curriculum and training for Family Leadership Network, a division of the social justice nonprofit Choice For All, earned her Bachelor of Science in Public Affairs. "SUNY Empire had the program I was looking for to complete my bachelor's, all while understanding the work-life-school balance," said Asher during her acceptance speech. "I received far more than a piece of paper. My degree helped me enhance my advocacy skills, while building on my role in curriculum and training."
The Veteran Service Award recognizes an alumnus/a and veteran of the U.S. Armed Forces who has made a positive impact on the local, national, international, college, and/or veteran communities. Raul Rodriguez '17, a Bronx native and an Air Force and Navy veteran, was selected as the inaugural recipient. Rodriguez completed his Bachelor of Professional Studies in Community and Human Services and is currently enrolled in the Master of Arts Social and Public Policy program. A retired New York City police officer, Rodriguez assisted with the reintegration of veterans returning from active-duty deployments back into the police force. Upon receiving his award, Rodriguez stated, "I am accepting this award on behalf of my family and every veteran that has served this great nation. I started my amazing journey with SUNY Empire in 2015 and, from the first encounter, it has felt like family."
The Distinguished Leader Award recognizes transformational philanthropy, leadership, and service to Empire State College. Christopher Feeley '86,  an operating partner and vice president for business development at Psychiatry Networks, is this year's recipient. Feeley received his Bachelor of Science in Science, Math, and Technology and began his philanthropic support of the college more than 20 years ago. "SUNY Empire changed everything for me and my family, far beyond my expectations, when I enrolled," said Feeley upon receiving his award, "The fact that I was able to get credit for prior learning and was able to learn and obtain credit for course completion that fit with my schedule was a critical piece to choosing Empire State College."
Nominations for next year's awards open on Friday, Nov. 1. More information on nominations is at alumni awards page.
View images from the 2019 Alumni Awards ceremony.
About the Alumni Awards
The true measure of a college's greatness can be found in the achievements of its alumni. Empire State College is globally known to develop leaders in a variety of fields. A vast number of the college's alumni have achieved unique distinction through success in their professions, service to the college, and contributions to their communities.
The purpose of the Alumni Awards Program is to recognize the college's exemplary alumni who have made a lasting impact on society and on Empire State College through outstanding professional, military, philanthropic, or volunteer accomplishments.
The Alumni Student Federation Board of Governors established the Alumni Awards Program in 2016 to honor outstanding former students and to illustrate further the great value of the academic programs and pride all alumni, students, faculty, and staff have for the college.
About SUNY Empire State College
SUNY Empire State College educates more than 17,000 students in person, online, and through a blend of both, at more than 30 locations in New York and at eight international sites worldwide. Together with one of SUNY Empire's more than 1,300 faculty mentors, each student designs their own individualized pathway to a college degree that accommodates their schedule and awards credit for prior college-level learning. SUNY Empire awards more than 3,000 degrees annually and 94 percent of graduates stay in New York state. Today, more than 87,000 SUNY Empire alumni are entrepreneurs, veterans, and active members of the military, professional athletes, teachers, medical professionals, and leaders in their field, as well as in their communities. To learn more, visit www.esc.edu and follow the college on social media @SUNYEmpire.