December 17, 2019
SUNY Empire School for Graduate Studies Awarded AAQEP Accreditation for Graduate-Level Teacher Prep Programs
First in SUNY System to Earn Accreditation from the Association for Advancing Quality in Educator Preparation

SUNY'S Graduate-Level Teacher Preparation Programs Can Be Completed 100 Percent Online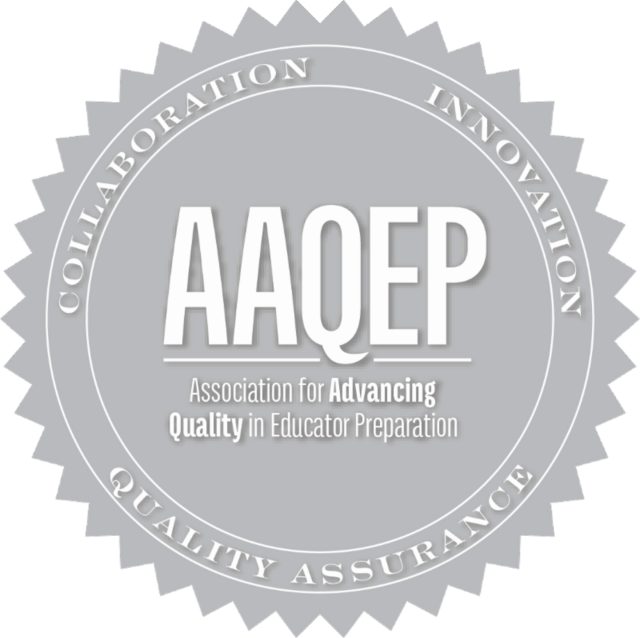 (SARATOGA SPRINGS, New York – Dec. 17, 2019) SUNY Empire State College today announced that the Association for Advancing Quality in Educator Preparation (AAQEP) has awarded full 7-year accreditation to three graduate-level teacher preparation programs.
SUNY Empire State College is the tenth institute in the country, the first in the SUNY system, and the second in New York state to earn accreditation in AAQEP's first year of quality assurance review. The AAQEP Accreditation Commission based its decision upon reviewing the evidence collected through its self-study and peer preview process. The three accredited programs offered by SUNY Empire's School for Graduate Studies include:
Master of Arts in Teaching, middle childhood or adolescent education (in biology, chemistry, earth science, English/language arts, math, social studies, and Spanish)
Master of Arts in Teaching, adolescent special education (generalist)
Master of Education, adolescent special education (generalist)
With the exception of initial meetings with SUNY Empire personnel and the required field experiences in K-12 schools, all three degree programs can be completed entirely online, allowing students to further their education and advance their careers while working and leading busy lives.
Each program presented compelling evidence to AAQEP proving they are prepared to work effectively as professional educators, and are able to adapt and grow professionally.
"Congratulations to everyone who put great time and effort into this rigorous process, especially Dean of Graduate Studies Nathan Gonyea and Provost and Executive Vice President for Academic Affairs Meg Benke," said Jim Malatras, president of SUNY Empire State College. "This is an incredible achievement for SUNY Empire State College for being the first college in the SUNY system to earn this prestigious accreditation. It reaffirms the quality of programs SUNY Empire provides to students."
"Thank you for your pioneering efforts with accreditation through AAQEP," said David T. Cantaffa, associate provost, the State University of New York. "And, congratulations on this achievement, including the courage it took to shift from CAEP to AAQEP last year and for committing to the subsequent work that accompanied this decision."
"SUNY Empire's teacher preparation programs have been pioneers in providing high-quality teacher preparation for professional career changers looking to give back to children across New York state," said Nathan Gonyea, dean of the School for Graduate Studies. "As SUNY's first AAQEP accredited school, our faculty and staff are once again leading the way for SUNY and New York."
"Congratulations to SUNY Empire State College and to all of the faculty, staff, and stakeholders who this week achieved their goal of national accreditation by AAQEP," said AAQEP President and CEO Mark LaCelle-Peterson. "The programs provided clear and compelling evidence of completer effectiveness and deep engagement with schools across the state. AAQEP also appreciates ESC's support for collaboration in quality assurance by being one of the first institutions to complete an AAQEP review."
The School for Graduate Studies' next reaffirmation date is December 2026.
About AAQEP
Founded in 2017, AAQEP is a membership association and quality assurance agency that provides accreditation services and formative support to all types of educator preparation providers. The organization promotes excellent, effective, and innovative educator preparation that is committed to evidence-based improvement in a collaborative professional environment. Visit aaqep.org for more information.
About SUNY Empire State College
SUNY Empire State College educates students at any stage of life with a personalized learning experience delivered online, in person, or a blend of both. Since 1971, SUNY Empire has empowered students to earn an accredited degree around the demands of a busy lifestyle to advance their personal and professional goals. With world-class faculty, more than 1,300 dedicated mentors to help students tailor their degree programs, and cutting-edge distance learning technology, SUNY Empire delivers a trusted and flexible online college experience grounded in more than 30 New York state locations and seven international sites where students can learn and collaborate in person. Our nearly 50 years as a leader in awarding credit for prior learning and life experience helps students earn a degree faster and at lower cost. To learn more, visit www.esc.edu and follow @SUNYEmpire.