October 31, 2019
SUNY Empire State College School of Nursing and Allied Health Alumnus Named Student Nurse Practitioner of the Year
Air Force Veteran and Retired Fire Officer/Paramedic Daniel Babcock Awarded 2019 Nurse Practitioner Student of the Year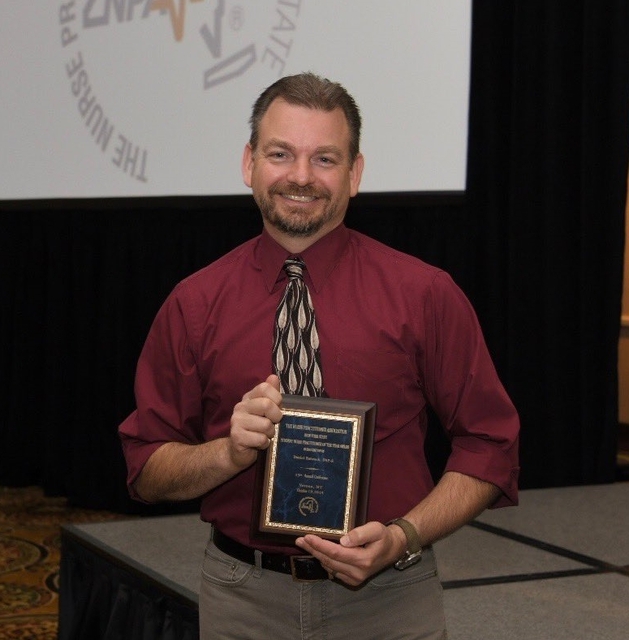 (VERONA, New York - Oct., 31, 2019) – Daniel Babcock, a 2017 alumnus of the School of Nursing and Allied Health at SUNY Empire State College, has received the Region 2 Student Nurse Practitioner of the Year Award for 2019 from The Nurse Practitioner Association New York State (The NPA).
The NPA, the only statewide professional association of nurse practitioners, presented Babcock, MS, FNP-C, with the prestigious award at the NPA 35th Annual Conference. The event was attended by nearly 500 Nurse Practitioners and Nurse Practitioner students from across the state.
Babcock, who received his Bachelor of Science in Nursing in 2017, is an Air Force veteran and a former professional fire officer and paramedic who is currently a full-time Graduate Family Nurse Practitioner Student at Binghamton University. As a Registered Nurse, Babcock has worked in the emergency department and diagnostic imaging. After retiring as a lieutenant from the City of Binghamton's Fire Department with 20 years of service, he decided to become a nurse practitioner. Babcock grew up in rural Delaware County, New York, and has a particular interest in improving the health of the poor, rural and vulnerable populations that influenced his early life.
"I want to extend my sincerest congratulations to Daniel on this remarkable accomplishment," said Jim Malatras, president of SUNY Empire. "From serving this great nation to his continued tireless efforts strengthening Delaware County and beyond, we are truly inspired by his selflessness to strengthen those around him."
"As health care professionals committed to exceptional patient care, I'm extremely pleased to recognize Daniel for his dedication and service," said Bridget Nettleton, dean of the School of Nursing and Allied Health. "Nurse practitioners are taking the profession to the next level and Daniel is no exception with his focus on improving healthcare in underserved communities."
"It's an honor to be awarded NP Student of the Year. I chose to become a nurse practitioner because I love being challenged and love the relationships I form with my patients," said Babcock. "Empire State College gave me the flexibility and tools I need to be successful in graduate school and ultimately, as a Nurse Practitioner. If I had to do it over again, I would still choose SUNY Empire."
Babcock received the award on Oct. 18 at the NPA's 35th Annual Conference in Verona, N.Y attended by nearly 500 NPs and NP students from across the state. He became a student member of the NPA in March 2018 and was an active participant in the group's Capitol Lobby Day in Albany, N.Y., earlier in 2019. He is also a member of the American Association of Nurse Practitioners and the Emergency Nurses Association.
Learn more about SUNY Empire's School of Nursing and Allied Health.
About The Nurse Practitioner Association New York State
Nurse Practitioners (NPs) are registered nurses who have completed advanced education, at a Master's or Doctorate level, plus additional clinical preparation. These professionals are authorized to independently diagnose illness and physical conditions, perform therapeutic and corrective measures, order tests, prescribe medications, devices and immunizing agents, and refer patients to other health care providers. The Nurse Practitioner Association New York State (The NPA), the only statewide professional association of nurse practitioners, promotes high standards of healthcare delivery through the empowerment of nurse practitioners and the profession throughout New York State. For more information, visit The NPA website.
About SUNY Empire State College
SUNY Empire State College educates students at any stage of life with a personalized learning experience delivered online, in person, or a blend of both. Since 1971, SUNY Empire has empowered students to earn an accredited degree around the demands of a busy lifestyle to advance their personal and professional goals. With world-class faculty, more than 1,300 dedicated mentors to help students tailor their degree programs, and cutting-edge distance learning technology, SUNY Empire delivers a trusted and flexible online college experience grounded in more than 30 New York state locations and seven international sites where students can learn and collaborate in person. Our nearly 50 years as a leader in awarding credit for prior learning and life experience helps students earn a degree faster and at lower cost. To learn more, visit www.esc.edu and follow @SUNYEmpire.