October 28, 2019
Seven Scholarships Awarded to Students of SUNY Empire State College's Successful Black Male Initiative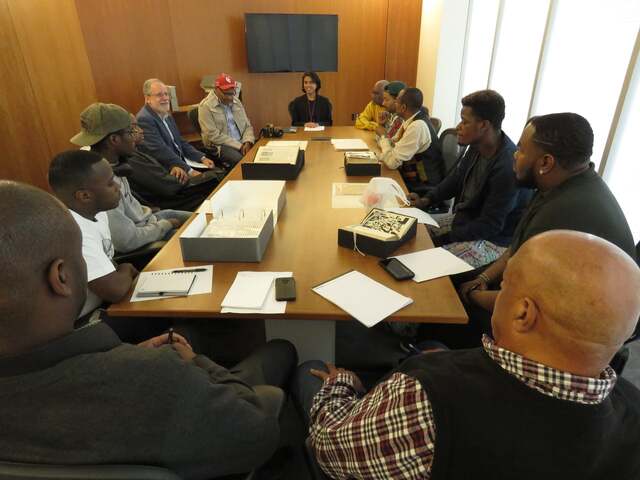 (NEW YORK CITY, Oct. 28, 2019) Seven students in SUNY Empire State College's Black Male Initiative have been awarded scholarships to help break down financial barriers to higher education and build stronger communities.
The Black Male Initiative (BMI) at SUNY Empire was launched in 2009 to increase retention among the college's black male population in New York City through peer mentorship and rigorous academic support. The program has proven extremely effective, with a 95 percent retention rate among participants, compared to an average retention rate of 81 percent throughout the State University of New York system.
These scholarships are given to students who demonstrate a commitment to use their education to benefit their communities. They were established by the founders of the BMI and are currently supported by students, faculty, and alumni of SUNY Empire.
"The Black Male Initiative at SUNY Empire has made an incredible difference in the lives of the students who have participated, and these scholarships are just another example of how our faculty, staff, and alumni go the extra mile to support their success," said Jim Malatras, president of SUNY Empire. "I commend the founders and supporters of the Black Male Initiative for their leadership, hard work, and substantial financial commitments to make higher education work for every student."
"If we, as a nation, do not dramatically improve college success rates for students of color and students from low-income families, our economy and our democracy will be at risk," noted John B. King, Jr., 10th U.S. Secretary of Education (Obama Administration) and President and CEO of The Education Trust. "I am encouraged that The Black Male Initiative at SUNY Empire State College represents the kind of focused support that the Obama administration encouraged through the My Brother's Keeper initiative."
The scholarship recipients are:
Two additional recipients, who received the Black Male Initiative Scholarship and the Fullard/Mills Scholarship for African-American Women, wished to remain anonymous.
The BMI works to improve student success rates with the Fortified Classroom model of academic support, which 'fortifies' students' learning experiences by including coaches and mentors in class along with the instructor. Students don't have to make appointments or see the professor after class; extra academic support in the form of trained coaches is included right in the classroom.
Six program participants received their degrees in June of 2019. The current cohort includes twelve participants. To learn more about BMI and the Fortified Classroom General Education Studies program click here.
About the Black Male Initiative
The Black Male Initiative at SUNY Empire State College is a nation-leading program designed to improve retention and graduation rates among Black and Latino male students who, statistically, face disproportionate challenges in degree completion. Through focused peer and faculty support, career counseling, tailored programming, and in-class supports, BMI provides a space for students to discuss their issues and develop solutions from registration through to graduation. To date, the program has achieved a 95 percent retention rate among its participants. Learn more at www.esc.edu/bmi.
About SUNY Empire State College
SUNY Empire State College educates more than 17,000 students in person, online, and through a blend of both, at more than 30 locations in New York and at eight international sites worldwide. Together with one of SUNY Empire's more than 1,300 faculty mentors, each student designs their own individualized pathway to a college degree that accommodates their schedule and awards credit for prior college-level learning. SUNY Empire awards more than 3,000 degrees annually and 94 percent of graduates stay in New York state. Today, more than 87,000 SUNY Empire alumni are entrepreneurs, veterans, and active members of the military, professional athletes, teachers, medical professionals, and leaders in their field, as well as in their communities. To learn more, visit www.esc.edu and follow the college on social media @SUNYEmpire.