July 9, 2020
SUNY Empire State College Announces Fall 2020 Restart Plan
Saratoga Springs, Selden, and Rochester Campuses to Open on a Limited Basis for In-Person Learning and Student Services

Majority of Instruction to Continue in Online and Distance Learning Model

Fall Application Deadline Extended to August 10 in Recognition of New Challenges Imposed by COVID-19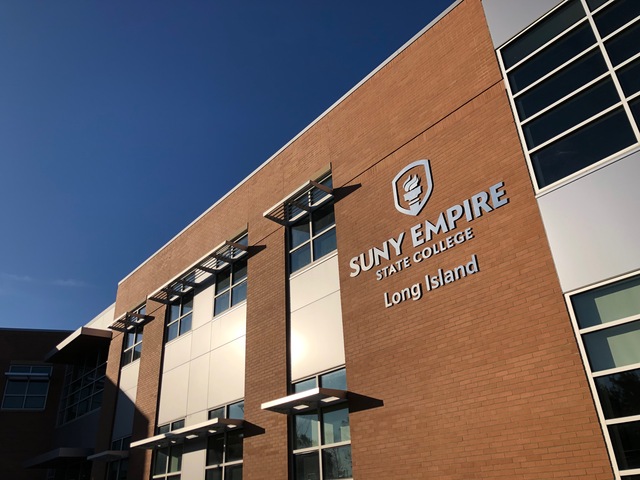 (SARATOGA SPRINGS, NEW YORK - July 9, 2020) SUNY Empire State College today released its plan to resume in-person instruction and onsite operations at its locations across New York State this fall to help students prepare for the upcoming semester. The plan was developed after extensive consultation with campus stakeholders and has been approved by the State University of New York and can be viewed in full here.
Although SUNY Empire has more than 30 campuses and learning hubs in New York only a small number of campuses will be reopened for limited services. Under the plan, the following campuses will be open to students on a limited basis with strict health and social distancing protocols this fall:
Student Center at 111 West Ave and the Capital Region Campus at 113 West Ave in Saratoga Springs
Finger Lakes Campus in Rochester
Long Island Campus in Selden
Rockefeller Institute of Government in Albany
These campuses will offer students a blend of in-person and virtual classes. Staffing at these locations will be limited to 10-25 percent, with all employees adhering to mandated health directives. All other SUNY Empire campuses and learning hubs will continue with fully online and distance learning.
SUNY Empire will reconfigure its classrooms, computer labs, and meeting spaces to ensure compliance with state and local guidelines, including marking entrances and exits to avoid two-way door usage. All students, faculty, and staff will be required to wear masks when social distancing is not possible. Health protocols will be strictly enforced. Appointments will be required for student services, but SUNY Empire's expanded virtual services and responsive staff have increased support services available online. While the other locations across New York state will remain closed for the time being, students can expect the same level of access and involvement with other students and educators.
In recognition that COVID-19 has disrupted many aspects of life – including things like mail delivery, requesting transcripts, and computer access – SUNY Empire is also extending its fall application deadline to August 10 in order to give applicants additional time to prepare. Learn more about the extension here.
"SUNY Empire's student-centric model was built for flexibility, personalization, and innovation – and now those qualities are needed more than ever in higher education," said SUNY Empire State College President Jim Malatras. "Our students' successes are our number one priority. We recognize the importance of restarting some face-to-face interaction as soon as we can, but above all, we are looking out for the health and safety of our students, faculty, and staff. Whatever the future brings, SUNY Empire will be ready to adapt and keep our students on track. That's what we've done for nearly 50 years and that's what we'll continue to do."
Prior to the pandemic, SUNY Empire offered students more than 110 online programs, from certificates to master's, and was able to quickly transition to a fully online and distance instruction model. Summer sessions, which are currently being held completely online, will end August 24, and the fall semester will begin on September 8.
To further support students through the challenges brought on by COVID-19, SUNY Empire has made laptops available to students and its COVID-19 emergency relief fund distributed 749 grants totaling more than $170,00 to students who required extra assistance to successfully complete their studies this spring
About SUNY Empire State College
SUNY Empire State College educates more than 17,000 students in person, online, and through a blend of both, at more than 30 locations in New York and at eight international sites worldwide. Together with one of SUNY Empire's more than 1,300 faculty mentors, each student designs their own individualized pathway to a college degree that accommodates their schedule and awards credit for prior college-level learning. SUNY Empire awards more than 3,000 degrees annually and 94 percent of graduates stay in New York state. Today, more than 87,000 SUNY Empire alumni are entrepreneurs, veterans, and active members of the military, professional athletes, teachers, medical professionals, and leaders in their field, as well as in their communities. To learn more, visit www.esc.edu and follow the college on social media @SUNYEmpire.