January 24, 2020
SUNY Empire State College and Fulton-Montgomery Community College Announce New Addiction Studies Partnership
Eligible FMCC Students Guaranteed Admission to SUNY Empire Addiction Studies Bachelor Degree Program

Addiction Studies Program Addresses Need for More Trained Specialists to Combat Opioid Crisis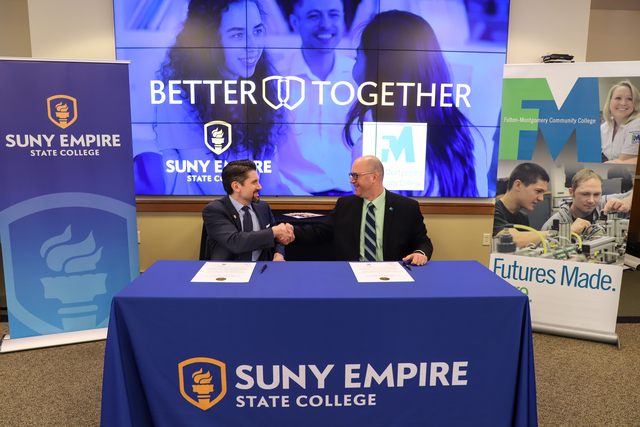 (SARATOGA SPRINGS, New York – Jan. 24, 2020) SUNY Empire State College and Fulton-Montgomery Community College (FMCC) today announced a new partnership providing guaranteed admission to graduates of FMCC's Chemical Abuse Counseling (A.A.S.), and Human Services (A.S. or A.A.S.) programs to SUNY Empire's Bachelor of Science in Addiction Studies.
SUNY Empire State College President Jim Malatras and Fulton-Montgomery Community College Acting President Greg Truckenmiller signed the agreement, which will seamlessly transfer all earned credits to SUNY Empire's new program. Under the partnership, SUNY Empire will waive the registration fee and provide a $100 Presidential Scholarship to all FMCC transfer students.
Addiction Studies, which launched this spring semester at SUNY Empire, was developed to meet the increasing demand for skilled addiction treatment professionals with bachelor's degrees and Credentialed Alcoholism and Substance Abuse Counselor (CASAC) certifications. The curriculum addresses fundamental aspects of how addiction affects individuals, families, and communities, while examining the assessment, treatment, and prevention of substance misuse, and helps students advance toward becoming certified CASACs in New York state. FMCC graduates will have completed coursework in evaluation, intervention, referral and counseling in individual and group settings, in addition to a field internship.
In his State of the State address earlier this month, Governor Cuomo highlighted a 16 percent drop in opioid-related deaths in New York state. He also shared his proposal to expand the Medication Assisted Treatment and Emergency Referrals (MATTERS) program, increase the number of mobile clinics, telehealth treatment, transportation services, and plans to develop at least one addiction treatment program in every county across the state. Partnerships such as this between SUNY Empire and FMCC will yield an increase in qualified specialists, prepared to tackle the crisis.
"Collaboration is key to addressing complex problems like addiction and the opioid crisis," said SUNY Empire State College President Jim Malatras. "This new partnership with Fulton-Montgomery Community College is another big step toward providing more qualified addiction treatment specialists in our communities. I'm grateful to FMCC President Truckenmiller, his staff, and everyone at SUNY Empire who helped make this partnership happen."
"This partnership is an extension of the good work that's been happening on our campus for some time," said Fulton Montgomery Community College Acting President Greg Truckenmiller. "We launched our chemical abuse counseling program in 2018, because we need greater treatment options and better care for those suffering with addiction. This partnership will allow our students to not only further their education, but will give them the opportunity to better serve and positively impact our community."
Students will have the option of completing the program online, on-site at one of SUNY Empire's more than 30 locations across New York state, or through a combination of both.
See photos from the event here.
About Fulton Montgomery Community College
Fulton-Montgomery Community College is located on 195 acres in the foothills of the beautiful Adirondack Mountains between Albany and Utica, NY. FM is dedicated to providing students with a quality education in an environment that nurtures success. With over 35 degree and certificate programs, we offer small classes, individualized attention, and many diverse programs.
About SUNY Empire State College
SUNY Empire State College educates students at any stage of life with a personalized learning experience delivered online, in person, or a blend of both. Since 1971, SUNY Empire has empowered students to earn an accredited degree around the demands of a busy lifestyle to advance their personal and professional goals. With world-class faculty, more than 1,300 dedicated mentors to help students tailor their degree programs, and cutting-edge distance learning technology, SUNY Empire delivers a trusted and flexible online college experience grounded in more than 30 New York state locations and seven international sites where students can learn and collaborate in person. Our nearly 50 years as a leader in awarding credit for prior learning and life experience helps students earn a degree faster and at lower cost. To learn more, visit www.esc.edu and follow @SUNYEmpire.