May 27, 2020
SUNY Empire State College and Hudson Valley Community College Partner to Help Nursing Students Earn a Bachelor's Degree Faster and at Lower Cost
Eligible Students Admitted to SUNY Empire's Online Program Will be Able to Earn Their BSN Degree in a Little More Than One Year and Fully Online

SUNY Empire to Eliminate Application Fees and Provide a Small Scholarship to Incoming Students

Helps Educate More Nurses in Face of Looming National Nursing Shortage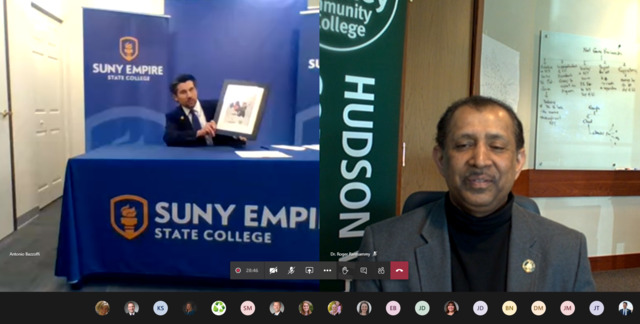 (SARATOGA SPRINGS, NY – May 27, 2020) SUNY Empire State College and Hudson Valley Community College today announced a new partnership to allow nursing graduates and senior nursing students from Hudson Valley to earn a bachelor's degree in nursing in less time and at lower cost with a seamless transfer pathway.
The new agreement allows students to automatically transfer as many as 79 credits to SUNY Empire, more than half the 124 total credits required to complete a bachelor of science degree in nursing. Eligible students admitted to SUNY Empire's online program will be able to earn their degree in a little more than one year.
SUNY Empire State College President Jim Malatras and Hudson Valley Community College President Roger Ramsammy finalized the agreement during a virtual signing ceremony, a first for both campus leaders as the colleges continue to adhere to social distancing guidelines.
For more than five decades, Hudson Valley's nursing program has built a reputation for quality and excellence in graduate outcomes. NCLEX Registered Nurse (RN) licensing exam pass rates for the last two graduating classes are 96 percent (2019) and 100 percent (2018). Nationwide and across the state, pass rates generally run from 85 to 90 percent. In addition, the program is fully accredited by the Accreditation Commission for Education in Nursing.
The mission of SUNY Empire's BSN program is to advance the education of RNs so they may further develop skills in critical thinking, research, and leadership, to provide evidence-based, comprehensive care. Since its founding in 2010, 1,275 nurses have graduated from the program, and 99 percent are currently employed.
In addition to providing opportunities for individual nursing students in the Capital Region, lowering barriers to nursing degrees helps address the looming nursing shortage in the United States. The U.S. Bureau of Labor Statistics estimates that there are currently three million nurses working in the United States, and by 2024 there will be more than one million vacancies for registered nurses. This impending shortage means fewer nurses in hospitals, nursing homes, assisted living and long-term care facilities, schools, clinics, in the military, and in homes.
The COVID-19 pandemic has shown that nurses around the country, and the world, continue to provide compassionate care for critical patients, despite potential risks to their own health. The World Health Organization designated 2020 the "International Year of the Nurse" in honor of Florence Nightingale's birth, in recognition of the contributions all nurses make, and to bring attention to the global shortage of 5.9 million nurses.
"Nurses are the heartbeat of healthcare," said SUNY Empire State College President Jim Malatras. "Our nurses are heroes– whether during a global pandemic or the demands of everyday patient care. Thank you to President Ramsammy and the hardworking faculty and staff at SUNY Empire and Hudson Valley who understand the need to accelerate high-quality nursing education to address the nursing shortage before it becomes its own health crisis. It will be a privilege to welcome these students to SUNY Empire."
"The COVID-19 crisis underscores the critical need to educate our next generation of healthcare professionals, and New Yorkers should be proud that our two institutions are working closely to make that happen," said Hudson Valley President Roger Ramsammy "We are so pleased to have quality education partners like SUNY Empire to help our graduates take the next step."
"Hudson Valley's associate degree program serves as a launching pad for so many of the Capital Region's registered nurses," said Hudson Valley Community College Vice President for Academic Affairs Judy DiLorenzo.
"This agreement allows those dedicated professionals to seamlessly continue their education toward a bachelor's degree and beyond with an institution we've partnered with for decades: SUNY Empire State College."
"Together, SUNY Empire and Hudson Valley are delivering a well-educated workforce for today and the future," said SUNY Empire State College Dean of the School of Nursing and Allied Health Bridget Nettleton. "We are extremely pleased to connect students from Hudson Valley's quality programs to ours at SUNY Empire."
Under the partnership, SUNY Empire will eliminate the registration fee and provide a $100 Presidential Scholarship to all Hudson Valley transfer students.
Today's pathway agreement builds upon a long history of collaboration between SUNY Empire and Hudson Valley. Earlier this year, the two campuses established another partnership providing guaranteed admission to graduates of Hudson Valley's Chemical Dependency Counseling (A.A.S.) program to SUNY Empire's first-of-its-kind bachelor of science in Addiction Studies, which can be completed entirely online.
Please click here to view pictures of today's virtual signing event and to watch a brief video thanking our nurses.
About Hudson Valley Community College
Founded in 1953, Hudson Valley Community College offers more than 80 associate degree and certificate programs in three schools: Business and Liberal Arts; Health Sciences; and Science, Technology, Engineering and Math; as well as an Educational Opportunity Center for academic and career training. One of 30 community colleges in the State University of New York system, it has an enrollment of nearly 10,500 students, and is known as a leader in distance learning initiatives and workforce training. Hudson Valley has 80,000 alumni.
About SUNY Empire State College
SUNY Empire State College educates students at any stage of life with a personalized learning experience delivered online, in person, or a blend of both. Since 1971, SUNY Empire has empowered students to earn an accredited degree around the demands of a busy lifestyle to advance their personal and professional goals. With world-class faculty, more than 1,300 dedicated mentors to help students tailor their degree programs, and cutting-edge distance learning technology, SUNY Empire delivers a trusted and flexible online college experience grounded in more than 30 New York state locations and seven international sites where students can learn and collaborate in person. Our nearly 50 years as a leader in awarding credit for prior learning and life experience helps students earn a degree faster and at lower cost. To learn more, visit www.esc.edu and follow @SUNYEmpire.