January 28, 2020
SUNY Empire Announces First-Ever Mascot, Blue the Bluebird
Nearly 10,000 votes cast over the monthlong online campaign

Blue to be unveiled in March, and will represent SUNY Empire in the SUNY Mascot Madness competition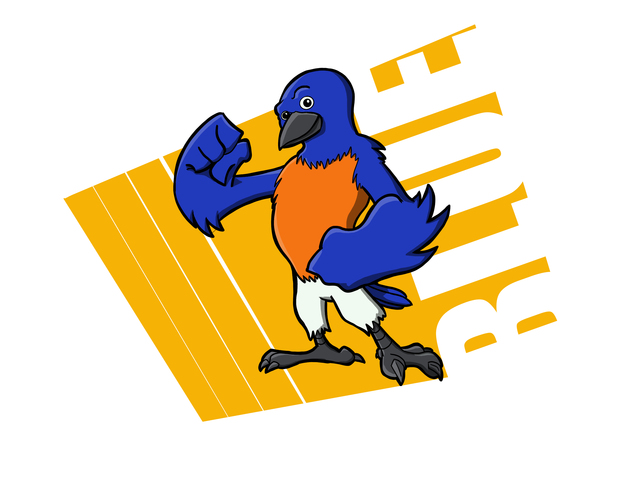 (SARATOGA SPRINGS, NEW YORK – Jan. 28, 2020) The polls are closed, and now, after almost 50 years, SUNY Empire State College has an official mascot. After an exciting monthlong, online campaign that resulted in a total of 9,922 votes cast, Blue the Bluebird beat out its competition, and will represent the SUNY Empire community.
Faculty, staff, students, and alumni submitted more than 180 mascot concepts for consideration this past fall. The submissions were evaluated by a committee representing a cross-section of the college community, and three were selected as finalists: Blue the Bluebird, Cam the Chameleon, and Van the Vanguard.
The mascot submissions, and the finalists, represented some commons themes from the SUNY Empire community: resilience, independence, adaptability, a pioneering spirit, and a positive outlook. These themes reflected the spirit of SUNY Empire students, a majority of whom earn their degrees while working full- or part-time, raising families, and living busy lives.
The bluebird, in particular, symbolizes intelligence, curiosity, and rebirth, as well as optimism. Its position as New York state's official bird is fitting, as SUNY Empire is the only SUNY institution with a statewide footprint, offering the system's most online programs as well as more than 30 campuses and learning hubs in every region of the state.
"I'd like to thank everyone who submitted their thoughtful ideas for the first-ever representative of SUNY Empire State College," said SUNY Empire President Jim Malatras. "And congratulations to each of our finalists – Andrew Conroy, Jacqueline Eckelmann, and Charissa Naul – for making it into the final round. This was an important exercise for the SUNY Empire family to think about and explore our mission to educational opportunity for all. And it shows you can even have a little fun when doing it. These were all strong contenders born from enthusiasm and commitment to the spirit and mission of the college. Our new mascot, Blue, will help unite and represent a diverse community that spans every region of New York, every state in the country, and our alums in 96 countries around the world. Now let's make Blue this year's Mascot Madness winner."
Blue was submitted by Charissa Naul, an assessment specialist based in SUNY Empire's Selden location, who was recently featured on The Today Show with her family. In her submission essay, Naul wrote, "As SUNY's online college, our students can live and work anywhere—across the state and around the world. You might say we give them wings to fly. Blue symbolizes intelligence, curiosity, and rebirth—traits and meanings a lot of SUNY Empire students can relate to."
Naul received the top prize of $500, while second and third place were awarded $300 and $200, respectively. A special recognition will be held for the finalists and winner in March.
SUNY Empire received comments and feedback throughout the voting period that will help inform the final development of the mascot. Blue the SUNY Empire Bluebird will undergo a few modifications before being officially unveiled ahead of the annual SUNY Mascot Madness competition. Just as the NCAA March Madness tournament is getting underway, SUNY will unveil its statewide mascot bracket, which historically has seen 34 campus representatives battling for the top spot through five rounds of voting. Each week results in elimination, leading up to the final four until one winner is named New York's favorite mascot. The friendly competition is in its eighth year.
About SUNY Empire State College
SUNY Empire State College educates students at any stage of life with a personalized learning experience delivered online, in person, or a blend of both. Since 1971, SUNY Empire has empowered students to earn an accredited degree around the demands of a busy lifestyle to advance their personal and professional goals. With world-class faculty, more than 1,300 dedicated mentors to help students tailor their degree programs, and cutting-edge distance learning technology, SUNY Empire delivers a trusted and flexible online college experience grounded in more than 30 New York state locations and seven international sites where students can learn and collaborate in person. Our nearly 50 years as a leader in awarding credit for prior learning and life experience helps students earn a degree faster and at lower cost. To learn more, visit www.esc.edu and follow @SUNYEmpire.