July 31, 2020
SUNY Empire State College President Jim Malatras Included on Commercial Observer Power List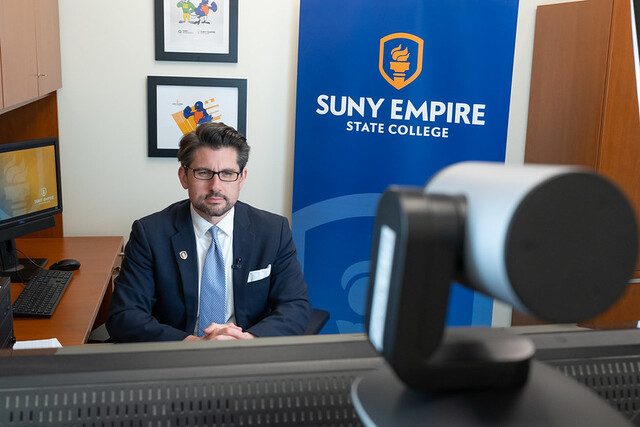 (ALBANY, NY – July 31, 2020) SUNY Empire State College today announced President Jim Malatras has been named to the Commercial Observer 2020 Power List, which highlights the accomplishments of professionals across New York who are making a difference. President Malatras was recognized for his volunteer work with the state's COVID-19 task force.
Malatras has served as SUNY Empire's fifth president since July 2019. Since joining SUNY Empire, the college has established the first-of-its-kind statewide Empire Opportunity Program, and the Women's Corporate Leadership Academy, which was created to address gender inequality and promote women's increased participation in leadership positions.
In less than a year, SUNY Empire has forged more than 30 partnerships with community colleges, corporations, state government agencies, and community-focused organizations to increase access to higher education, while helping prepare students for the future and addressing workforce gaps today. These pathway agreements allow busy working professionals, returning, and transfer students the opportunity to earn a degree at a reduced cost, and in less time, while strategic partnerships create new avenues to train and educate the future workforce and meet the needs of local industries.
Under his leadership, SUNY Empire implemented the Latin Honors system, established guidelines for recognizing student achievement with the Dean's List, and introduced a mascot - all firsts in the college's 49-year history. New academic programs at SUNY Empire include a bachelor of science in addiction studies and an additional seven concentrations for MBA candidates to consider. He also established a partnership with the New York State Department of Labor to develop the Empire State Career Connector, and quickly authorized a COVID-19 Emergency Educational Grant fund for students affected by the pandemic.
Malatras has also served as an advisor on New York State Governor Andrew Cuomo's COVID-19 task force and was recently appointed chair of the state's new Reimagine Education Advisory Council. He is also a member of the American Council on Education (ACE) National Task Force on Transfer of Credit and co-chair of the New York State Complete Count Commission.
About SUNY Empire State College
SUNY Empire State College educates 16,000 students per year in person, online, and through a blend of both, at campuses and learning hubs located in every region of New York state, and at eight international sites worldwide. Together with one of SUNY Empire's 800 faculty mentors, each student designs their own individualized pathway to a college degree that accommodates their schedule and awards credit for prior college-level learning. SUNY Empire awards more than 3,000 degrees annually and 94 percent of graduates stay in New York state. Today, more than 89,000 SUNY Empire alumni are entrepreneurs, veterans, and active members of the military, professional athletes, teachers, medical professionals, and leaders in their field, as well as in their communities. To learn more, visit www.esc.edu.