July 30, 2020
SUNY Empire State College and Mohawk Valley Community College Partner to Help Meet Growing Demand for Addiction Treatment Specialists in Mohawk Valley
Partnership Provides Guaranteed Admission to SUNY Empire's New Online Bachelor of Science in Addiction Studies for Qualified MVCC Students

MVCC Students Can Complete SUNY Empire Bachelor's Degree Faster, at Lower Cost, and 100% Online Without Leaving Community

Opioid Crisis Continues to Strain Local Services, Driving Workforce Demand for Qualified Professionals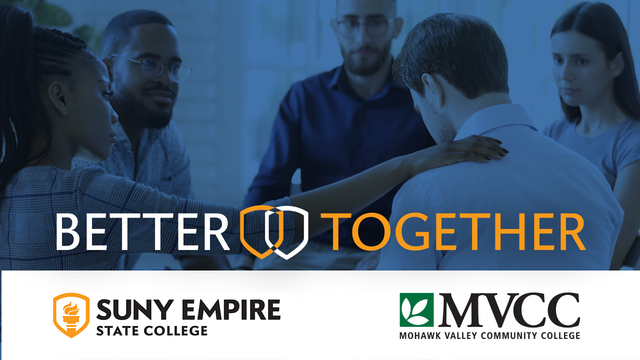 (SARATOGA SPRINGS, NEW YORK – July 30, 2020) SUNY Empire State College and Mohawk Valley Community College (MVCC) today announced a new partnership that allows MVCC students to earn their bachelor's degree faster, at lower cost, and entirely online while addressing growing workforce demand for more qualified addiction treatment professionals in the Mohawk Valley and throughout New York state.
The new transfer agreement provides guaranteed admission to SUNY Empire's new online bachelor of science in addiction studies program for MVCC graduates who have earned a chemical dependency practitioner associate degree. SUNY Empire's program prepares students to become skilled addiction treatment specialists, and was designed to help combat all forms of addiction and substance misuse, and to meet the growing demand for professionally trained counselors in New York state.
The opioid crisis continues to strain critical services, and the New York State Department of Labor projections (2016-2026) indicate employment in the addiction field will increase 29.5 percent in New York state, and similarly 29 percent in the Mohawk Valley, creating a growing need for substance abuse counselors.
As the world grapples with COVID-19-related uncertainties and anxiety, experts across the country are reporting increased episodes of relapse, and a rise in overdoses. Nearly every county in New York state has experienced an uptick in overdoses compared to 2019, while the Centers for Disease Control and Prevention reports an average of 130 Americans die every day as the result of an overdose.
The partnership agreement signed today allows MVCC students to transfer up to 79 lower-division credits to SUNY Empire, more than half the 124 total credits required to complete a bachelor's degree, meaning students can earn a bachelor's degree in as little as one year after their associate degree, and they can enter the workforce even sooner.
"As we confront this historic pandemic, communities across the country – including in the Mohawk Valley – continue to grapple with the effects of the opioid epidemic, now exacerbated by rising economic hardship and isolation," said SUNY Empire State College President Jim Malatras. "SUNY Empire's partnership with Mohawk Valley Community College will not only prepare our graduates to be effective counselors, it will increase their employability, and save them time and money on a high-quality degree that they can complete around their busy schedules without leaving their communities. Thank you to President VanWagoner for his collaboration and shared mission to expand educational opportunities for students in the Mohawk Valley."
"MVCC is thrilled to add this transfer pathway to our partnership with SUNY Empire, as it aligns with a previously approved apprenticeship pathway that just amplifies the opportunities students have in this career area," said Mohawk Valley Community College President Randall VanWagoner.
MVCC's curriculum fulfills students' 350-hour education requirements for a training-level Credentialed Alcohol and Substance Abuse Counselor (CASAC-T) certification, and helps develop the skills needed to lead individual and group interventions.
SUNY Empire accepts an average of 44 transfer students from MVCC every year, and looks forward to welcoming students to its addiction studies program this fall. Under the partnership, SUNY Empire will waive the registration fee and provide a $100 Presidential Scholarship to all MVCC eligible graduates.
Please click here to see pictures from today's event.
About Mohawk Valley Community College
Mohawk Valley Community College, established in 1946, is New York State's first community college with a mission to provide accessible, high-quality educational opportunities for everyone. As the community's college, MVCC is committed to student success through partnerships, transfer and career pathways, and personal enrichment. With campuses in Utica and Rome, MVCC is the region's primary provider of college education, offering 90 degree and certificate options for its enrollment of 6,000 full- and part-time students. MVCC also serves an additional 6,000 people through its corporate and community education programs, and its campuses welcome more than 50,000 people annually for community events.
About SUNY Empire State College
SUNY Empire State College educates 16,000 students per year in person, online, and through a blend of both, at campuses and learning hubs located in every region of New York state, and at eight international sites worldwide. Together with one of SUNY Empire's 800 faculty mentors, each student designs their own individualized pathway to a college degree that accommodates their schedule and awards credit for prior college-level learning. SUNY Empire awards more than 3,000 degrees annually and 94 percent of graduates stay in New York state. Today, more than 89,000 SUNY Empire alumni are entrepreneurs, veterans, and active members of the military, professional athletes, teachers, medical professionals, and leaders in their field, as well as in their communities. To learn more, visit www.esc.edu