June 11, 2020
SUNY Empire State College and North Country Community College Partner to Help Meet Workforce Demand with New Transfer Pathways
Partnership Allows Students to Earn Bachelor's Degree in as Little as Three Years

Six New Pathways in Addiction Studies, Business Management, and Nursing Address Addiction Crisis, Workforce Demand

All SUNY Empire Programs Can be Completed 100% Online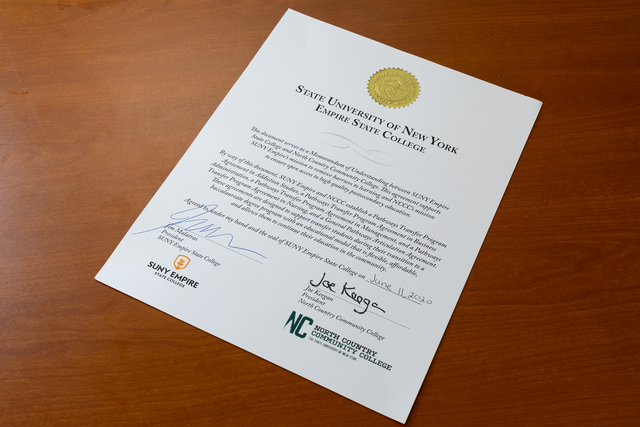 (SARATOGA SPRINGS, NEW YORK – June 11, 2020) SUNY Empire State College and North Country Community College (NCCC) today announced six new transfer pathways to allow NCCC graduates to earn a bachelor's degree from SUNY Empire in as little as one year after completing an associate degree.
SUNY Empire State College President Jim Malatras and North Country Community College President Joe Keegan finalized the agreements virtually from their respective campuses in the Capital Region and North Country. In addition to renewing the general pathway, which ensures admission to SUNY Empire for all qualified NCCC graduates who have completed any associate-level program, SUNY Empire and NCCC established six new program-to-program specific pathways. They are:
Chemical Dependency Counseling (A.A.S.) to Addiction Studies (B.S.)
Human Services (A.A.S.) to Addiction Studies (B.S.)
Child and Family Services (A.S.) to Addiction Studies (B.S.)
Nursing (R.N., A.A.S.) to Nursing (B.S.)
Business Administration (A.S., A.A.S.) to Business Administration (B.S.)
Entrepreneurship Management (A.A.S.) to Management (B.S.)
Each pathway allows students to transfer as many as 79 lower-division credits to SUNY Empire, more than half of the 124 credits required to earn a bachelor's degree. In addition to traditional transfer credit for courses completed at NCCC, SUNY Empire also offers the opportunity for students to earn as many as 19 credits for work and life experience through its Prior Learning Assessment evaluation, which will help to reduce the overall cost of the bachelor's degree. This could include military training, independent study, or volunteer work. The partnership waives the registration fee and provides a $100 presidential transfer scholarship.
"SUNY Empire is proud to partner with North County Community College to strengthen these degree programs to help meet the demand for more qualified professionals in addiction services, nursing, and our small business community," said SUNY Empire State College President Jim Malatras. "Working together as one SUNY, these partnerships provide high-quality, low-cost, and convenient educational opportunities for students of the North Country. Thank you to President Keegan for connecting SUNY Empire with NCCC's hardworking students. We are better together."
"North Country Community College and SUNY Empire have a long history of partnering on academic pathways for our students," said North Country Community College President Joe Keegan. "From pathways in nursing to addiction studies, from programs in business to human services, SUNY Empire has been, and continues to be, a strong partner and an attractive option for our students, offering relevant degree programs and allowing our graduates to remain living and working at home while earning their bachelor's degree. As they have at North Country, our students have found the SUNY Empire faculty and staff to be supportive of their aspirations, and they graduate having been well-educated and cared for at SUNY Empire. We thank President Malatras and his team for continuing to strengthen the pathways for our students, tailored with their needs in mind and at an affordable price."
Three of the articulation agreements encourage graduates of NCCC's chemical dependency, human services, and child and family services program to further their counseling studies in SUNY Empire's first-of-its-kind bachelor of science in addiction studies. While the program prepares future counselors in the areas of intervention, prevention, and substance abuse and misuse treatment, SUNY Empire established the program to combat the devastating effects of the opioid crisis on communities across New York state. While some reports indicated progress in the opioid death rate in recent years, the fight against addiction is far from over. In fact, according to the American Medical Association, more than 30 states have now reported surges of substance misuse and overdoses, which are being attributed to COVID-19 and its economic and social repercussions.
"Addiction, and the resulting suffering to individuals and families, affects all regions of the State," said Bob Ross, CEO of St. Joseph's Addiction Treatment and Recovery Centers. "However, the North Country endures the additional challenges resulting from a large number of economically disadvantaged counties, extended travel for treatment, and faces the difficulty of recruiting the needed number of addiction professionals to a rural area."
The new pathway agreements announced today will help ensure healthier communities through many enhancements, particularly by providing greater access to care, which is at the foundation of helping those impacted by the disease of addiction.
The pandemic has also brought deserved attention to hard-working nurses and the critical care they provide. The U.S. Bureau of Labor Statistics estimates that there are currently three million nurses working in the United States, and by 2024 there will be more than one million vacancies for registered nurses. By 2026, the New York State Department of Labor expects the need for qualified professionals to have increased by 20.1 percent statewide, and 16.1 percent in the North Country. Since 2010, SUNY Empire's BSN program has graduated 1,275 nurses, and 99 percent are currently employed in hospitals, schools, long-term care facilities, nursing homes, and offices.
SUNY Empire has two learning hubs located at SUNY Plattsburgh and Adirondack Community College to provide face-to-face instruction and support for SUNY Empire students. They are currently open for very limited use by appointment only due to the COVID-19 pandemic.
Information on any of SUNY Empire's online bachelor degree programs can be found here.
Please click here to view pictures from today's event.
About North Country Community College
As the only public college located in the Adirondack Park, North Country Community College ensures open access to high quality postsecondary education and contributes significantly to the development of our communities by preparing an educated citizenry and skilled workforce. We offer transfer and career programs customized to serve specific individual, community, business and economic development needs. The college maintains three campuses in Saranac Lake, Malone and Ticonderoga, New York; an extensive high school-based academic partnership; and online course offerings. North Country Community College is part of the SUNY (State University of New York) system. With 64 unique colleges and universities, SUNY provides learning environments for every type of student, every stage of life, and every kind of passion. For more information, visit www.nccc.edu.
About SUNY Empire State College
SUNY Empire State College educates students at any stage of life with a personalized learning experience delivered online, in person, or a blend of both. Since 1971, SUNY Empire has empowered students to earn an accredited degree around the demands of a busy lifestyle to advance their personal and professional goals. With world-class faculty, more than 1,300 dedicated mentors to help students tailor their degree programs, and cutting-edge distance learning technology, SUNY Empire delivers a trusted and flexible online college experience grounded in more than 30 New York state locations and seven international sites where students can learn and collaborate in person. Our nearly 50 years as a leader in awarding credit for prior learning and life experience helps students earn a degree faster and at lower cost. To learn more, visit www.esc.edu and follow @SUNYEmpire.