August 17, 2020
Phase One of SUNY Empire's Partnership with SUNY Erie and Alfred State College at Northland Workforce Training Center Expands Access to Higher Education, Supports Regional Workforce Development
SUNY Empire Announces Guaranteed Admission for Graduates of Alfred State College, SUNY Erie Community College Programs at NWTC

Students at NWTC Can Earn Bachelor's and Graduate Degrees Faster, at Lower Cost, and Entirely Online

SUNY Empire Will Streamline Application, Waive Fee, Provide Scholarship, Grant College Credit for Prior Learning and Work Experience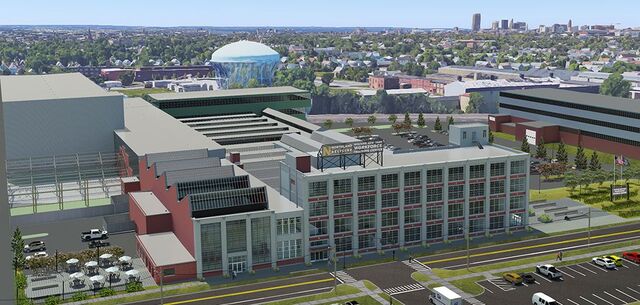 (BUFFALO, NEW YORK - August, 17, 2020) SUNY Empire State College today announced phase one of its partnership with Northland Workforce Training Center to expand access to higher education and support workforce development in the Buffalo area by streamlining admission to high-quality, affordable degree programs for NWTC students.
The partnership will guarantee admission to SUNY Empire bachelor's degree programs for eligible graduates of SUNY Erie and Alfred State College (ASC) programs at NWTC, as well as waiving the admission fee and providing a small scholarship. All of SUNY Empire's degrees, including graduate degrees, can be completed entirely online to fit the busy lives of working students. SUNY Empire has been teaching online for 25 years, and quickly transitioned to fully online and distance instruction at the beginning of the COVID-19 pandemic.
In addition, SUNY Empire will evaluate a student's prior learning – including work experience and professional certifications – for college credit, lowering the time and cost needed to earn a degree. In 2019, SUNY Empire students were awarded an average of 18.5 credits for prior learning, saving an average of $5,500 toward a degree.
Eligible students may also take advantage of SUNY Empire's new, first-of-its-kind Empire Opportunity Program, which provides financial assistance and enhanced academic support for students from historically disadvantaged backgrounds who show promise for college success. The program launched early this year, with an assistant director located in Buffalo to work one on one with EOP students.
"Northland Workforce Training Center is a critical engine of workforce development for Buffalo and Western New York, as well as a valuable educational resource for workers looking to take their next step," said SUNY Empire State College President Jim Malatras. "SUNY Empire is proud to further expand the educational opportunities there by offering guaranteed access to its flexible, online degree programs for graduates of Alfred State College and SUNY Erie programs at NWTC. I look forward to developing this collaboration even more in the coming years."
"The Northland Workforce Training Center is proving to be an invaluable workforce development asset to Buffalo's East Side," said Empire State Development Acting Commissioner and President & CEO-designate Eric Gertler. "Northland's partnership with SUNY Empire College is giving future students easy access to the training they need to be well prepared for the manufacturing jobs of the future by minimizing admissions barriers and addressing financial need."
"We are excited to partner with SUNY Empire State College, along with Alfred State College and SUNY Erie, to provide NWTC students with an opportunity to obtain bachelor's and graduate degrees," said Stephen Tucker, president and CEO of Northland Workforce Training Center. "Our collaboration creates multiple career pathways that support the students of Western New York in achieving their educational and career goals."
"We are so very proud of the Alfred State College students who are engaging in hands-on learning at the Northland Workforce Training Center to complete Associate Degrees in the trades," said Alfred State College President Skip Sullivan. "At ASC, we specialize in providing students the skills needed to land jobs in high demand fields, and Alfred State Pioneers are highly valued by employers. Together, with SUNY Empire and SUNY Erie, we are all helping students learn, grow, and earn more."
"SUNY Erie is committed to expanding and enhancing its academic programming at the Northland Workforce Training Center, and applauds SUNY Empire State College's willingness to expand the educational opportunities and pathways available to our students," said SUNY Erie Interim President William Reuter.
Northland Workforce Training Center focuses on closing the skills gap of the local labor pool and creating economic on-ramps to training, co-ops, internships, apprenticeships, and permanent employment for Western New Yorkers seeking high-paying advanced manufacturing and energy careers.
About SUNY Empire State College
SUNY Empire State College educates 16,000 students per year in person, online, and through a blend of both, at campuses and learning hubs located in every region of New York state, and at eight international sites worldwide. Together with one of SUNY Empire's 800 faculty mentors, each student designs their own individualized pathway to a college degree that accommodates their schedule and awards credit for prior college-level learning. SUNY Empire awards more than 3,000 degrees annually and 94 percent of graduates stay in New York state. Today, more than 89,000 SUNY Empire alumni are entrepreneurs, veterans, and active members of the military, professional athletes, teachers, medical professionals, and leaders in their field, as well as in their communities. To learn more, visit www.esc.edu.