August 13, 2020
SUNY Empire State College Expands Access to In-Demand Programs for the New York State Economic Development Council's More than 900 Members Employing Nearly 150,000 Workers
SUNY Empire Offers More Than 110 Degrees and Certificates, All Available 100% Online; Grants College Credit for Work Experience to Reduce Time and Lower Cost to Attain Degree

New Partnership Benefits Extend to Current and Retired NYSEDC Staff and Families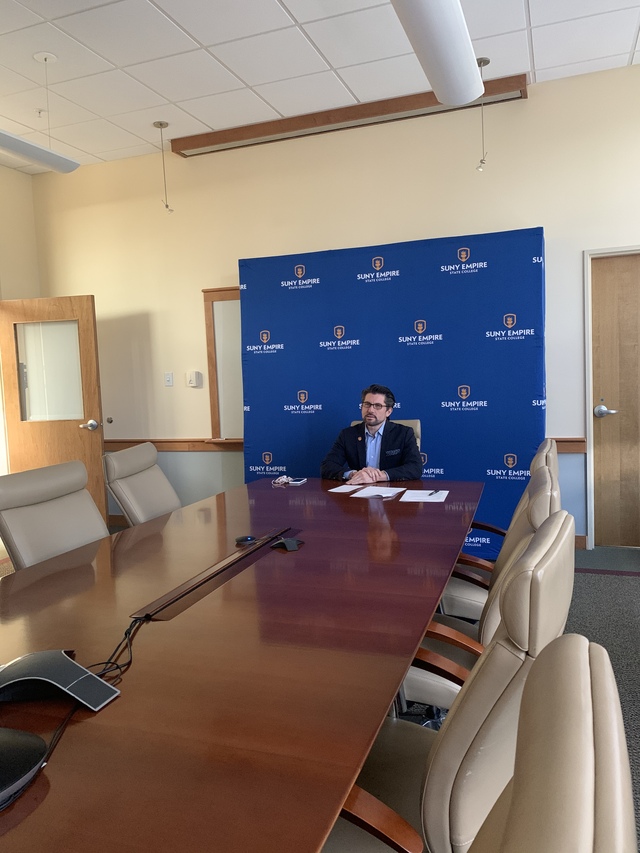 (SARATOGA SPRINGS, NEW YORK – August 13, 2020) SUNY Empire State College today announced a new partnership to expand educational opportunities for the New York State Economic Development Council (NYSEDC) and the more than 900 members and 150,000 individuals who comprise its statewide membership.
As part of the partnership agreement, SUNY Empire will waive the admission fee and provide a presidential scholarship for all eligible NYSEDC members who enroll at SUNY Empire. Participants will also benefit from SUNY Empire's prior learning assessment process, which awards college credit for work and life experience, reducing the overall cost and time needed to complete a degree.
While the benefits apply to any SUNY Empire program, the new partnership was spurred in part by high demand among NYSEDC membership for SUNY Empire's Master of Arts in Community and Economic Development and its newly created Women's Corporate Leadership Academy.
SUNY Empire's online M.A. in Community and Economic Development, launched with input and guidance from NYSEDC in 2012, offers a broad examination of the public policy process as students approach real issues affecting their communities while focusing on strategies to produce positive economic outcomes. Students are allowed to work with a community partner to individualize and localize their studies. Many expand their studies beyond the 36 credits to earn an advanced certificate in community advocacy, financial management and analysis, or social entrepreneurship. The program is ideal for NYSEDC, whose mission is not only to encourage the growth of regional and statewide development programs, but also to enhance educational opportunities for members.
The Women's Corporate Leadership Academy at SUNY Empire aims to prepare women for executive and board positions, working with organizations like NYSEDC across New York state to improve gender representation. The academy will launch this fall with a 15-week online noncredit course and virtual lecture series. Sessions will explore the challenges women and other underrepresented groups face in the workplace, while focusing on strategies to lower barriers and develop solutions to target inequality, discrimination and bias in the workplace. Governor Andrew M. Cuomo first proposed the academy in his 2020 State of the State agenda, and enrollment is currently open for the inaugural cohort this fall.
"The COVID-19 pandemic has required us to roll up our collective sleeves and work together—in education and industry—to provide the college credentialing needed to meet emerging workforce demand as we help rebuild our economy back stronger than before," said SUNY Empire State College President Jim Malatras. "SUNY Empire is proud to partner with the New York State Economic Development Council to help economic development professionals and 150,000 workers across the state advance their education with an affordable, high-quality degree they can earn online around their busy schedules, especially to ensure that women are more equitably represented in corporate leadership. Thank you to the New York State Economic Development Council for recognizing this need, and for being a strong advocate for their membership."
"The NYSEDC is proud and honored to work with SUNY Empire on this exciting new partnership. Providing educational opportunities to our members so they can better serve their communities is one of our core missions," said New York State Economic Development Council Executive Director Ryan Silva. "With this partnership, NYSEDC members will have better and more affordable access to continue their education, helping them gain additional tools to improve the quality of life across New York state. We look forward to building on this partnership and thank President Malatras and the SUNY Empire team for the educational leadership they are providing."
"SUNY Empire and the NYSEDC are dedicated to helping communities across the state to grow and become sustainable," said SUNY Empire State College Dean of the School for Graduate Studies Nathan Gonyea. "SUNY Empire and the NYSEDC have enjoyed a long-standing partnership, providing professionals committed to developing strong economies with the opportunity to continue their education."
"It's evident that economic development has evolved in ways we never could have forecasted, and the educational needs of our membership are exploding, particularly now in this age of training around various areas of economic development in a virtual way," said Marnie LaVigne, president and CEO of Launch NY, and chair of the NYSEDC board of directors. "Our membership at the New York State Economic Development Council involves hundreds of people who truly are committed to growing inclusive economic prosperity across all of New York state. That is a really bold task."
"As a graduate of SUNY Empire's Master of Arts in Community and Economic Development program, and member of the NYSEDC executive committee, I can speak firsthand on the importance of the program and its impact on the continued education of individuals in the field of economic development," said James C. Johnson, executive director of the Steuben County Industrial Development Agency, vice chair of the NYSEDC board of directors, and SUNY Empire alum. "The program allowed me to broaden my focus and helped prepare me for today's challenges faced by communities as they work to expand their economic base and create sustainable and diverse economies. I'm proud to be a SUNY Empire graduate and would recommend this program to anyone interested in the industry."
Please click here to see pictures from today's event.
About the NYSEDC
The New York State Economic Development Council is the state's principal, nonprofit membership organization representing public, private, and nonprofit economic development professionals. Its mission is to provide strong leadership that delivers cost-effective value to members through advocacy, professional development, communications, and networking. NYSEDC has been serving New York's economic development professionals for more than 30 years. Its 900+ members work to build vibrant, diverse, and sustainable communities throughout New York state.
About SUNY Empire State College

SUNY Empire State College educates 16,000 students per year in person, online, and through a blend of both, at campuses and learning hubs located in every region of New York state, and at eight international sites worldwide. Together with one of SUNY Empire's 800 faculty mentors, each student designs their own individualized pathway to a college degree that accommodates their schedule and awards credit for prior college-level learning. SUNY Empire awards more than 3,000 degrees annually and 94 percent of graduates stay in New York state. Today, more than 89,000 SUNY Empire alumni are entrepreneurs, veterans, and active members of the military, professional athletes, teachers, medical professionals, and leaders in their field, as well as in their communities. To learn more, visit www.esc.edu.