June 8, 2020
SUNY Empire State College and Onondaga Community College Partner to Address Opioid Misuse
Agreement Guarantees Admission for Graduates of OCC's Alcohol and Substance Abuse Counseling to SUNY Empire Addiction Studies Bachelor Degree Program

Eligible Students Admitted to SUNY Empire's 100% Online Program Will be Able to Earn Their Degree Bachelor's Degree in as Little as One Year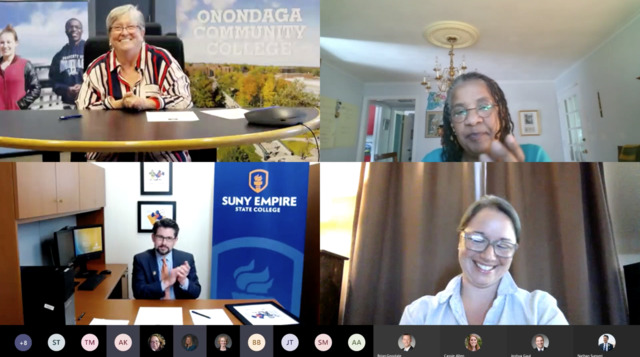 (SARATOGA SPRINGS, NEW YORK – June 8, 2020) SUNY Empire State College and Onondaga Community College (OCC) today announced a new partnership providing guaranteed admission to graduates of OCC's Alcohol and Substance Abuse Counseling (A.A.S.) program to SUNY Empire's first-of-its-kind bachelor of science in Addiction Studies, which can be completed entirely online.
SUNY Empire State College President Jim Malatras and Onondaga Community College President Casey Crabill finalized the agreement during a virtual ceremony at their respective campuses. The partnership agreement allows OCC students to transfer up to 79 lower-division credits to SUNY Empire, more than half the 124 total credits required to complete a bachelor's degree, meaning students can earn a bachelor's degree in as little as one year after their associate degree.
The New York State Department of Health reported opioid fatalities dropped 15.9 percent between 2017-2018 in areas across the state outside of New York City, while hospitalizations fell 7.1 percent. This was the first significant decrease in nearly a decade, but now health officials are reporting surges in overdoses throughout New York and across the country, and attribute the increase to the isolation and anxiety caused by COVID-19.
The need for qualified counselors in New York state is great, as the opioid crisis continues to strain critical services, and those suffering with other substance and alcohol addictions also require treatment and counseling. The New York State Department of Labor projections (2016-2026) indicate employment in the addiction field will increase 29.5 percent in New York state, and 25.8 percent in Central New York, creating a growing need for substance abuse counselors.
SUNY Empire's Addiction Studies program prepares students to become skilled addiction-treatment specialists while helping them advance toward becoming a certified Credentialed Alcoholism and Substance Abuse Counselor (CASAC) in New York state. Courses address fundamental aspects of how addiction affects individuals, families, and communities, while examining the assessment, treatment, and prevention of substance misuse.
"SUNY Empire developed this all too important program to address and combat the public health crisis that is addiction, including the opioid epidemic that continues to grip communities across the nation," said SUNY Empire State College President Jim Malatras. "We must raise awareness and bring attention to addiction through education and prevention programs. Thank you President Crabill for partnering with us to educate the future workforce to help combat this crisis."
"We're grateful to our partners at SUNY Empire State College for recognizing the outstanding potential in our students and creating a pathway for them to earn a valuable four-year degree at a SUNY price point," said Onondaga County Community President Casey Crabill. "We know what a challenging time this is for students and families. This agreement provides a tremendous level of certainty for anyone considering bettering their lives through higher education."
SUNY Empire launched the addiction studies program this spring in response to the growing need for professionals in the field.
Under the partnership, SUNY Empire will waive the registration fee and provides a $100 Presidential Scholarship to all OCC transfer students who have completed an associate degree within the last three years.
See photos from today's event here.
About Onondaga Community College
Onondaga Community College is a two-year college located on a 280-acre campus in Syracuse, New York. OCC operates under the State University of New York system and is locally sponsored by Onondaga County. We are the first public college in the nation to partner with Barnes & Noble College on the "Box of Books" program which provides students with flat-rate, predictable pricing for textbooks and technology. OCC is an Achieving the Dream college and has been named a "Military Friendly" school by G.I. Jobs Magazine for its service to student veterans. The college's commitment to sustainability and environmental responsibility has earned it recognition as a "Green College" by the Princeton Review, a "Cool School" by the Sierra Club and a "Sustainable Campus" by the Association for the Advancement of Sustainability in Higher Education. A 2019 report titled "The Economic Value of Onondaga Community College" shows students enjoy an attractive 21.7% rate of return on their educational investment. For every dollar of support from state and local governments, taxpayers see a return of $3.90 on their investments. The average annual rate of return for taxpayers is 9.3%. OCC's 17 athletics teams have won 16 national championships. Learn more about the college at www.sunyocc.edu.
About SUNY Empire State College
SUNY Empire State College educates students at any stage of life with a personalized learning experience delivered online, in person, or a blend of both. Since 1971, SUNY Empire has empowered students to earn an accredited degree around the demands of a busy lifestyle to advance their personal and professional goals. With world-class faculty, more than 1,300 dedicated mentors to help students tailor their degree programs, and cutting-edge distance learning technology, SUNY Empire delivers a trusted and flexible online college experience grounded in more than 30 New York state locations and seven international sites where students can learn and collaborate in person. Our nearly 50 years as a leader in awarding credit for prior learning and life experience helps students earn a degree faster and at lower cost. To learn more, visit www.esc.edu and follow @SUNYEmpire.