February 21, 2020
SUNY Empire State College Launches Wide-Ranging Study Abroad and Virtual Student Exchange Program with the University of New York in Prague, Czech Republic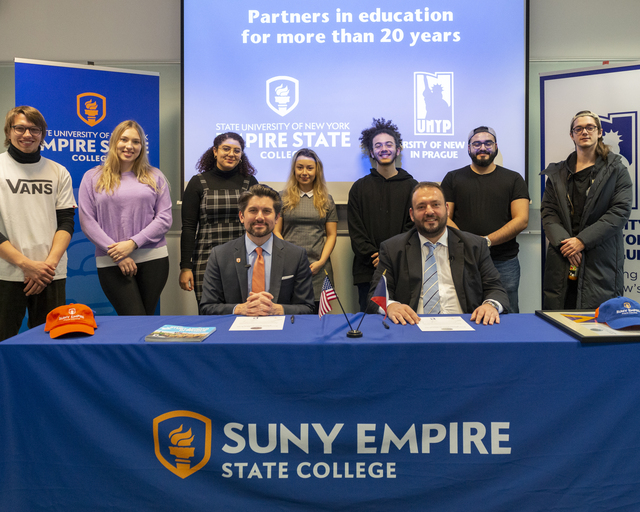 Students Will Have the Option of Taking a Two-Week Residency or Longer Study Abroad Programs Ranging from One Semester Up to Two Years – Working with SUNY Empire Faculty at the University of New York in Prague
The Agreement Will Create SUNY Empire's First International Virtual Exchange Program Using State-of-the-Art Immersive Cloud Learning Classroom Technology—Advanced Technology Makes Faculty and Students Feel Like They Are in the Same Room Even When Thousands of Miles Away
(PRAGUE, CZECH REPUBLIC – Feb. 21, 2020) SUNY Empire State College President Jim Malatras and Sotiris Foutsis, general manager of University of New York in Prague (UNYP), today announced a comprehensive study abroad and exchange program between New York and the Czech Republic. Under the agreement, students from SUNY Empire would have a wide range of educational options to experience Prague in a manner built around their lives.
Study Abroad Program Ranging from One Semester to Two Years
Beginning in the 2021 spring semester, SUNY Empire students will be able to study abroad in Prague for up to two years. SUNY Empire faculty located in Prague will provide a seamless SUNY Empire educational experience internationally for students in the areas of business administration, communications and media, international relations, psychology, English language and literature, and information technology. As with the two-week program, UNYP would provide SUNY Empire students with housing, services, and other educational programming. As part of today's agreement, SUNY Empire would also open its abroad program to students at other interested SUNY institutions.
Two-Week College Credit Residency on Culture in Prague
Starting in January 2021, SUNY Empire students will be offered a two-week intensive college-credit residency in Prague exploring Czech culture through food. Students will be able to take advantage of the cultural opportunities available in Prague to carefully consider the ways in which the culture of the city has been shaped by its cuisine. UNYP will provide housing to visiting students and has private or shared accommodations in recently renovated residential buildings.
SUNY Empire's First International Virtual Student Exchange Program
President Malatras and Mr. Foutsis also signed an agreement creating SUNY Empire's first virtual international student exchange programming using state-of- the-art Immersive Cloud Learning (ICL) technology. ICL allows real-time virtual learning and collaboration between students in New York and Prague. SUNY Empire has been using ICL for several years to connect students and faculty at various locations across New York state in rich, real-time learning environments. Now Prague has been selected as the European pilot site to allow students and faculty there to interact in an online classroom environment with peers and SUNY Empire faculty based in New York. The Prague ICL facility will be fully operational in time for the start of the fall 2020 semester.
The first two courses offered to students in Prague through the ICL will be timely international policy topics, "Human Services for Refugees and Displaced Populations"— which provides critical frameworks for understanding the effects of mass migration today in Europe, the United States, and across the world, with a focus on how governments can meet the needs of refugees and displaced populations — and "Understanding Medical Marijuana: A Multidisciplinary Perspective," which provides a comprehensive look at marijuana as states in the United States and countries across Europe continue to advance various marijuana laws.
The classes will be taught at SUNY Empire's state-of-the-art campuses in Selden and Saratoga Springs.
"Today's agreement provides SUNY Empire students the option to experience studying abroad in the great city of Prague, whether they have only two weeks or if they want to do so for two years—putting students in the driver's seat to build high-quality educational programming around their lives," said SUNY Empire State College President Jim Malatras. "I'm thrilled that this will be SUNY Empire's first virtual international exchange program using immersive cloud classroom technology, giving our students in the United States and Prague a chance to connect as if they are in the same room, though thousands of miles away. Thank you to Mr. Foutsis and to everyone at the University of New York in Prague who shares SUNY Empire's commitment to global learning for all."
"Colleges and universities must keep pace with society and technology. As beacons of knowledge and understanding we have a duty to adapt, integrate and innovate alongside the changing needs of students and technological advances of the day," said General Manager of the University of New York in Prague Sotiris Foutsis. "We are excited to work together with our partner of more than 20 years, the State University of New York, SUNY Empire State College, to bring Immersive Cloud Learning to the University of New York in Prague, and with expanded, customizable study abroad programming, we leverage our collective strengths to create opportunity for students."
SUNY Empire has had a presence at UNYP since 1998, and its course offerings have always been taught by SUNY Empire faculty at the UNYP campus, located in the Vinohrady neighborhood. Every term, SUNY Empire faculty teams travel to Prague to teach and mentor students. With the introduction of ICL, students in Prague will now have the opportunity to explore even more areas of study being taught by faculty located in New York.
As a show of gratitude and to further commemorate this visit, President Malatras presented Mr. Foutsis with the SUNY Empire State College Presidential Award for Service, in recognition of the commitment their respective institutions have shown by enhancing educational opportunities, and for furthering the mission of empowering students and strengthening the SUNY Empire global community.
Click here to see pictures from today's event.
About SUNY Empire State College
SUNY Empire State College educates students at any stage of life with a personalized learning experience delivered online, in person, or a blend of both. Since 1971, SUNY Empire has empowered students to earn an accredited degree around the demands of a busy lifestyle to advance their personal and professional goals. With world-class faculty, more than 1,300 dedicated mentors to help students tailor their degree programs, and cutting-edge distance learning technology, SUNY Empire delivers a trusted and flexible online college experience grounded in more than 30 New York state locations and seven international sites where students can learn and collaborate in person. Our nearly 50 years as a leader in awarding credit for prior learning and life experience helps students earn a degree faster and at lower cost. To learn more, visit www.esc.edu and follow @SUNYEmpire.