March 26, 2020
SUNY Empire Shares the Inaugural Message of Jim Malatras, Fifth President of SUNY Empire State College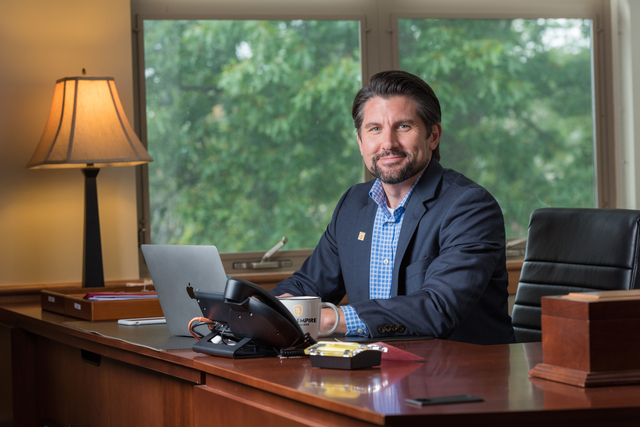 (SARATOGA SPRINGS, NY – March 26, 2020) SUNY Empire State College President Jim Malatras today shared his inaugural message with the college community and higher education leaders across New York state, laying out his vision not only for the future of SUNY Empire, but for how higher education can and must adapt to meet the needs of tomorrow's learners.
Today would have been the formal inauguration of Malatras as the fifth president of SUNY Empire State College. The ceremony was called off due to ongoing concerns about coronavirus disease 2019 (COVID-19).
President Malatras began his appointment on July 15, 2020. Since arriving at SUNY Empire, he has initiated a bold agenda to advance the college's strengths, enhance its facilities across the state of New York, and expand on the ways it provides accessible, flexible higher education that both meets the present and future workforce needs of society and is responsive to the personal goals of learners at any stage of life.
The address President Malatras had written for today's gathering is available on the college website, along with a video that portrays the resilience of SUNY Empire students.
About SUNY Empire State College
SUNY Empire State College educates students at any stage of life with a personalized learning experience delivered online, in person, or a blend of both. Since 1971, SUNY Empire has empowered students to earn an accredited degree around the demands of a busy lifestyle to advance their personal and professional goals. With world-class faculty, more than 1,300 dedicated mentors to help students tailor their degree programs, and cutting-edge distance learning technology, SUNY Empire delivers a trusted and flexible online college experience grounded in more than 30 New York State locations and seven international sites where students can learn and collaborate in person. Our nearly 50 years as a leader in awarding credit for prior learning and life experience helps students earn a degree faster and at lower cost. To learn more, visit  www.esc.edu  and follow @SUNYEmpire.