June 15, 2020
SUNY Empire State College Announces the New Shirley A. Chisholm Center for Equity Studies to Research Roots and Impacts of Structural Racism, Develop Policy Solutions
Based in Brooklyn, the Chisholm Center Will Honor the First African-American Woman to Hold a Congressional Seat by Conducting Interdisciplinary Research and Educational Programming to Address Racial and Social Inequities

Center Will Kick Off with Podcast, Community Engagement Programming, and Lecture Series this Fall

Shirley Chisholm Represented, Advocated, and Fought for Brooklyn's 12th Congressional District for Seven Terms; Served in the New York State Assembly from 1965-1968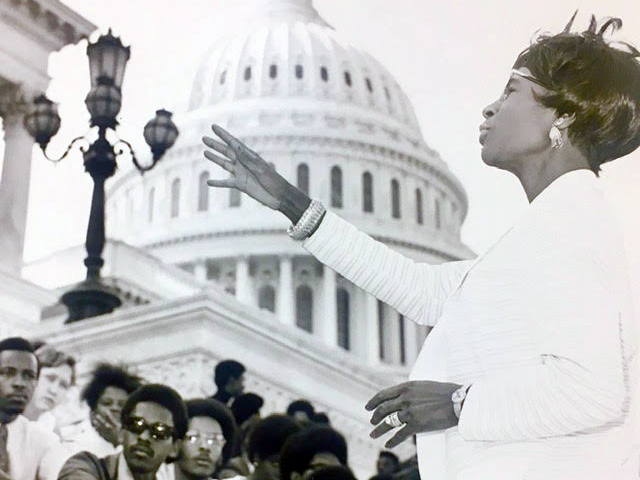 (BROOKLYN, NEW YORK – June 15, 2020) SUNY Empire State College today announced the Shirley A. Chisholm Center for Equity Studies, in honor of the Brooklyn native who in 1968 became the first African-American woman to win a seat in Congress, to use data-driven analysis to explore and uncover the roots, workings, and impacts of structural racism and systemic inequities in our communities today and from the research drive policy change and create opportunities for underserved communities.
SUNY Empire State College President Jim Malatras proposed the center at the college's 2019 Fall Academic Conference as a vehicle to address pressing questions of social and racial injustice. The center will be housed at the Shirley Chisholm State Office Building in Brooklyn, and students from SUNY Empire's many campuses and learning hubs will be given research and other policy opportunities to work alongside nation-leading researchers to analyze and build solutions to long-standing issues of inequality and racism.
SUNY Empire will launch a podcast focused on Chisholm's life in July and has scheduled a series of lectures to begin in late summer and the fall. Conversations will focus on a range of topics, including institutional racism, health disparities, and arts and cultural expression.
"SUNY Empire is deeply committed to examining, addressing, and righting injustices in our society and we could think of no better person than Shirley Chisholm—a fierce advocate for social and economic justice—to be the inspiration and guide of SUNY Empire's new center to find solutions to inequality in society," said SUNY Empire State College President Jim Malatras. "Recent events have – after far too much time – shaken us as a society to the core. Let's take this moment to make fundamental change, for ourselves and for future generations. Congresswoman Chisholm was a true leader, and we owe it to her, and everyone else who has fought for equity and justice, to do better."
"Shirley Chisholm is a personal hero of mine, who worked to break down every personal, professional, and political barrier that stood in her way," said New York State Attorney General Letitia James. "Throughout her life, she worked tirelessly to combat the injustices that marginalized communities faced every day—some of which are still prevalent in 2020. During these perilous times, I look forward to SUNY Empire State continuing her important work through the new Shirley Chisholm Center for Equity Studies."
"Shirley Chisholm was a great New Yorker who shattered glass ceilings and barriers that were created to keep people like her out," said Senate Majority Leader Andrea Stewart-Cousins said. "Her bold run for president and her work as a state assemblymember and a U.S House Representative showed that change could happen. She worked tirelessly to improve social services and health care, invested in public education, and created the Special Supplemental Nutrition Program for Women, Infants and Children (WIC) program. Shirley Chisholm was always "unbought" and "unbossed" and she was an inspiration to millions, including myself. Her legacy and words are needed now more than ever as the reality of systematic racism and inequity are being exposed and fought. The Shirley A. Chisholm Center for Equity Studies at SUNY Empire's Brooklyn campus is a fitting way to honor this incredible woman and ensure her legacy will continue to inspire progress."
"Shirley Chisholm paved the way for the next generation of African Americans, including myself, who are deeply committed to serving their communities and want a better and more equitable future for people of color," said New York State Assembly Speaker Carl Heastie said. "While racial injustice is not a new phenomenon, the recent events happening across the nation have awoken many to just how deeply rooted systemic racism is in this country and inspired Americans from all walks of life to listen and learn. I am confident this new center will help feed that hunger for knowledge and allow us continue to build on the legacy of Shirley Chisholm."
"It is with tremendous pride and unwavering support that I applaud the launch of SUNY Empire State College's Shirley A. Chisholm Center for Equity Studies," said Brooklyn Borough President Eric Adams. "Throughout her lifetime, which saw her become the first African-American congresswoman and the first major-party black candidate to run for the U.S. presidency, this radical, revolutionary, and trailblazing daughter of Brooklyn made the fight against racial, educational, and economic disparity in this country her focus and her platform. Now, more than ever, the words of this phenomenal woman, who until the last remained 'unbought and unbossed,' ring true for a new generation of advocates willing to fight and to demand systemic equality and inclusion: 'If they don't give you a seat at the table, bring in a folding chair.'"
"Establishing the Shirley A. Chisholm Center for Equity Studies is an excellent way to honor Chisholm's legacy as 'The People's Politician,'" said Office of General Services Commissioner RoAnn Destito. "At this time in our nation and state's history, it is essential for us to reflect on Chisholm's fight to defend the rights of black Americans and women, reform the country's education system, and improve the lives of people living in poverty. We at the Office of General Services applaud SUNY Empire State College for creating this center, and we are proud to have it in the state office building that bears her name."
"Finally, finally, the legacy of Shirley Chisholm is getting the comprehensive attention it deserves," said Bob Frishman, Chisholm's former speech writer and press secretary. "Postage stamps, statues, and public parks are important symbols, but action is what she would demand, were she still with us. Nothing is outdated about her insistence for justice in all its forms. My years in Washington, D.C., as her speechwriter, press secretary, and as her friend are among the most significant of my life. Now those times can be much more than just my personal memories; they can assist this new center, in concrete ways I hope, to articulate and advance her strongest beliefs. Again, I can hear her voice."
"The establishment of the Shirley A. Chisholm Center for Equity Studies comes at a critical junction in our country's history and the global community," said La Tasha Brown, SUNY Empire State College senior academic advisor and program manager for the Shirley A. Chisholm Center. "The Chisholm Center will catalyze change in investigating the socio-political and cultural impact of structural forms of racial inequity in the United States and abroad. The Center will serve as a research and scholarly hub in building toward equality. I'm excited to be instrumental in developing solutions that will combine research excellence and innovation."
A formal celebration has been postponed due to COVID-19 related social distancing guidelines, but SUNY Empire intends to host a community gathering later this year.
To get involved with the Shirley A. Chisholm Center for Equity Studies at SUNY Empire State College, please click here. The center at the Shirley Chisholm State Office Building expands SUNY Empire's presence in Brooklyn, where the college currently has a campus at 177 Livingston Street.
About Shirley A. Chisholm
In 1964, Chisholm was elected to the New York state legislature, and was the second African–American woman to serve in Albany. She spent four years as an assemblymember before winning the historical Congressional seat that would lead to her representing her constituents and neighbors in New York's 12th district for seven consecutive terms. Her campaign motto of "unbought and unbossed" became the title of her autobiography. The phrase is often used as a tribute to Chisholm's spirit and determination. Throughout her political career and as her years spent as a teacher, Chisholm fought for education opportunities, food programs for school children, and charged against social injustices. She served on the Education and Labor Committee and founded both the Congressional Black Caucus in 1971 and the National Women's Political Caucus the following year. In 1972, Chisholm again made history when she declared her candidacy for the Democratic nomination for president of the United States. She campaigned across the country, and became known as the "candidate for the people."
About SUNY Empire State College
SUNY Empire State College educates students at any stage of life with a personalized learning experience delivered online, in person, or a blend of both. Since 1971, SUNY Empire has empowered students to earn an accredited degree around the demands of a busy lifestyle to advance their personal and professional goals. With world-class faculty, more than 1,300 dedicated mentors to help students tailor their degree programs, and cutting-edge distance learning technology, SUNY Empire delivers a trusted and flexible online college experience grounded in more than 30 New York state locations and seven international sites where students can learn and collaborate in person. Our nearly 50 years as a leader in awarding credit for prior learning and life experience helps students earn a degree faster and at lower cost. To learn more, visit www.esc.edu and follow @SUNYEmpire.