February 12, 2020
SUNY Empire and SUNY Adirondack Announce Five Joint-Admission Degrees in Business and Management at the SUNY Empire Campus in Saratoga Springs
SUNY Adirondack Students Graduating With Associate Degrees Will Be Guaranteed Admission in SUNY Empire Bachelor's Degrees in Business and Management

Agreement is Phase One of a Larger Partnership Between the Colleges

Agreement Removes Bureaucratic Barriers Making it Easier for Students to Focus on Academic Studies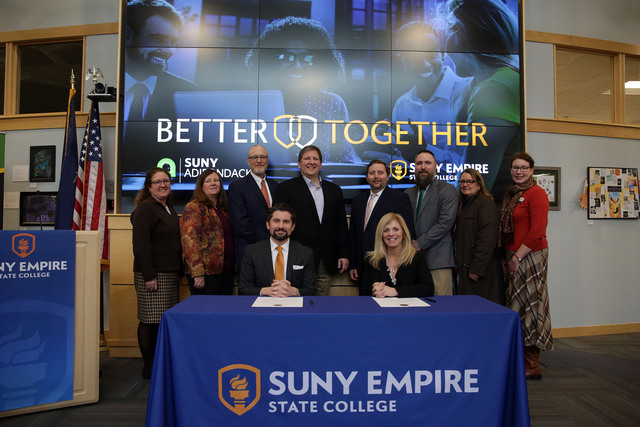 (SARATOGA SPRINGS, NEW YORK – Feb. 12, 2020) SUNY Empire State College and SUNY Adirondack Community College today signed a phase-one agreement for five joint-admissions degrees in business and management at SUNY Empire's Saratoga Springs campus. Under the agreement, SUNY Adirondack students will benefit from increased access to SUNY Empire's state-of-the-art campus in Saratoga Springs, where they can matriculate in bachelor's and eventually graduate programs in a convenient location upon completing their degree at SUNY Adirondack.
While SUNY Empire has shared space on other colleges' campuses around New York state, including Alfred State College, Cayuga Community College, Fulton-Montgomery Community College, SUNY Adirondack, and SUNY Plattsburgh, this is the first time in its nearly 50-year history that SUNY Empire will host a fellow SUNY institution—creating greater opportunity for Saratoga residents to earn associate, bachelor's, and master's degrees close to home.
The agreement created five new pathways guaranteeing admission to graduates of SUNY Adirondack's associate degrees in business to SUNY Empire's bachelor's degree programs in business and management. The focus on business pathways helps meet SUNY Adirondack's students' growing demand to upskill or refocus their careers, as well as demand in the field of entrepreneurship and small business development.
The degrees can be completed from start to finish onsite at SUNY Empire's campus at 111 and 113 West Ave. in Saratoga Springs, expanding access to a bachelor's degree for SUNY Adirondack students in Saratoga County. Upon completing their studies at SUNY Adirondack, students will be able to take advantage of the services of SUNY Empire's recently renovated Student Center, which opened in 2019 following an extensive $4.2 million overhaul. The 52,000-square-foot environmentally friendly student center is home to SUNY Empire's financial aid offices, information center, student accounts, registrar, and bookstore. Students will be able to connect with staff, and easily begin the transfer process.
"This is an incredible opportunity for countless hardworking students in Saratoga to earn a business degree on their terms, while saving time and money, all in their community," said SUNY Empire State College President Jim Malatras. "This is the model of the future and SUNY Empire is proud to collaborate with SUNY Adirondack to provide community-based opportunities for working students looking to earn their business degrees in Saratoga Springs. This is an exciting first step toward a larger partnership with SUNY Adirondack. I'd like to thank SUNY Adirondack President Duffy and the entire SUNY Adirondack team for their support and collegiality to make this happen."
"This joint admission 2+2 partnership with SUNY Empire is about more than ease of transfer, it is about a shared vision to remove barriers for students to achieve their associate and bachelor's degrees. Through this agreement, we will remove the needless paperwork and bureaucracy and focus on guiding students to achieve their goals," said SUNY Adirondack President Kristine Duffy. "Earning a degree while working is no easy task, and this partnership will make the path to a needed credential much easier through intentional advising, convenient course scheduling and offerings, and attention to the needs of the busy student of today. We are excited to work more closely with the faculty and staff at SUNY Empire and thank President Malatras for his leadership."
The joint-admission agreements allow students to seamlessly transfer all lower-division credits at SUNY Adirondack to SUNY Empire, more than half the 124 total credits required to complete a bachelor's degree, meaning students can earn a bachelor's degree in as little as one year after their associate degree. SUNY Empire also offers the opportunity for students to transfer credits for work and life experience through its individualized Prior Learning Assessment (iPLA) evaluation. Examples of college-level learning could include military training, professional licenses and certifications, independent study, and internships or volunteer work.
"The easy academic transition this partnership between SUNY Empire and SUNY Adirondack creates will be a real benefit for business students in our region," said Senator Betty Little. "This will be an attractive option for students coming right out of high school and for those who are older and looking for a new pathway."
"This exciting new partnership between SUNY Empire State College and SUNY Adirondack is terrific news and a great opportunity for students," said Senator Daphne Jordan. "The partnership will save time and money for students and help them enter our workforce even sooner. SUNY Empire State College and SUNY Adirondack provide great educational value and this partnership reflects their continued, true commitment to serving students and ensuring that an affordable, high-quality education remains within reach for even more New Yorkers. I commend the forward-thinking leadership at SUNY Empire State and SUNY Adirondack for this innovative partnership."
"This partnership will allow many students a pathway to achieving their goal of attaining a four-year degree without having to travel a great distance," said Assemblyman Dan Stec. "Providing our business community with well-educated and qualified employees will also ensure an environment of professionals ready to strive for success."
The five pathway agreements include:
A.S. in Accounting to B.S. in Accounting
A.S. in Business Administration to B.S. in Business Administration
A.S. in Business Administration to B.S. in Human Resource Management
A.S. in Business Administration to B.S. in Management
A.S. in Management, Marketing, and Entrepreneurship to B.S. in Management
Under the partnership, SUNY Empire will waive the registration fee for applicants and provide a $100 Presidential Scholarship to all transfer students. The agreement also extends to SUNY Adirondack employees, and helps lower the cost and time needed to complete a degree by awarding college credit for professional experience. Students also can complete their degrees entirely online, or at one of SUNY Empire's 30-plus campuses and learning hubs around the state, including in Albany, Latham, Schenectady, Queensbury, and Johnstown.
View photos from today's event.
About SUNY Adirondack
SUNY Adirondack is a teaching- and learning-centered community college, which fosters a diverse, equitable, inclusive learning environment and campus community; offers innovative instructional and student support programs; responds to the educational needs of its community; and serves as a stimulus for economic development, partnerships and leadership.
About SUNY Empire State College
SUNY Empire State College educates students at any stage of life with a personalized learning experience delivered online, in person, or a blend of both. Since 1971, SUNY Empire has empowered students to earn an accredited degree around the demands of a busy lifestyle to advance their personal and professional goals. With world-class faculty, more than 1,300 dedicated mentors to help students tailor their degree programs, and cutting-edge distance learning technology, SUNY Empire delivers a trusted and flexible online college experience grounded in more than 30 New York state locations and seven international sites where students can learn and collaborate in person. Our nearly 50 years as a leader in awarding credit for prior learning and life experience helps students earn a degree faster and at lower cost. To learn more, visit  www.esc.edu  and follow @SUNYEmpire.