May 4, 2020
SUNY Empire State College Announces 2020 Recipients of the SUNY Chancellor's Award for Student Excellence
Winners Honored for Academic Excellence, Career Achievements, and Community Service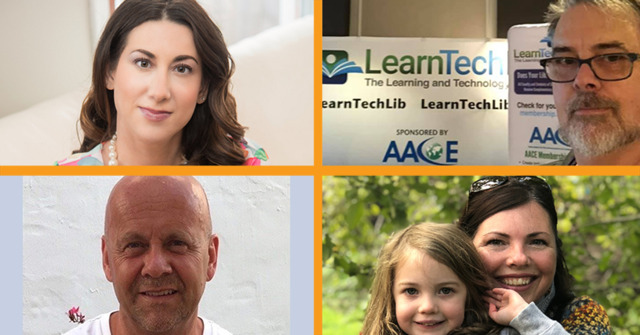 (SARATOGA SPRINGS, NY – May 4, 2020) SUNY Empire State College today announced four of its students have been selected as recipients of the SUNY Chancellor's Award for Student Excellence, the highest honor bestowed upon a student by the State University of New York. This year, SUNY recognized 213 students from across its 64 campuses for their academic achievements, leadership, and commitment to career and community.
"Congratulations to Brian, Emily, Jennifer, and Scott for this outstanding achievement. They are great representatives for the entire SUNY Empire student body — resilient students pursuing their educational goals all across New York state, throughout the nation, and around the globe," said SUNY Empire State College President Jim Malatras.
SUNY Empire's 2020 SUNY Chancellor's Award for Student Excellence recipients are:
Scott Dolphin, Trumansburg, NY
Scott Dolphin will become a double SUNY Empire alum when he graduates from the Master of Arts in Learning and Emerging Technologies program this spring with a 3.98 GPA. Dolphin earned his undergraduate degree in 2013, and has since been heavily involved with alumni activities in and around Ithaca.
Dolphin's emphasis while at SUNY Empire has been in the use of cloud-based virtual reality in arts education, and during his time in the master's program, he developed a fully immersive intradisciplinary global art studies curriculum in virtual reality. He's presented his work in virtual spaces that reach as far as California and Europe.
Jennifer Edwards, Johnsonville, NY
Jennifer Edwards spent 19 years raising and homeschooling her six children before deciding to go back to college. While working toward her degree in educational studies, Edwards started two free preschools for low income families, in partnership with her local library. She also hosts a monthly forum and teaches workshops for free at the library for parents, and tackles issues such as time management and homeschooling. Edwards will complete her undergraduate studies with a 4.0 GPA this spring.
Brian Kerrigan, New York, NY
Brian Kerrigan, a single father and 53-year-old student, overcame dual diagnoses of post-traumatic stress disorder and acute attention deficit disorder in order to complete his lifelong dream of attaining a college degree. Kerrigan worked as a currency trader on Wall Street and survived the attack on the World Trade Center North Tower on Sept. 11, 2001.
As a student at SUNY Empire, Kerrigan has dedicated himself to helping other students achieve their academic goals. A former rugby and soccer player, he continues to coach teens with learning disabilities. Kerrigan is a regular panelist and guest speaker on a wide range of social issues from addiction to PTSD. Kerrigan has maintained the highest academic standards while achieving a 4.0 in Business Management & Economics, and will begin his MA in International Relations at Harvard University this summer.
Emily Perryman, Buffalo, NY
Emily Perryman, a working mother of two, graduated from SUNY Empire in December 2019 with a 3.97 GPA and a master's degree in social and public policy. Perryman has more than 15 years of experience executing community relations, corporate communications, marketing, media and government relations, and digital strategy. She is also a social change activist, and helped co-found Unite by Night, a nonprofit focused on diversity and inclusion.
Perryman was recognized for her community engagement, and was named SUNY Empire's Student Affairs Award winner in 2018.
While these outstanding students are traditionally acknowledged for their accomplishments and brought together at an awards ceremony, SUNY shifted the gathering from in-person to a virtual platform in keeping with the state's PAUSE directive.
About The State University of New York
The State University of New York is the largest comprehensive system of higher education in the United States, and more than 95 percent of all New Yorkers live within 30 miles of any one of SUNY's 64 colleges and universities. Across the system, SUNY has four academic health centers, five hospitals, four medical schools, two dental schools, the state's only college of optometry, and manages one US Department of Energy National Laboratory. As of Fall 2019, more than 415,500 students were enrolled in a degree-granting program at a SUNY campus. In total, SUNY serves about 1.3 million students in credit-bearing courses and programs, continuing education, and community outreach programs. SUNY oversees nearly a quarter of academic research in New York. Research expenditures system-wide exceeded $1.7 billion in fiscal year 2019, including significant contributions from students and faculty. There are three million SUNY alumni worldwide, and one in three New Yorkers with a college degree is a SUNY alum. To learn more about how SUNY creates opportunity, visit www.suny.edu, and for more information about additional COVID-19 fundraising efforts, visit #SUNYTogether.
About SUNY Empire State College
SUNY Empire State College educates students at any stage of life with a personalized learning experience delivered online, in person, or a blend of both. Since 1971, SUNY Empire has empowered students to earn an accredited degree around the demands of a busy lifestyle to advance their personal and professional goals. With world-class faculty, more than 1,300 dedicated mentors to help students tailor their degree programs, and cutting-edge distance learning technology, SUNY Empire delivers a trusted and flexible online college experience grounded in more than 30 New York State locations and seven international sites where students can learn and collaborate in person. Our nearly 50 years as a leader in awarding credit for prior learning and life experience helps students earn a degree faster and at lower cost. To learn more, visit www.esc.edu and follow @SUNYEmpire.