April 3, 2020
SUNY Empire State College Community Continues to Give in Response to COVID-19
Students, Alumni, Faculty, and Staff Across the State Find Ways to Give and Connect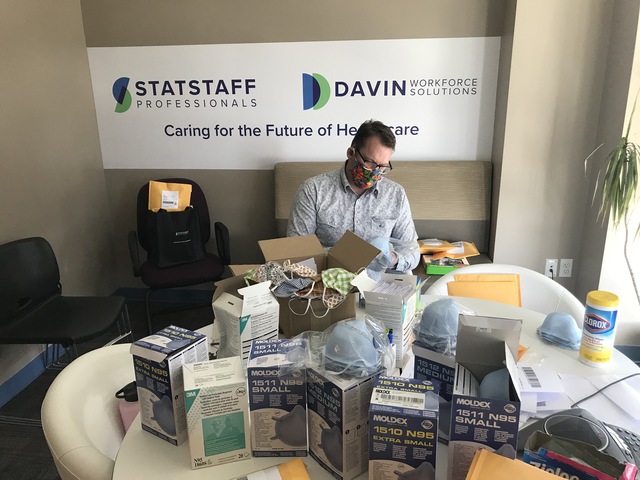 (SARATOGA SPRINGS, NY – April 3, 2020) SUNY Empire State College students, alumni, faculty, and staff continue to create opportunities to support those in need in response to the COVID-19 pandemic. From sewing masks to organizing blood drives and donating computers, to establishing a fund to assist students, the SUNY Empire community is ramping up its efforts across the state.
"It's incredible how people have found helping others as a way to cope with this situation," said SUNY Empire State College President Jim Malatras. "The giving back, the genuine concern for our neighbors, and the outpouring of support is overwhelming, and I expect it will only grow in the weeks to come."
Click here to see photos of SUNY Empire's outreach efforts.
Alum Donates PPE Supply, Continues to Make More
As reports of a global personal protective equipment (PPE) shortage began to come in, SUNY Empire alumnus David Theobald '13, '17, CEO of Stat Staff Professionals (SSP) in Saratoga Springs, NY and his team not only donated their remaining N95 masks, they began to create hand-sewn masks. These colorful masks have been shared with SSP staff, family members, and clinical staff throughout the community.
"We did this because we want to make sure our staff are as safe as possible," said Theobald. "During this pandemic, it has been brought to the forefront that we have an extreme lack of supplies and being nurse owned and operated, we make sure to act as a family to protect our caregivers."
Theobald earned both his RN to BSN and master's in nursing education in from SUNY Empire State College. Stat Staff Professionals is a nurse-owned and nursed-operated staffing organization focused on connecting quality caregivers with hospitals in need of healthcare professionals.
Adjunct Instructor Answers the Call
Terri Maher, a nurse, licensed master social worker, and SUNY Empire adjunct instructor, is also a member of the Monroe County Disaster Mental Health Response Team. Maher has been volunteering her time fielding hotline calls from anxious residents in an effort to help an overloaded Department of Health.
"I'm finding that many people reach out just for reassurance or someone to talk to," Maher said. "Once they hear a voice, many times the anxiety level seems to dissipate very quickly."
Maher said her experience demonstrates how human connection can transcend fears and foster reassurance in these uncertain times.
Student Inspires SUNY Empire Connects
Sammie Maitland, a SUNY Empire State College student working toward her bachelor's degree in business, management and economics, initiated a grassroots effort to create avenues for positive connectivity for those who are struggling with social isolation, stress, and anxiety.
Maitland's conversations with faculty and staff, and her desire to help others find coping strategies, led to the development of SUNY Empire Connects. This collection of live, virtual programs offers study skills workshops, health and wellness activities, and arts and culture explorations. This series of interactive sessions includes yoga, meditation, story time for children, and studying and research tips.
"The best thing that you can do for yourself and for others right now is to breathe, and then to be compassionate, and have self-compassion," said Maitland. "As we adapt and adjust to this new normal, we must take it day-by-day. Slowly but surely, we will get through this."
About SUNY Empire State College
SUNY Empire State College educates students at any stage of life with a personalized learning experience delivered online, in person, or a blend of both. Since 1971, SUNY Empire has empowered students to earn an accredited degree around the demands of a busy lifestyle to advance their personal and professional goals. With world-class faculty, more than 1,300 dedicated mentors to help students tailor their degree programs, and cutting-edge distance learning technology, SUNY Empire delivers a trusted and flexible online college experience grounded in more than 30 New York State locations and seven international sites where students can learn and collaborate in person. Our nearly 50 years as a leader in awarding credit for prior learning and life experience helps students earn a degree faster and at lower cost. To learn more, visit www.esc.edu and follow @SUNYEmpire.