June 25, 2020
SUNY Empire State College and Sullivan County Community College Partner to Help Meet Workforce Demand for Nursing and Healthcare Professionals
Agreement Guarantees Admission for Graduates of SUNY Sullivan to SUNY Empire Nursing Program and School of Nursing and Allied Health

Eligible Students Admitted to SUNY Empire's 100% Flexible Online Program Will be Able to Earn Their Bachelor's Degree at an Accelerated Rate and for Less Cost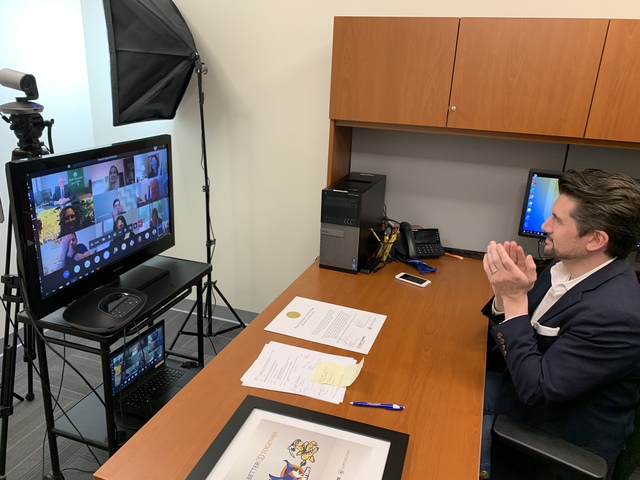 (SARATOGA SPRINGS, NEW YORK – June 25, 2020) SUNY Empire State College and Sullivan County Community College today announced a new partnership to allow SUNY Sullivan students to earn a bachelor's degree in as little as three years through SUNY Empire, with a focus on nursing and healthcare degrees to help meet growing workforce demand in the Hudson Valley region.
The partnership includes four transfer agreements, including three direct program-to-program pathways created specifically for students interested in continuing their education in healthcare. As the COVID-19 pandemic has demonstrated, there is a need to harden our healthcare system, including its workforce. Unlocking educational opportunities for individuals to enter nursing and respiratory care—both part of today's partnership—are key to strengthening the system.
The partnership allows eligible graduates from SUNY Sullivan to automatically enroll in the following programs, without any additional application fees:
Associate of Applied Science Degree (A.A.S.) in Respiratory Care to a Bachelor of Science Degree (B.S.) in Allied Health;
Associate of Applied Science Degree (A.A.S.) in Medical Assistant to a Bachelor of Science Degree (B.S.) in Allied Health;
Associate of Applied Science Degree (A.A.S.) to a Bachelor of Science Degree (B.S.) Nursing
Each pathway also allows students to transfer as many as 79 lower-division credits to SUNY Empire, more than half of the 124 credits required to earn a bachelor's degree. In addition to traditional transfer credit for courses completed at SUNY Sullivan, SUNY Empire also offers the opportunity for students to earn as many as 19 credits for work and life experience through its Prior Learning Assessment process, which will help to reduce the overall cost of the bachelor's degree, and help graduates enter the workforce quickly, and without comprising their education.
According to the Bureau of Labor Statistics' Employment Projections (2016-2026), registered nursing (RN) is listed among the top occupations in terms of job growth through 2026. The RN workforce is expected to grow from 2.9 million in 2016 to 3.4million in 2026, an increase of 438,100 or 15 percent. The Bureau also projects the need for an additional 203,700 new RNs each year through 2026 to fill newly created positions and to replace retiring nurses.
The U.S. Department of Labor reports that careers in healthcare are expected to increase 19 percent by 2024, and many positions will require bachelor's and graduate degrees. This projection will add approximately 2.3 million new jobs from radiology and emergency medical technology to dental hygiene and respiratory therapy.
"The current global health crisis has demonstrated that we as educators must provide more opportunities for those who want to enter the field of healthcare," said SUNY Empire State College President Jim Malatras. "Today's partnership between SUNY Empire and SUNY Sullivan will unlock doors of opportunities for many individuals seeking to provide critical care for those in need. It is a privilege to welcome SUNY Sullivan graduates to SUNY Empire, to ensure the future workforce receives the best possible education to deliver the best possible care. Thank you for President Quaintance for making this possible."
"Health care is the largest sector of the economy in Sullivan County," said SUNY Sullivan President Jay Quaintance, "These agreements will ensure that our graduates have access to high quality SUNY degrees without the need to leave their home and community. This is a great opportunity for our students and will help further strengthen the healthcare workforce for years to come."
The fourth agreement signed today is a general pathway guaranteeing eligible graduates of any SUNY Sullivan associate-level program admission to one of SUNY Empire's more than 110 areas of study, all of which can be completed online.
SUNY Empire State College President Jim Malatras and SUNY Sullivan President Jay Quaintance finalized the agreement during a virtual ceremony held at their respective campuses. To view photos from today's event, please click here.
About SUNY Sullivan
Sullivan County Community College (SUNY Sullivan) seeks to educate, inspire and empower both SUNY students and the community at large. Through our excellent instructors and programs, we prepare students for exciting careers in a diverse and interconnected world. We also give back to the community as a whole — promoting environmentally sustainable practices and supporting positive economic change within Sullivan County and beyond. For more information go to sunysullivan.edu.
About SUNY Empire State College
SUNY Empire State College educates students at any stage of life with a personalized learning experience delivered online, in person, or a blend of both. Since 1971, SUNY Empire has empowered students to earn an accredited degree around the demands of a busy lifestyle to advance their personal and professional goals. With world-class faculty, more than 1,300 dedicated mentors to help students tailor their degree programs, and cutting-edge distance learning technology, SUNY Empire delivers a trusted and flexible online college experience grounded in more than 30 New York State locations and seven international sites where students can learn and collaborate in person. Our nearly 50 years as a leader in awarding credit for prior learning and life experience helps students earn a degree faster and at lower cost. To learn more, visit www.esc.edu.