April 28, 2020
SUNY Empire State College to Join the Together We Remember Coalition's Global Virtual Vigil for Genocide Awareness Month
Annual Campaign Commemorates and Honors Lives Lost, Celebrates Heroes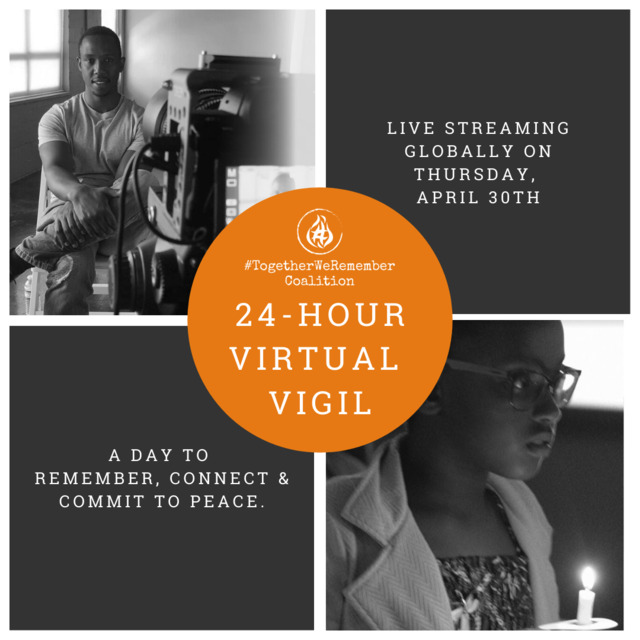 (SARATOGA SPRINGS, NY – April 28, 2020) SUNY Empire State College will join the Together We Remember coalition, a global network of activists and advocates, for a 24-hour online vigil on Thursday, April 30, for the conclusion of Genocide Awareness Month. The interactive, virtual gathering will commemorate lives lost to genocides and other identity-based violent acts, and will remember the heroes who fought against injustice, racism, and discrimination. This is the first year SUNY Empire has been invited to participate in the observance.
Founded in 2017, the Together We Remember coalition is composed of historians, educators, human rights organizations, museums, schools, and community leaders. Together We Remember is an annual campaign to bring awareness to issues that continue to plague society through historic reflection. This year, organizers had the unexpected task of shifting and coordinating its month-long memorials and ceremonies to an online platform. Live music, film screenings, prayer services, guided meditations, and in-depth conversations focused on past and current issues all were successfully transferred to interactive forums, bringing people together in the fight against hatred and xenophobia.
"It is critical that we come together to honor victims of hate and intolerance—especially when many today are sowing the seeds of division," said SUNY Empire State College President Jim Malatras. "SUNY Empire is proud to join Together We Remember's global vigil to pay tribute to the countless lives lost while taking a stand against bigotry in all its forms. Our commonalities are greater than our differences so let us come together and celebrate our many faiths, traditions, and cultures—as opposed to allowing our differences be a cudgel to divide us."
Last year, the President's Task Force to Enhance Diversity and Inclusion was formed at SUNY Empire to expand opportunities for underrepresented groups, coordinate initiatives to increase diversity, enhance academic support, and expand public policy research on issues of equity, tolerance, and inclusion in real time, as emerging issues arise. Together We Remember is an opportunity for SUNY Empire to connect with an alliance of equally dedicated leaders.
"As a member of the President's Task Force, and as an educator committed to teaching the interdisciplinary lessons of the Holocaust, I am humbled to be joined by my School for Graduate Studies colleagues in paying honor to victims of the Holocaust and other mass atrocities via our participation in the 2020 #Together We Remember 24-Hour Global Virtual Vigil," said SUNY Empire State College Associate Dean of the School for Graduate Studies Eileen Angelini, co-author and director of "France Divided," a documentary focused on the division of France during World War II. "We truly value this opportunity to be a part of such an important initiative that involves like-minded groups from around the world."
"The Holocaust touched my family deeply, wiping out so many lives, many just children," said SUNY Empire State College Associate Professor of Healthcare Management Barry Eisenberg. "I'm grateful to Together We Remember for the extraordinarily important work they do to raise consciousness about hate – toward any group – as a critical basis for combating it. It's a privilege to be part of this event in which we honor those the world lost."
"As a boy in New York City, I lived among Holocaust survivors and heard stories almost too horrible to believe," said SUNY Empire State College Chair of the Graduate and Liberal Arts and Science Division Joseph Angiello. "Not only did the unbelievable really happen but many other atrocities have continued to occur to this very day. It is morally imperative to honor the victims of such tragedies by remembering them, and remembering seems crucial in avoiding the next mass atrocity."
"Together We Remember offers an important way to acknowledge those who came before us," said SUNY Empire State College Associate Professor Anastasia Pratt. "I remember, with love and respect, those who were the victims of genocide. I promise, on their behalf, to work toward a world where that can never happen again."
SUNY Empire has been assigned the 11 a.m. (EST) time slot on the agenda, and is the first group on the schedule to represent the United States. Other Together We Remember coalition contributors include the Illinois Holocaust Museum and Education Center, the Johannesburg Holocaust and Genocide Centre, the Cape Town Holocaust and Genocide Centre, and Purdue University at Fort Wayne Institute for Holocaust and Genocide Studies.
Registration is required to view the event. Click here to complete a brief form to participate. Registrants will receive a link by email to access the virtual memorial.
About Together We Remember

Together We Remember is a nonprofit dedicated to using social media and other emerging technologies to transform the memory of genocide victims into the most powerful tool for building peace at home and abroad. Each April, in honor of Genocide Awareness and Prevention Month, Together We Remember partners with schools and faith-based communities across the globe to stage synchronized public name-reading vigils commemorating the lives of victims of genocide and mass atrocities. The goal of each name reading is to unite people of different races and religions in solidarity, give voice to victims of atrocities past and present, and compel our leaders to prevent history from repeating itself.
About SUNY Empire State College
SUNY Empire State College educates students at any stage of life with a personalized learning experience delivered online, in person, or a blend of both. Since 1971, SUNY Empire has empowered students to earn an accredited degree around the demands of a busy lifestyle to advance their personal and professional goals. With world-class faculty, more than 1,300 dedicated mentors to help students tailor their degree programs, and cutting-edge distance learning technology, SUNY Empire delivers a trusted and flexible online college experience grounded in more than 30 New York State locations and seven international sites where students can learn and collaborate in person. Our nearly 50 years as a leader in awarding credit for prior learning and life experience helps students earn a degree faster and at lower cost. To learn more, visit www.esc.edu and follow @SUNYEmpire.