May 13, 2020
SUNY Empire State College to Partner with United Way of the Greater Capital Region and CDTA to Collect Essential Items for Babies and Families in Need
Annual 5.18 Day Celebrates Giving with More than 45 Virtual Celebrations, Events, and Community Service Projects

SUNY Empire's 111-113 West Ave. Campus will Serve as an Outdoor Collection Site for New Donations on May 18 beginning at 10 a.m.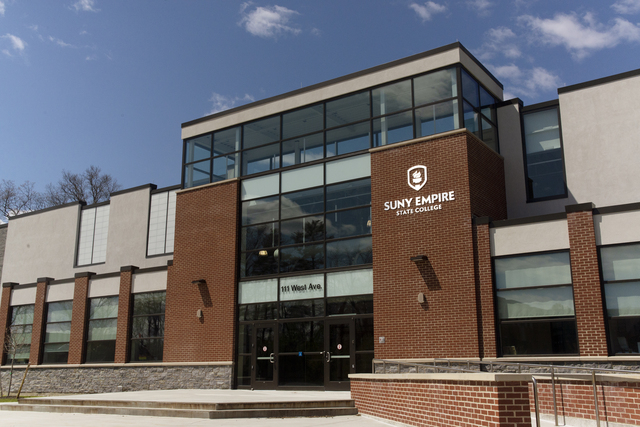 (SARATOGA SPRINGS, NY – May 13, 2020) SUNY Empire State College, United Way of the Greater Capital Region, and CDTA are partnering to host a community baby shower—collecting donations for babies and families in need on 5.18 Day, the United Way of the Greater Capital Region's annual day of service on Monday, May 18. Volunteers will only be permitted to accept new items.
The United Way of the Greater Capital Region had to shift several planned service projects to virtual platforms due to the COVID-19 pandemic, but the baby shower drive is one of the few on-site and in-person events taking place in the Capital Region. SUNY Empire has offered the use of its 111-113 West Ave. campus parking lot in Saratoga Springs, and volunteers will be on site between 10 a.m. – 4 p.m. collecting essential baby items, with the goal of filling a CDTA bus with much-needed blankets, clothes, diapers, and formula. Volunteers, wearing protective masks and practicing social distancing guidelines, will remove donations from vehicles and fill the bus with gifts.
"During these uncertain times, many families are struggling, so SUNY Empire is proud to offer its campus in Saratoga Springs as a collection site to help our community," said SUNY Empire State College President Jim Malatras. "Thank you to everyone at the United Way and CDTA for creating such incredible opportunities to help children, especially during a time when so many are in great need. We are better together."
"5.18 Day is a powerful embodiment of the spirit of volunteerism and community that makes our Capital Region such a special place," said Congressman Paul Tonko. "In these challenging times, I take heart knowing this work to support the neediest among us goes on. My thanks to SUNY Empire State College, United Way of the Greater Capital Region, and CDTA for their leadership in sustaining this great and growing tradition."
"Volunteerism reflects the generous spirit of communities and throughout the response to the COVID-19 crisis we have seen so many great examples of people stepping up to make an impact in the lives of their neighbors," said President & CEO of United Way of the Greater Capital Region Peter Gannon. "5.18 Day aims to give everyone that opportunity to give back during the unprecedented nature of this crisis --and we will do better as a region when everyone is invested in this response."
"CDTA is always proud to support United Way's 5.18 Day and make a meaningful impact across the Capital Region. Now, it is more important than ever to get involved and give back to our community," said Carm Basile, CEO at CDTA. "Our team is looking forward to participating in service opportunities and we can't wait to watch our bus fill up with essential baby supplies to help many local families in need."
All donations will be distributed to local agencies including the Mechanicville Area Community Services Center, Unity House, Trinity Alliance, Schenectady Community Action Program, Schoharie County Community Action Program, and Mom Starts Here and Baby Institute. Please click here for a full schedule of 5.18 Day events.
SUNY Empire President Jim Malatras is also a member of the United Way of the Greater Capital Region Board of Directors.
About United Way of the Greater Capital Region
United Way of the Greater Capital Region is an organization that fights for the health, education and financial stability of every person in every community. It unites donors, volunteers, and community organizations in a common mission to strengthen our community and improve social conditions in the Capital Region and beyond. Learn more at www.unitedwaygcr.org or Facebook.com/UnitedWayGCR.
About CDTA
CDTA is the premier mobility provider in the Capital Region, providing local, express, commuter and bus rapid transit services across its four-county, 2,300 square-mile service area. CDTA also operates the regional bike-share program, CDPHP Cycle! CDTA owns and operates the Rensselaer Rail and Saratoga Springs Train Stations. CDTA was named the 2017 Best Mid-Sized Transportation System in North America by the American Public Transportation Association.
About SUNY Empire State College
SUNY Empire State College educates students at any stage of life with a personalized learning experience delivered online, in person, or a blend of both. Since 1971, SUNY Empire has empowered students to earn an accredited degree around the demands of a busy lifestyle to advance their personal and professional goals. With world-class faculty, more than 1,300 dedicated mentors to help students tailor their degree programs, and cutting-edge distance learning technology, SUNY Empire delivers a trusted and flexible online college experience grounded in more than 30 New York State locations and seven international sites where students can learn and collaborate in person. Our nearly 50 years as a leader in awarding credit for prior learning and life experience helps students earn a degree faster and at lower cost. To learn more, visit www.esc.edu and follow @SUNYEmpire.