June 3, 2020
SUNY Empire State College to Honor Class of 2020 Graduates with Virtual Commencement Ceremony
Convocation Will Celebrate 4,589 New Alumni

Ceremony Will Cap Month-long Celebration of Graduating Students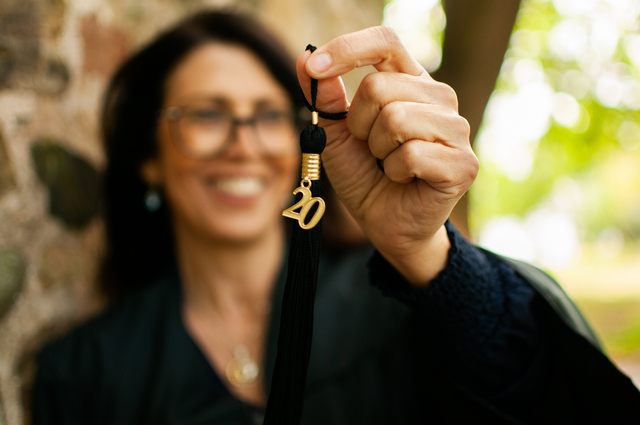 (SARATOGA SPRINGS, NY – June 3, 2020) SUNY Empire State College will celebrate the graduating class of 2020 throughout the month of June with a series of online and social media festivities, culminating with a virtual commencement ceremony on Saturday, June 27 at noon. SUNY Empire will issue 782 associate degrees, 3,402 bachelor's degrees, and 349 master's degrees, five undergraduate certificates, and 51 graduate certificates to 4,589 students who will graduate this summer.
With more than 30 locations across New York state, SUNY Empire has traditionally held ceremonies from Long Island to Buffalo to ensure every student had the opportunity to attend. While all standard commencement ceremonies have been canceled due to COVID-19-related public health precautions, the college remains committed to formally honoring the class of 2020 in person when it is safe to do so. The month-long celebration and virtual ceremony in June will unite every SUNY Empire graduate, regardless of location, in recognition of their achievements.
"Even in the face of a pandemic, the class of 2020 remained unwavering in their commitment to completing their studies—and they did," said SUNY Empire State College President Jim Malatras.
"That perseverance and focus is a testament to the resilient spirit of SUNY Empire students. Congratulations to each and every one of SUNY Empire's graduates."
"Congratulations to all of my fellow classmates," said Derek Jefferson '20, chief warrant officer in the United States Navy, currently stationed in the Kingdom of Bahrain. "This journey has taken me six years to complete, but now I can exhale and say I did it. I have earned my master's degree in learning and emerging technologies."
"I started on this road because after graduating high school in 1985, I always wanted to get a college degree," said Christine Garcia '20. "Life led me on a different path, but this goal has always stayed in the back of my mind. The ride has been rough, but the satisfaction I feel right now has definitely been worth it."
"I've had some true cheerleaders throughout this journey and for that I am humbly grateful," said Darlene Lewis '20. "I would like to thank SUNY Empire for the learning experience, and my family and friends for not only believing in the work that I do, but my ability to soar and successfully land on my feet. I am extremely proud and honored to be a SUNY Empire MBA graduate."
As part of the commencement celebration, SUNY Empire has received more than 200 submissions of videos, photographs and letters from students excited to share their accomplishments which will be part of a month-long virtual campaign to celebrate SUNY Empire's graduates.
SUNY Empire recently announced it has established the Latin Honors system for the first time in the institution's 49-year history in response to overwhelming student support for the change. This honor will begin being conferred to SUNY Empire students graduating with a bachelor's degree on June 27, as well as retroactively to students who graduated in August 2019 and December 2019.
Additional information for the June 27 ceremony and updates for future events can be found here.
About SUNY Empire State College
SUNY Empire State College educates students at any stage of life with a personalized learning experience delivered online, in person, or a blend of both. Since 1971, SUNY Empire has empowered students to earn an accredited degree around the demands of a busy lifestyle to advance their personal and professional goals. With world-class faculty, more than 1,300 dedicated mentors to help students tailor their degree programs, and cutting-edge distance learning technology, SUNY Empire delivers a trusted and flexible online college experience grounded in more than 30 New York State locations and seven international sites where students can learn and collaborate in person. Our nearly 50 years as a leader in awarding credit for prior learning and life experience helps students earn a degree faster and at lower cost. To learn more, visit www.esc.edu and follow @SUNYEmpire.