July 26, 2021
Chancellor Malatras Appoints SUNY Empire Officer in Charge Dr. Nathan Gonyea to Co-Lead SUNY-wide Task Force
New Task Force Charged with Providing Additional Educational Opportunities for Students with Disabilities Across SUNY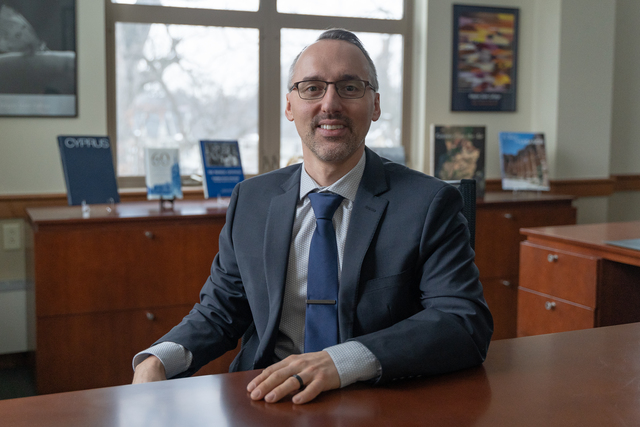 Albany, NY – State University of New York Chancellor Jim Malatras announced a new SUNY-wide Empowering Students with Disabilities Task Force to address challenges faced by students with disabilities on campus and provide additional educational opportunities for individuals with disabilities. The task force, led by SUNY Cobleskill President Marion Terenzio and SUNY Empire Officer in Charge Nathan Gonyea will focus on improving physical access on campus for individuals with disabilities, fighting stigmas associated with disability inclusivity, addressing ableism on campuses, and fielding feedback from people with disabilities to improve their overall learning experience. Creation of the Empowering Students with Disabilities Task Force coincides with National Disability Awareness Day, and SUNY will bring awareness by lighting the SUNY Administration building in red and blue colors.
"Students with disabilities face significant challenges and are more likely to drop out of college than those without disabilities, and cite a lack of accommodations and support services as their top reason," said SUNY Chancellor Jim Malatras, "This tells us we need to do more and this task force will go directly to our students to find real solutions on how SUNY campuses can make the needed changes now. But the Task Force will also find ways to empower not just current college students but any individual with a disability who wants access to high quality college education to be afforded the opportunity. That's the mission of SUNY. Every individual in our society deserves to learn in an accepting environment and we will do all we can to ensure they have a more equitable and accessible education."
According to the National Center for Education Statistics, 19.4% of undergraduate students enrolled in college have a disability and 11.9% of all graduate students do. Chancellor Malatras appointed SUNY Cobleskill President Marion Terenzio and SUNY Empire Office in Charge Nathan Gonyea to lead the newly created Disability Task Force. As of October 2018, SUNY serves 43% of self-identified college students with disabilities attending postsecondary institutions in New York State. The Task Force will be charged with uncovering and solving the following issues faced by individuals with disabilities:
Improving Accessibility: To survey and review all campuses on accessibility they provide for disabled students in classrooms, labs, libraries, cafeterias, housing, and transportation. To remove not only physical but emotional and social barriers to an inclusive learning environment.
Stigma and Ableism: To acknowledge that students who disclose a disability face negative stereotypes, inaccurate assessments of their ability to complete college level work, and increased likelihood of self-doubt and academic anxiety. To actively address negative stereotypes and misinformation on all SUNY campuses.
Increasing Academic Opportunities: To determine if recruitment efforts are equal for students with disabilities, to ensure enrolled students receive the same opportunities for advancement and opportunity, with accommodations as necessary. To highlight the strengths of students with disabilities and bring pride to their achievements.
"The Americans with Disabilities Act (ADA) requires higher-education institutions to make certain accommodations for the differently abled. All of SUNY's 64 campuses currently make accommodations in support of the goals of the ADA, such as accessibility ramps and altered computer hardware. However, making SUNY a truly welcoming and supportive environment, necessitates going beyond standard ADA accommodations," said SUNY Empire Officer in Charge Dr. Nathan Gonyea. "It requires us to ask the hard questions, use the latest research, and most importantly, gather feedback from students. We all have a lot more work to do to create a completely inclusive environment where all feel heard and welcomed. I am honored to be a part of this task force and to work with SUNY's best and brightest to implement long-lasting solutions to better serve our student body."
"In the same way that SUNY is tapping into students from diverse backgrounds to learn about their unique needs, we must do the same for our students who come to us with disabilities or identify as having disabilities," said SUNY Cobleskill President Marion Terenzio. "Ableism is defined as a social prejudice against people with disabilities based on the belief that able-bodied individuals are superior, and SUNY is determined to stomp out this belief and create an environment where all of our students have access to the resources they need to succeed both inside and outside of the classroom. I am honored to be a member of this task force, which will confront the issues brought forth by this belief and implement proven strategies to create a more even landscape for our students."
SUNY is proud to have created the SUNY Empire Center for Autism Inclusivity, which focuses on providing support and conducting research to better serve individuals with autism in the classroom; the "CareerNext" program at SUNY Cobleskill, which offers personalized academic and residential support for students with Autism and learning differences; as well as SUNY Dutchess Community College's "Think Ahead" program, which helps those with intellectual disabilities to develop job and life skills. These programs, and many others, serve as an example of what strong collaboration can bring, and the inclusive future SUNY is working toward.