October 28, 2021
SUNY Empire Connects to Receive Program Award from SUNY
SUNY Empire Connects to Receive Outstanding Student Service Award for its COVID-19 Response and Programming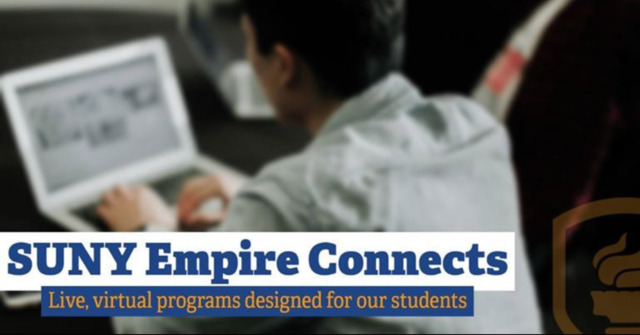 The Office of Student Life program, SUNY Empire Connects, will receive an Outstanding Student Service Award for its COVID-19 response and programming from the State University of New York (SUNY) Chief Student Affairs Officers and the Office of University Life.
The virtual award ceremony will take place on Zoom on Friday, October 29 at 3 p.m.
"We are thrilled to be recognized for this truly collaborative effort which started two weeks after SUNY Empire moved to fully remote learning and has grown to be a central access point for connecting our college community," said Acting Vice Provost for Student Success Seana Logsdon.
SUNY Empire Connects was developed with students, staff, and faculty as a response to the social isolation many experienced at the start of the COVID-19 pandemic. Each week, SUNY Empire Connects offers a collection of live, virtual programs on topics including employment searches, study-skills workshops, health and wellness activities, arts and culture explorations, and drop-in hours with departments across the college.
Since March of 2020, SUNY Empire Connects has hosted 1,683 sessions, or 20.5 sessions per week. It has helped to spur development of the college's first student governance association, which holds its meetings and events through the platform.
To date, the program has offered 116 events focusing on diversity, equity, and inclusion. It also recognizes the role families play in the lives of SUNY Empire students, offering programming for family members, as well.
"Special thanks to the team that initially responded to the needs of the students and launched SUNY Empire Connects in the spring of 2020, as well as to the Connects committee, which has helped it grow to what it is today," said Coordinator of Student Life Danielle Boardman.
"It should be considered an accomplishment for all of SUNY Empire, as this would have not been possible without shared expertise, thoughtful planning, and strong participation of students, alumni, staff, and faculty," Logsdon said.
To view the ceremony, visit https://zoom.us/j/91423210453.
Meeting ID: 914 2321 0453
Passcode: 412184